Rural Legal Practice Initiative seeks students with interest in practicing law, providing legal services in state's rural communities

Friday, Sept. 30, 2016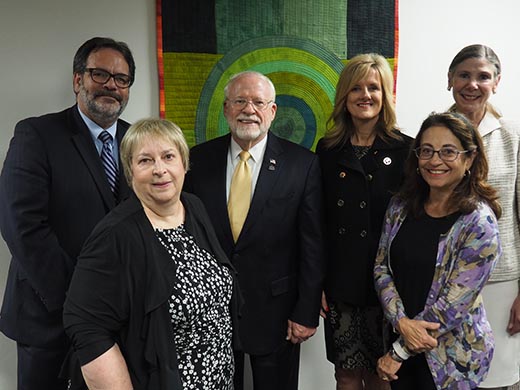 Kansas State University and the Washburn University School of Law have launched the Rural Legal Practice Initiative to interest K-State pre-law students in legal careers in the state's rural communities. Helping to launch the initiative, from left: Steven Dandaneau, K-State vice provost for undergraduate studies; Daralyn Gordon Arata, K-State Office of Pre-Law Advising coordinator; Thomas Romig, Washburn University School of Law dean and professor of law; Juliann Mazachek, Washburn University interim vice president for academic affairs; Aida Alaka, Washburn University School of Law associate dean for academic affairs; and April Mason K-State provost and senior vice president. | Download this photo.


MANHATTAN — The need for quality legal services in Kansas' rural communities and in the practice of law is the focus of a new program offered through a collaboration of Kansas State University and the Washburn University School of Law.

The Rural Legal Practice Initiative welcomes select pre-law majors at Kansas State University who are interested in helping the nearly one-third of the state's residents who live in rural communities where residents are too often underserved by legal practices, said Daralyn Gordon Arata, coordinator of pre-law advising at the university.

"Nearly 1 million rural Kansans find it increasingly difficult to access quality legal services," Arata said. "The Rural Legal Practice Initiative aims to address this problem by introducing K-State pre-law students to the wide variety of legal specialties needed and career opportunities available in rural communities."

Alongside Washburn Law faculty, the Kansas Department of Agriculture and perhaps additional partners, Arata will help students in the program benefit from experiential learning, mentoring, individual and group immersion trips, topical lectures and interaction with expert guest scholars and practitioners.

"Participants in the program will gain knowledge and insight concerning the varied legal practice required of rural practitioners as well as develop an understanding of concepts and information needed to successfully complete law school," Arata said.

Students who have declared the pre-law major are eligible for the program and can apply for admission in the second semester of their sophomore year. They must have a GPA of at least 3.2 to be accepted. Students who successfully complete a required number of co-curricular enrichment activities earn a recognition certificate.

The program also helps with the transition to law school. Although acceptance to the program does not guarantee admission to Washburn Law School, participants' applications will be welcome, Arata said.

Arata said the program was well-received when Kansas State University Provost and Senior Vice President April Mason and Washburn Law School Dean Thomas Romig, a K-State alumnus, presented details of the initiative to members of the Kansas Board of Regents at the board's recent September meeting.

The program also has two speakers, both professors at Washburn School of Law, scheduled for this fall. Both presentations are open to all Kansas State University students with an interest in the legal profession. They are presented by the Office of Pre-Law Advising and Pre-Law Ambassadors in collaboration with Washburn School of Law.

The speakers and presentations:

• Shawn Leisinger will discuss "Ethics and Rural Legal Practice" at 7 p.m. Tuesday, Oct. 25, in Room 209 at the K-State Student Union. His talk will look at rural legal practice opportunities and ethical issues unique to a rural legal practice. A special focus will be on the variety of traditional and nontraditional roles that lawyers can take on in rural areas, as well as the broader ethical and moral obligations for attorneys in rural practice settings.

• David Pierce will discuss "Oil and Gas Law in the Rural Legal Practice" at 7 p.m. Thursday, Nov. 10, in Room 205 at the Union. Pierce will talk about the practice of law in the small town and the opportunities to focus on oil and gas law. A working knowledge of oil and gas law is essential for any lawyers practicing in rural Kansas, Pierce said. He will focus on land-use issues, hydraulic fracturing, induced seismicity and other contemporary issues lawyers encounter representing famers, other landowners and developers.

Students can RSVP by the Thursday before each event to apturner@k-state.edu or by calling 785-532-3426.