Kansas State University researchers help develop new treatment for deadly cat disease
Thursday, Sept. 1, 2016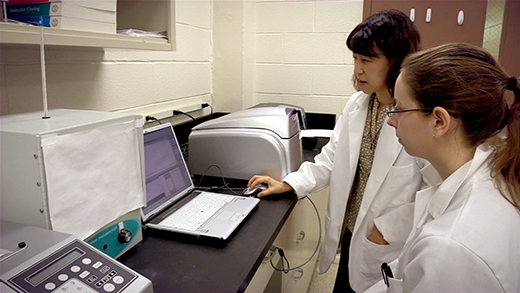 Kansas State University's Yunjeong Kim, back, with a research assistant in her lab. Kim is an associate professor of diagnostic medicine and pathobiology who has helped develop a promising new treatment for feline infectious peritonitis, a deadly cat disease. | Download this photo.


MANHATTAN — Work by two researchers at Kansas State University's College of Veterinary Medicine is showing promise in stopping a deadly cat disease.

Feline infectious peritonitis, also known as FIP, is a viral infection of cats that is nearly 100 percent fatal. But in a study that was funded in part with a grant from the Morris Animal Foundation, the Kansas State University researchers and researchers at two other universities successfully blocked progression of the disease.

Kansas State University's Yunjeong Kim, associate professor, and Kyeong-Ok Chang, professor, both of diagnostic medicine and pathobiology, and William Groutas, a distinguished professor of chemistry at Wichita State University, developed the antiviral compounds used in the study. In a collaboration and demonstration with Niels Pedersen, professor emeritus of medicine and epidemiology at the University of California, Davis, one of the research compounds stopped progression of FIP and led to clinical recovery to cats with the disease.

"These findings showed that inhibiting growth of the virus is the critical component of treatment for FIP," Kim said. "This will help us and other researchers find a way to effectively manage or treat FIP in the future. Also, these findings have broader implications for other important coronavirus infections, since no antiviral drugs exist for human or animal coronaviruses."

Coronaviruses are the causative agents of many important diseases in both humans and animals, including severe acute respiratory syndrome and Middle East respiratory syndrome, and can cause diarrhea in dogs and other animals such as cattle, sheep, deer, giraffes and more.

"This is an exciting development in FIP research with the potential to have a major impact on feline health worldwide," said Barbara Wolfe, chief scientific officer at Morris Animal Foundation. "FIP is a significant problem for kittens and cats under 2 years of age, particularly in shelter environments or catteries. If we continue to be successful in this research, it will represent a major breakthrough in treating this terrible disease."
Morris Animal Foundation recently committed $1.2 million to fund research that will advance knowledge of FIP. After a rigorous selection process, Kim and her team received an additional grant to conduct a clinical trial investigating the effect of the newly identified compound in client-owned cats with FIP.

The clinical trial currently is underway as a collaborative effort between Kansas State University and the University of California, Davis. The researchers hope to enroll up to 70 cats with FIP into the trial, and anticipate the study will be completed in two years.

The first phase of the trial involving 15 cats with various forms of FIP is fully enrolled and no more cats are being accepted for treatment at this time. The researchers will take two to three months to allow time to evaluate preliminary results and decide on what forms of FIP will respond best to treatment and the optimal dosage regimen. Once those determinations are made, the trial will be re-opened for another small group of cats that meet trial guidelines.

Kim authored the article "Reversal of the Progression of Fatal Coronavirus Infection in Cats by a Broad-Spectrum Coronavirus Protease Inhibitor" that was published in the journal PLOS Pathogens earlier this year. Along with funding from the Morris Animal Foundation, her work has been supported by the National Institutes of Health and Winn Feline Foundation. Duy Hua, distinguished professor of chemistry at Kansas State University, also assisted with the research.