Student body diversity, bright freshman class highlight Kansas State University's fall 2016 enrollment
Monday, Sept. 26, 2016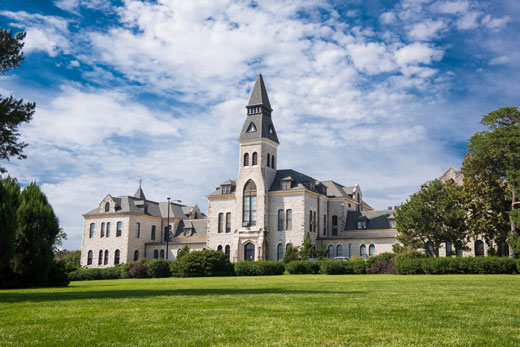 Fall 2016 enrollment at Kansas State University has set records for diversity, composite ACT score of the freshman class and freshmen-to-sophomore retention. Pictured is Anderson Hall, the university's iconic main administration building. | Download this photo.


MANHATTAN — Fall 2016 enrollment at Kansas State University is the most diverse ever and this year's freshman class boasts the highest composite ACT score in the university's history.

Enrollment numbers also show the university's freshman-to-sophomore retention rate of 85.11 percent is a record, up from 83.45 percent in fall 2015.
Total enrollment at the university, including the Manhattan, Polytechnic, Olathe and Global campuses, is 23,779, down from 24,146 last year.

Fall enrollment has many positive trends, said Pat Bosco, vice president for student life and dean of students.

"We have attracted the brightest freshman class in our school's history with a composite ACT score of 25.1, up from 24.9 last year," Bosco said. "We have our most diverse student body ever and have increased our freshman-to-sophomore retention rate over the past year by an astounding amount."

This fall's multicultural enrollment is 3,651, up from 3,605 a year ago. Multicultural students now make up more than 15 percent of Kansas State University's student body.

"Kansas State University's steady growth in multicultural student enrollment shows diversity is a value that we embrace as an institution," said Zelia Wiley, interim associate provost for diversity. "It is a credit to faculty and staff across the university and programs such as Project IMPACT, MAPS Summer Bridge Program, multicultural student organizations and our new IMOHTEP initiative for our black male students that we continue to attract more multicultural students each year. This growth also highlights why we must continue to work even harder to ensure that K-State is always a welcoming and inclusive university at every level. For this momentum to continue, we must show value for diversity and inclusion in all that we do in word and action."

"To achieve the enrollment milestones that we have is a credit to the efforts of our dedicated faculty and staff," Bosco said. "It also shows our significant progress on our K-State 2025 goals for retention, which would not be possible without all the people who work so closely with our first-year students. Programs like K-State First and its dedicated faculty and staff, the Staley School of Leadership Studies and the work of our resident assistants are helping our first-year students be connected to the university and achieve academic success."

Fall 2016 K-State Global Campus enrollment remains steady at 2,131, another encouraging trend in the university's enrollment.

"Our award-winning distance programs continue to serve thousands of Kansans and people around the world," Bosco said.

The fall's enrollment figures also show areas the university will look to improve upon in the coming year.

"Our domestic freshman enrollment is almost flat from last year," Bosco said. "While that is good news for K-State this year, it is also alarming as we are seeing fewer Kansas high school students going on to any kind of postsecondary education. We are also down in international students, both new and returning, and some current students are not returning because of cost."

The enrollment dips were expected because of the state's new qualified admission standards, which are now in their second year. "As predicted, once we got through the last academic year under the new standards, we expected things would settle down for our school, and they have," Bosco said.

Bosco said the university would work to regain its competitive edge in the complex international student market, while also encouraging those students who have "stopped out" of school because of cost, and not grades, to return to the university.