Kansas State University's Polytechnic Campus opens new facility dedicated to community outreach, professional development
Friday, Sept. 9, 2016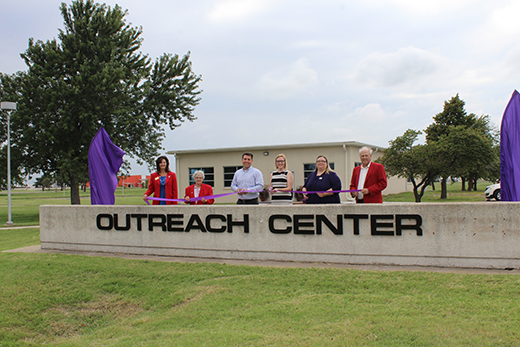 Kansas State Polytechnic officially opens the campus's new Outreach Center with a ribbon-cutting ceremony Sept. 8. From left are members of the Salina Area Chamber of Commerce All-America Team; Joe Harrison, director of facilities for Kansas State Polytechnic; Danielle Brown, director of the campus's professional education and outreach department; Alysia Starkey, associate dean of undergraduate studies for Kansas State Polytechnic; and another member of the All-America Team. | Download this photo.


SALINA — The professional education and outreach department on Kansas State University's Polytechnic Campus is officially home.
The Outreach Center, a new facility dedicated to the department's community and professional development services, opened its doors Sept. 8 following a ribbon-cutting ceremony on the north corridor of the Polytechnic Campus. Built more than 50 years ago and original to the Air Force base that came before the campus property, the building has been fully renovated to include a training classroom, testing center and multiple office spaces.
"The opening of the Outreach Center marks a proud moment in the history of Kansas State Polytechnic because it demonstrates the campus's continuous advancement toward our strategic goals of growing in both educational offerings and infrastructure," said Verna Fitzsimmons, dean and CEO of Kansas State Polytechnic. "The center will provide professional education and outreach with the vital resources it needs to serve its clients and the community while acting as inspiration for the rebirth of the north section of campus."
For years, professional education and outreach has been offering a multitude of diverse training programs, professional development resources, K-12 collaborations and civic engagement opportunities. From grade school children in summer aviation camps to Osher lifelong learning classes for people 50 and older, there are programs for a large spectrum of ages, and each offering has a broad audience reach – community members, students and industry professionals. Kansas State Polytechnic's technology management bachelor's degree is also offered online through the department.
"It has been the vision of professional education and outreach to provide the campus, community and our industry partners with an innovative, collaborative space where learning is accessible and inspired," said Danielle Brown, director of the department. "The Outreach Center has exceeded our expectations and we are excited to utilize this valuable asset, especially the training classroom because it is an essential space for our programs and it holds a variety of necessary technology amenities."
The Outreach Center was designed with multipurpose spaces, which can be adapted and easily reconfigured as programs and staff evolve over the years. Also available is office space for professional education and outreach, an additional tenant, a testing center for students and a training classroom. Significant technology upgrades were added to the classroom area, including enhanced lighting controls, high-definition cameras and microphones, flat-screen televisions, connection with any web-based meeting software and the capacity to video conference another class in a separate location.
Originally constructed in 1956 as part of Schilling Air Force Base, now home to the Polytechnic Campus, the Outreach Center has had a variety of uses over the years, including as a computer science building, student union and student activities center. Though the decision to tear it down when starting the renovation may have seemed like a logical one, Kansas State Polytechnic wanted to keep an environmental consciousness about the build.
"By repurposing this facility, Kansas State Polytechnic was able to enhance our ability to be resourceful stewards in both the fiscal and environmental realms," said Joe Harrison, director of facilities for the campus. "By choosing to reuse in lieu of demolition, this allowed us to minimize the environmental impact by negating the need to disturb existing greenfield areas for utilities and foundations. This also enabled us to significantly reduce the amount of construction waste, which would typically have been generated and slated for a local landfill."
The Outreach Center is in the north corridor of the campus, which is an area Kansas State Polytechnic plans on redeveloping, starting with the addition of K-State Research and Extension. Details about building renovations and a timeline are forthcoming.
For questions about the Outreach Center or to learn more about the program offerings of professional education and outreach, contact Brown at 785-826-2633 or
profed@k-state.edu
.