Burns & McDonnell invests $500,000 in Engineering Hall at Kansas State University

Monday, Sept. 26, 2016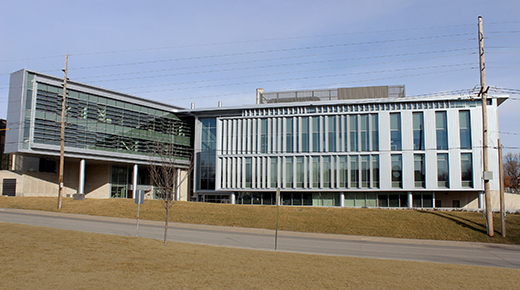 Engineering Hall, the new 108,000-square-foot expansion to Kansas State University's engineering complex, will benefit from a $500,000 pledge from Burns & McDonnell. | Download this photo.


MANHATTAN — Burns & McDonnell has pledged $500,000 to Kansas State University to support Engineering Hall, the 108,000-square-foot expansion to the engineering complex that opened in spring 2016. The Burns & McDonnell Foundation donated $400,000 and employee-owners who are university alumni donated an additional $100,000.

Along with the monetary donation, the firm has bestowed its name upon the Burns & McDonnell Collaborative Learning Laboratory, which will facilitate a more hands-on and team-based approach to engineering education.

"Burns & McDonnell is committed to developing the next generation of STEM professionals," says Greg Graves, chairman and CEO, Burns & McDonnell. "We are proud to be a supporter of K-State; a university that consistently produces some of the brightest engineering professionals in the country."

The Burns & McDonnell Collaborative Learning Laboratory, part of the College of Engineering's broader Academic Success Center, will serve as home to the innovative Scholars Assisting Scholars program. The program employs upper-level students to tutor peers while also developing their own teaching and leadership skills.

"Collaboration is the future of industry, and we are fortunate to partner with leaders like Burns & McDonnell, who recognize and support that fact," said Darren Dawson, dean of the College of Engineering. "We are grateful for Burns & McDonnell's commitment to engineering education at K-State, and we're honored to have their name upon one of the most highly visible spaces in our new Engineering Hall."

To learn more about making a gift to engineering at Kansas State University, please contact the engineering development office at engineering@found.ksu.edu.

The Burns & McDonnell Foundation was formed by employee-owners as the embodiment of the firm's commitment to corporate citizenship and philanthropy. The foundation's giving, volunteering and grant programs focus on four strategic areas: education to engage young minds, community development to support its neighbors, health to promote healthy lifestyles, and arts and culture to inspire the visionaries. Burns & McDonnell is a company made up of more than 5,300 engineers, architects, construction professionals, scientists, consultants and entrepreneurs with offices across the country and throughout the world. Burns & McDonnell is 100 percent employee-owned and is proud to be No. 16 on Fortune's2016 list of 100 Best Companies to Work For.

Philanthropic contributions to Kansas State University are coordinated by the Kansas State University Foundation. The foundation was established in 1944 as the official fundraising arm of the university. It is a separate, independent entity chartered by the state of Kansas as a 501(c)(3) nonprofit education corporation. The foundation is leading Innovation and Inspiration: The Campaign for Kansas State University to raise $1 billion for student success, faculty development, facility enhancement and programmatic success.