K-STATE SETS RECORD FOR TOTAL ENROLLMENT, INCLUDING LARGEST ENROLLMENT EVER BY STUDENTS OF COLOR
Kansas State University is bigger and more diverse than ever, according to 20th day enrollment figures announced Sept. 23.
K-State's fall enrollment of 23,588 students is a record, as is the number of students of color, 2,946, which is up 18 percent from last year. The Manhattan on-campus enrollment of 20,592 is up 386 students from last year. On-campus enrollment at K-State Salina also is up with 642 students this fall, compared to 612 in fall 2009.
NOTEWORTHY

Mervi Pakaste presented "The Value of Letterpress in Typographic Education," ATypI: the word, Preface Conference, Sept. 9, Dublin, Ireland.
ON CAMPUS
INTERNATIONALLY RECOGNIZED SPEAKER PRESENTS ON TALENT AND PASSION SEPT. 30


When world-renowned guest speaker Sir Ken Robinson comes to K-State this month, the campus community should prepare to be wowed, say faculty.
At 3:30 p.m. Thursday, Sept. 30, Robinson will present "The Element: How finding your passion changes everything" in McCain Auditorium. The event, which is free, is open only to the K-State community.
Robinson is a best-selling author and professor emeritus of Warwick University in the U.K. He is internationally recognized for his humorous and inspirational presentations about finding one's inner passion, said Jana Fallin, professor of music.
Tickets are sold out, but interested parties can go to Forum Hall in the Union and watch streaming live video of the speech. Funding was made possible by academic colleges, the office of the provost, the Center for Advancement of Teaching and Learning, the Division of Continuing Education and the Student Governing Association.
Robinson's 2006 and 2010 Technology Entertainment and Design speeches can be viewed on YouTube or at http://bit.ly/101CR and http://bit.ly/bogMmk.
The video of his 2006 presentation has been viewed more than 5 million times and has been seen by an estimated 200 million people in more than 150 countries. Robinson's latest book, "The Element: How Finding Your Passion Changes Everything," is a New York Times bestseller and is being translated into 18 different languages.
PICTURE PERFECT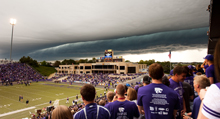 **Walk-in portraits for faculty and staff are from 10 a.m. to noon and 1 to 3 p.m. Monday, Oct. 4. Photo Services is located in Studio B of Dole Hall.**
For creative professional images contact university photographer David Mayes at 785-532-6304 or photo@k-state.edu
For a gallery of Mayes' photos, go to: http://ksuphoto.zenfolio.com
OPPORTUNITIES
CLASSIFIED
• A recording of classified job opportunities is available 24 hours a day on the Employment Information Line, 785-532-6271.
• A list of employment opportunities is posted at www.k-state.edu/hr/
• For additional information, call 785-532-6277 or come to the Division of Human Resources in 103 Edwards Hall. Applications are accepted 8 a.m. - 5 p.m. weekdays.
UNCLASSIFIED
• A complete listing of vacancies can be seen at www.k-state.edu/affact/
• For additional information, call the office of affirmative action at 785-532-6220 or come by 214 Anderson Hall.
For previous issues click here
The next issue is Oct. 6.
Submit items by noon Oct. 1.
A FAMILY REUNION: SCHULZ LOOKS AT PAST YEAR'S SUCCESS, HAS EYE ON 2025 IN STATE OF THE UNIVERSITY ADDRESS
K-State President Kirk Schulz's 2010 State of the University address was all about the family.
Schulz's address, given Friday, Sept. 24, in the Alumni Center Ballroom, concentrated first on the many accomplishments by K-State students, faculty and staff over the past year.
PLAUDITS
SUSANNE SIEPL-COATES SELECTED TO CLASS VI OF THE KANSAS HEALTH FOUNDATION FELLOWS

Susanne Siepl-Coates, professor of architecture, has been selected to class VI of the Kansas Health Foundation Fellows.
The goal of the Fellows program is to develop a growing cadre of individuals throughout Kansas to provide leadership for the purpose of creating healthier Kansas communities. This year's Fellows program is targeted to affect change in the area of healthy community design.
OH, BY THE WAY
BENEFITS EXPO OCTOBER 7, 2010
The Division of Human Resources is hosting the annual benefits expo on Oct. 7, 2010, in the K-State Student Union Ballroom, with special events in Forum Hall. Representatives from Board of Regents voluntary and mandatory retirement providers, KPERS, health insurance providers, life insurance companies associated with K-State and many other agencies will be available in the ballroom from 10 a.m.-3 p.m. Read more
eID INFORMATION
Can I change my eID?
Yes, anytime you want. There is a $50 fee for each eID change. When your eID is changed, your old eID becomes an alias that points to your new eID. This causes e-mail sent to your old address to be forwarded to your new address. You will need to submit an eID change form, which is available at the IT Help Desk. Read more
REGISTRATION OPEN FOR FREE SECURITY TRAINING OCT. 12
Register now for the fifth K-State Security training event scheduled 8 a.m. to noon Tuesday, Oct. 12, in the K-State Student Union. Read more
ARCHIVE YOUR ORACLE CALENDAR EVENTS
The university transitioned from Oracle calendar to K-State Zimbra calendar over the summer. Oracle calendar is still available as an archive, but will be decommissioned in early 2011. Read more
FREE ONLINE COURSE ON WEB DESIGN FUNDAMENTALS AT K-STATE
The Information Technology Assistance Center is offering a free online course, Web Design Fundamentals at K-State. This ten-week course begins Tuesday, Oct. 5, and is designed to introduce K-Staters to the fundamental concepts, terminology and best practices of Web design. Read more
COMMERCE BANK PRESIDENTIAL DIVERSITY AWARDS
Nomination/application forms for the following two Commerce Bank presidential awards are available at the following websites:
The Commerce Bank Presidential Faculty/Staff Award for Distinguished Services to Historically Under-represented Students was established in 1978 to recognize outstanding individual contributions to the development of quality education for students of color at Kansas State University. http://www.ksu.edu/ddcd/2011CommerceBankFacultyAward.pdf
The Commerce Bank Presidential Student Award for Distinguished Services in Enhancing Multiculturalism at Kansas State University was established in the spring of 1997 to recognize outstanding individual contributions to diversity enhancement within the student sector. http://www.ksu.edu/ddcd/2011CommerceBankStudentAward.pdf
UNIVERSITY'S EMERGENCY NOTIFICATION SYSTEM TO UNDERGO ROUTINE TEST OCT. 4
At about 10:15 a.m. Monday, Oct. 4, Kansas State University will conduct a test of K-State Alerts, the university's emergency notification system. Read more
2010 INTERNATIONAL EDUCATOR AWARD
The University Award for Advancing the International Mission of Kansas State University was established by the provost to recognize an individual who has contributed to advancing international education at Kansas State University. On behalf of the International Educator Award Selection Committee, you are invited to apply for or nominate candidates for this award. One individual is recognized each fall during International Education Week. The recipient will receive a plaque and a $1,000 honorarium. The nomination application deadline is October 15, 2010. Read more
COMMUNICATION WORKSHOP
There are a lot of communicators at K-State. But at the heart of the press releases and posts, tweets and teasers, banners and broadcasts, we should all be telling people the same thing: Why they should care about what goes on here. Our reach extends beyond Manhattan, beyond the state of Kansas, out into the nation and even the world. Read more
TOUGH ENOUGH TO WEAR PINK CAMPAIGN OCT. 4-8 ON CAMPUS
The fifth annual K-State Tough Enough to Wear Pink campaign will be Oct. 4-8 at Kansas State University. Read more
K-STATE THEATER PRESENTING GREEK TRAGEDY 'ANTIGONE'
Kansas State University Theater will present the Greek tragedy "Antigone" at 7:30 p.m. Oct. 7-9 and Oct. 13-16 in Nichols Theater. Read more
UNIVERSITY NEW HOME TO PRESTIGIOUS DEMOCRACY JOURNAL
Kansas State University has become the new home of the Journal of Public Deliberation, with K-State's David Procter and Timothy Steffensmeier serving as co-editors. Read more
RESEARCH EXPLAINS BRAND REPUTATION'S KEY ROLE IN A STORE-WITHIN-A-STORE
With the concept of a store-within-a-store growing across the country, a Kansas State University researcher's work shows the increasing importance of brand reputation and its strong role in governing decisions. Read more
ZOOKEEPER JACK HANNA BRINGING 'WILD' SHOW TO MCCAIN
Kansas State University's McCain Auditorium will kick off its 2010-2011 Performance Series with a live show by zookeeper "Jungle" Jack Hanna. Read more
CLEAN-UP WORK TO BEGIN AT FORMER UNIVERSITY RESEARCH WASTE LANDFILL
Work cleaning up an old research waste landfill on the Kansas State University campus will begin soon. The site was a burying ground for low-level radioactive waste and chemicals. Read more
BE STONEY IS UNIVERSITY'S NEW FACULTY ATHLETICS REPRESENTATIVE
A Kansas State University professor who was a standout student-athlete in college and a coach at the collegiate level is K-State's new faculty athletics representative.
BeEtta "Be" Stoney, associate professor of curriculum and instruction, has been appointed to the position by Kirk Schulz, K-State president. Stoney will work closely with the K-State athletics department and Big 12 Conference on issues related to academic integrity, rules compliance and student-athlete welfare.
Read more
Editor: Emily Vietti
Coordinator: Julie Fosberg
Phone: 785-532-2535
Fax: 785-532-7355
E-mail: media@k-state.edu