ORIENTATION SESSIONS SET RECORD AT K-STATE
The number of new students and their parents participating in K-State's recently completed orientation and enrollment sessions for the fall 2010 semester set a record, according to figures from the university's new student services office.
NOTEWORTHY

Florence Neymotin, economics, presented "Immigrant Enclaves and the Success of Entrepreneurial Ventures" and "Giving, and the Nature of Communities: An Analysis of How Community Characteristics Affect an Individual's Likelihood of Engaging in Volunteer Work," Western Economics Association International Conference, June 29-July 3, Portland, Ore.
ON CAMPUS
K-STATE AWARDS SEMESTER, GRADUATION HONORS FOR SPRING 2010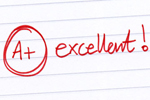 K-State is recognizing more than 2,850 students with spring semester honors and more than 320 students with graduation honors.
K-State students who earned a 3.75 grade point average or higher for the spring 2010 semester were awarded semester honors. Students had to be enrolled in at least 12 semester hours of graded course work.
Summa cum laude, K-State's highest graduation honor, was awarded to 103 students who graduated with an academic average of 3.95 or higher; 120 students graduated magna cum laude with an academic average of 3.85 to 3.949; and 125 students graduated cum laude with an academic average of 3.750 to 3.848.
PICTURE PERFECT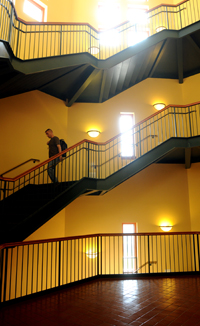 For creative professional images contact university photographer David Mayes at 785-532-6304 or photo@k-state.edu
For a gallery of Mayes' photos, go to: http://ksuphoto.zenfolio.com
OPPORTUNITIES
CLASSIFIED
• A recording of classified job opportunities is available 24 hours a day on the Employment Information Line, 785-532-6271.
• A list of employment opportunities is posted at www.k-state.edu/hr/
• For additional information, call 785-532-6277 or come to the Division of Human Resources in 103 Edwards Hall. Applications are accepted 8 a.m. - 5 p.m. weekdays.
UNCLASSIFIED
• A complete listing of vacancies can be seen at www.k-state.edu/affact/
• For additional information, call the office of affirmative action at 785-532-6220 or come by 214 Anderson Hall.
For previous issues click here
The next issue is July 28.
Submit items by noon July 22.
KIMBERLY WILLIAMS TO SERVE AS K-STATE'S 2010-2011 COFFMAN CHAIR FOR DISTINGUISHED TEACHING SCHOLARS
Helping her fellow faculty members turn their teaching into scholarship is how Kimberly Williams will spend her year as K-State's Coffman Chair for Distinguished Teaching Scholars.
PLAUDITS
HP LABS SELECTS K-STATE CYBERSECURITY RESEARCHER FOR INNOVATION RESEARCH PROGRAM

Xinming "Simon" Ou, assistant professor of computing and information sciences, is among a select group of professors chosen worldwide to participate in the Hewlett-Packard Co. Labs Innovation Research Program.
K-State is one of only 52 universities in the world to receive a 2010 Innovation Research Award. The annual program provides colleges, universities and research institutes around the world with opportunities to conduct breakthrough collaborative research with HP. More than 375 proposals from 202 universities across 36 countries were reviewed for this year's program. Read more
K-STATE ARCHITECTURAL ENGINEERING PROGRAM RECEIVES NATIONAL AWARD FOR PROMOTING LICENSURE, ETHICS AND PROFESSIONALISM
K-State's architectural engineering program has been selected as the 2010 recipient of the American Society of Civil Engineers' Walter LeFevre Award, which recognizes outstanding actions in the promotion of licensure, ethics and professionalism in the field.
It's the first time the society has selected an architectural engineering program to receive the award, according to David Fritchen, professor and head of K-State's department of architectural engineering and construction science. Read more
OH, BY THE WAY
K-STATE DEPENDENT/SPOUSE TUITION GRANT INCREASED
Larry Moeder, assistant vice president for student life, recently announced that the K-State Dependent/Spouse Tuition Grant has been increased from three hours per semester to seven hours per semester for full-time spouse and dependent undergraduate students. Read more
FORMER CHRISTIAN SCIENCE MONITOR PHOTOJOURNALIST JOINING K-STATE'S A.Q. MILLER SCHOOL OF JOURNALISM AND MASS COMMUNICATIONS
Andrew Nelson, a Topeka native who earned a bachelor's degree in journalism from K-State in 1987, will be joining the school's faculty in August as an assistant professor and R.M. Seaton Chair. Read more
LITTLE APPLE JAZZ FEST SWINGS INTO TOWN JULY 17
Beat the heat and enjoy the smooth sounds at this year's Little Apple Jazz Festival, which promises a new family-friendly area as well as all that jazz residents have come to love. The 10th annual event is Saturday, July 17, in Manhattan's City Park, 1101 Fremont. The fun begins at 4 p.m. with family-friendly events before the live music begins at 5:30 p.m. Read more
REMINDER: WINDOWS XP SP2 AND 2000 SUPPORT HAS ENDED
K-State will not allow any Windows XP Service Pack 2, SP2, operating system or older on the K-State network, which includes the wired and wireless networks on campus, the residence halls and dial-up and VPN connections to the campus network from off-campus. This action is due to Microsoft discontinuing support of older systems on Tuesday, meaning security updates will no longer be available for those systems. Read more
BETTER HEARING AND SPEECH PROGRAM
In recognition of the importance of hearing to communication, the K-State Speech and Hearing Center is offering free hearing screenings and video otoscopic examinations through July 28. Read more
NEW RESOURCE CENTER TO SUPPORT K-STATE'S LESBIAN, GAY, BISEXUAL AND TRANSGENDERED COMMUNITY
A new resource center opening in the fall semester at K-State will provide support to lesbian, gay, bisexual and transgendered students, faculty and staff. The center, in 207 Holton Hall, will be staffed 20 hours a week by Brandon Haddock, K-State doctoral student in geography, Junction City. Operation hours are being determined. Read more
K-STATE LIBRARIES' NEW KANSAS AERIAL PHOTOGRAPHY INITIATIVE PROVIDING A HISTORICAL RECORD OF HOW KANSAS LANDSCAPE EVOLVED
K-State Libraries at Kansas State University have completed the opening round of a project to digitize U.S. Department of Agriculture aerial photographs of Kansas counties for study and research. Read more
IMPROVING CELL PHONE SERVICE IN YOUR HOME
Some of you may have experienced dead spots for cell service in and around your home. Several cellphone companies are selling solutions to boost cell coverage in your home. These devices are know as microcells. The way they work is that they piggyback on a DSL or cable modem connection. They are plugged into a home switch or router and send all of the phone call and data used from the cellphone through the DSL or cable modem connection. Read more
Interim editor: Greg Tammen
Coordinator: Julie Fosberg
Phone: 785-532-2535
Fax: 785-532-6418
E-mail: media@k-state.edu