ADDITIONAL BACHELOR'S DEGREES MEAN MORE OPPORTUNITIES AT K-STATE SALINA
This fall is the time to reap new degree opportunities at K-State Salina.
When the fall semester begins in August, K-State Salina will offer a bachelor's degree in social work and add the personal financial planning option to its bachelor's in family studies and human services.
NOTEWORTHY

Joe Aistrup, professor of political science and associate dean of arts and sciences, presented "The Three Rs: Racism, Resentment and Regionalism in the Obama Vote in 2008," Southern Political Science Association, Jan. 8-11, New Orleans, La.
ON CAMPUS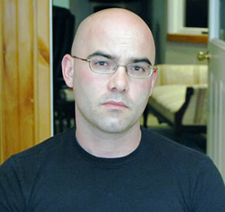 A READING BY PHILIPP MEYER
Novelist Philipp Meyer will do a reading at 3:30 p.m. Friday, Feb. 25, in the K-State Student Union Little Theater.
Meyer's first novel, "American Rust," made numerous 2009 best book lists. He was a finalist in 2010 for the New York Public Library's Young Lions Award, was recognized in The New Yorker's 20 Under 40 fiction issue and received a Guggenheim Fellowship.
Meyer grew up in a working class neighborhood in Baltimore, Md. He dropped out of high school and got his GED when he was 16. After spending several years volunteering at a trauma center in downtown Baltimore, he attended Cornell University, where he studied English. Since graduating Meyer has worked as a derivatives trader at UBS, a construction worker and an EMT, among other jobs. From 2005 to 2008 Meyer was a fellow at the Michener Center for Writers in Austin, Texas.
More information on his presentation is available at http://www.k-state.edu/english/visit.html.
"'American Rust' announces the arrival of a gifted new writer -- a writer who understands how place and personality and circumstance can converge to create the perfect storm of tragedy."
—Michiko Kakutani, The New York Times
PICTURE PERFECT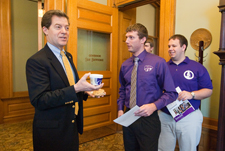 For creative professional images, contact university photographer David Mayes at 785-532-6304 or photo@k-state.edu
For a gallery of Mayes' photos, go to: http://ksuphoto.zenfolio.com
OPPORTUNITIES
CLASSIFIED
• A recording of classified job opportunities is available 24 hours a day on the Employment Information Line, 785-532-6271.
• A list of employment opportunities is posted at http://www.k-state.edu/hr/
• For additional information, call 785-532-6277 or come to the Division of Human Resources in 103 Edwards Hall. Applications are accepted 8 a.m. - 5 p.m. weekdays.
UNCLASSIFIED
• A complete listing of vacancies can be seen at http://www.k-state.edu/affact/
• For additional information, call the office of affirmative action at 785-532-6220 or come by 214 Anderson Hall.
For previous issues click here
The next issue is March 2.
Submit items by noon Feb. 25.
THE POWER OF PURPLE
These are the fifth and sixth entries in a series of stories about the color purple in honor of Kansas State University's founding on Feb. 16, 1863. To see the rest of the series, visit http://www.k-state.edu/media/.

PERCEPTION COLORS OUR VIEW OF PURPLE, PROFESSOR SAYS
Royal purple has a prestigious history at K-State. Since K-State students selected it as the school's official color in 1896, the color has become one of the university's greatest identifiers. Read more
FROM CRAYONS TO CREATION, PURPLE REMAINS SYMBOLIC COLOR IN LITERATURE
Purple is the color of adventure. At least, that's how author Crockett Johnson once described his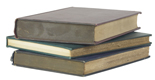 choice of the color in his famous children's picture book "Harold and the Purple Crayon."
No one knows whether Johnson was being serious about his color choice, but Johnson's book speaks to the sense of the adventure and imagination inside each reader, said Philip Nel, professor of English. Nel is the author of a biography on Johnson to be published in 2012. Read more
RESEARCH
SMALL PARTICLE MEANS BIG RESEARCH FOR INTERNATIONAL PHYSICS PROJECT
As part of a global physics project, a team of K-State physics researchers is starting small.
They're looking at neutrinos, tiny particles with a major influence on physics research.
Glenn Horton-Smith, associate professor of physics, is leading the K-State exploration on the Double Chooz neutrino detector, located in the Ardennes region of northern France. The detector measures neutrinos from the nearby Chooz nuclear power plant. Read more
OH, BY THE WAY
SEMINAR TO HELP LEADERS STRENGTHEN NETWORK CONNECTIONS
Participants in the 15th annual K-State Leadership Seminar will learn how to tap into networks that influence their work and everyday lives.
The seminar will be presented from 8:30 a.m. to 4:30 p.m. Thursday, April 7, in the K-State Student Union. It's open to business leaders and community members. Read more
COMMON READING PROGRAM BUILDS CONNECTIONS, PROMOTES ENGAGEMENT AMONG NEW COLLEGE STUDENTS
Getting lost in a book will help new students find their way at K-State.
Students, faculty and staff will read Dave Eggers' "Zeitoun" for the university's reading program. The K-State Book Network allows first-year students and the campus community to participate in thought-provoking discussions and connect with one another. Read more
READY, SET, GROW: K-STATE GARDENS OFFERS PUBLIC SEMINARS, LUNCH SERIES
Three public seminars are featured in the 2011 Friends of the Kansas State University Gardens Luncheon Series. Learn about drift roses in March, tour an 18th-century style colonial garden in June, and in November see how to use "old with new" to decorate for the holidays.
All programs will be on Thursdays from 11:45 a.m. to 1 p.m. in Manhattan, said Judy Unruh, coordinator of the series. Admission is $25 per person for the lunch and seminar. Net proceeds benefit the K-State Gardens. Read more
NO PLACE LIKE HOME: 'BROKE-OLOGY' AND ITS PLAYWRIGHT ALUM RETURN TO CAMPUS
"Broke-ology," a play written and first performed at K-State, is returning to campus along with its award-winning playwright, alumnus Nathan Louis Jackson, who has been featured recently in the New York Times.
K-State's Ebony Theater will perform "Broke-ology" at 7:30 p.m. Feb. 24-26, with a matinee performance at 2:30 p.m. Feb. 26 in East Stadium's Purple Masque Theater. Read more
Editor: Emily Vietti
Coordinator: Julie Fosberg
Phone: 785-532-2535
Fax: 785-532-7355
E-mail: media@k-state.edu