SCHOOL OF LEADERSHIP STUDIES BUILDING SNAGS HONORS
The School of Leadership Studies has won gold for going green.
A year after opening its doors, the school was notified that it has achieved LEED gold certification, and it's believed to be the first building to do so among higher education institutions in Kansas.
NOTEWORTHY

Gary Brase, associate professor of psychology, and colleague presented "Validation of Domain-Specific Risk-Taking with Three Temporal Perspective Measures," 12th annual conference of the Society for Personality and Social Psychology, Jan. 27-29, San Antonio, Texas.
ON CAMPUS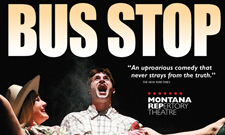 WILLIAM INGE'S 'BUS STOP' BRINGS SMALL-TOWN KANSAS TO MCCAIN AUDITORIUM
The Broadway production of William Inge's "Bus Stop" is rolling into Kansas State University's McCain Auditorium as part of the McCain Performance Series.
The play will be presented at 7:30 p.m. Friday, Feb. 18, by the Montana Repertory Theatre.
"Bus Stop" is about a busload of stranded passengers who wait out a snowstorm at a roadside diner in a rural Kansas town. A Pulitzer Prize-winning native of Kansas, Inge wrote "Bus Stop" in 1955. The play, his only comedy, is one of his most popular.
Tickets are on sale now, with prices starting at $27 for K-State faculty and staff. They can be purchased at the McCain Auditorium box office from 11:30 a.m. to 4:30 p.m. weekdays, or by calling 785-532-6428. More information is available online at http://www.k-state.edu/mccain.
A McCain Conversation featuring David Smit, professor of English, will precede the evening's performance at 6:30 p.m. in 204 McCain Auditorium. Inge spent most of his life wrestling with the demons aroused by his sexuality and his small-town upbringing. Smit will present a discussion of what "Bus Stop" reveals about Inge's character and issues of sexuality in the 1950s.
PICTURE PERFECT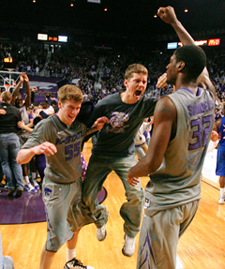 For creative professional images, contact university photographer David Mayes at 785-532-6304 or photo@k-state.edu
For a gallery of Mayes' photos, go to: http://ksuphoto.zenfolio.com
OPPORTUNITIES
CLASSIFIED
• A recording of classified job opportunities is available 24 hours a day on the Employment Information Line, 785-532-6271.
• A list of employment opportunities is posted at http://www.k-state.edu/hr/
• For additional information, call 785-532-6277 or come to the Division of Human Resources in 103 Edwards Hall. Applications are accepted 8 a.m. - 5 p.m. weekdays.
UNCLASSIFIED
• A complete listing of vacancies can be seen at http://www.k-state.edu/affact/
• For additional information, call the office of affirmative action at 785-532-6220 or come by 214 Anderson Hall.
For previous issues click here
The next issue is Feb. 23.
Submit items by noon Feb. 18.
THE POWER OF PURPLE
These are the third and fourth in a series of stories about the color purple in honor of Kansas State University's founding on Feb. 16, 1863. To see the rest of the series, check http://www.k-state.edu/media/ for updates.
PURPLE FOODS PROVIDE HEALTHY NUTRIENTS AND ANTIOXIDANTS
When it comes to healthy eating, consider adding some powerful purple foods to your diet. That's because many purple foods contain anthocyanins, which are red, blue and purple natural pigments. Anthocyanins are healthy because they're powerful antioxidants and may help boost the immune system, maintain health and prevent disease, said J. Scott Smith, Kansas State University professor of food chemistry. Read more

THROUGHOUT HISTORY, PURPLE ASSOCIATED WITH WEALTH AND POWER
The color purple has a significant place in both modern and ancient history, according to a Kansas State University professor. In the ancient world, purple was universally associated with wealth and power, said David Stone, professor of history. Read more
RESEARCH
RESEARCH AT LEVEL-3 LABORATORY PAVING THE WAY FOR FOOD SAFETY, HEALTH FOR ALL
Oh no, not more news about E. coli.
Most people are aware of the efforts to reduce health risks from E. coli O157:H7 linked to undercooked ground beef and fresh produce, including spinach and lettuce.
While the focus on minimizing the risks of O157:H7 is ever present, recent concerns about an emerging, cousin-like group of microorganisms -- dubbed non-O157 STECS, short for Shiga Toxin Producing E. coli -- is the focus of comprehensive research at K-State. Read more
PLAUDITS
GROUNDBREAKER: CHEMICAL ENGINEER EARNS NATIONAL SCIENCE FOUNDATION CAREER AWARD FOR WORK WITH GRAPHENE QUANTUM DOTS

Research with small particles has led to a big-time award for a Kansas State University researcher.
Vikas Berry, assistant professor of chemical engineering, has received a National Science Foundation CAREER award for his work involving graphene, which could lead to improved electronics and optoelectronics. Read more
POLSON TO RECEIVE WILLIAM E. KENNEDY AWARD

Cheryl Polson, associate dean of the Graduate School and professor in educational leadership, will be receiving the William E. Kennedy Award at the Council of College and Military Educators Conference on Thursday, Feb. 17, 2010.
The award recognizes Polson for her dedication, leadership and numerous accomplishments in providing quality, voluntary, off-duty education programs at Ft. Leavenworth. Read more
THE PET'S CHOICE: ONE OF THE FOREMOST EXPERTS ON FLEAS, TICKS IS VETERINARIAN OF THE YEAR

The 2010 Veterinarian of the Year is a K-State veterinarian who may be considered dog's best friend for his work in flea and tick control.
Michael Dryden is a professor of veterinary parasitology in the College of Veterinary Medicine's department of diagnostic medicine and pathobiology. He earned the honor from Ceva Animal Health and was recognized Feb. 12 at the Purina Pro Plan 57th annual Show Dogs of the Year Awards, presented by Dogs in Review magazine in New York City. Read more
A TRUE SELF-STARTER: HORNSBY GARNERS PRESTIGIOUS ENTREPRENEURSHIP FELLOWSHIP

In acceptance speeches, award winners often say it's an honor just to be nominated. But to be nominated for a prestigious fellowship by your best friend and mentor? That's not just an honor, it's humbling.
Jeffrey Hornsby, director of Kansas State University's Center for the Advancement of Entrepreneurship, has been named a Justin G. Longnecker Fellow by the United States Association for Small Business and Entrepreneurship, also known as USASBE. He is one of three individuals to earn the honor this year, and joins an elite group. Only 62 Longnecker Fellows have been elected in the past 25 years. Read more
GOODMAN'S PHOTOS TO BE PUBLISHED IN COLOR MAGAZINE




Allan Goodman, associate professor of architectural engineering and construction science, had three of his images selected for publication in the March special edition of Color magazine, a color photography magazine. Goodman's selected images are above.
OH, BY THE WAY
GETTING DOWN TO BUSINESS: ENTREPRENEURSHIP CENTER NABS 2011 EMERGING PROGRAM AWARD
When it comes to promoting success, the K-State Center for the Advancement of Entrepreneurship practices what it teaches.
The United States Association for Small Business and Entrepreneurship, or USASBE, has presented the K-State center with its 2011 Emerging Program Award. Read more
WORLD'S SMALLEST TRANSPONDER ON BOARD K-STATE SALINA UNMANNED AIRCRAFT
It squawks. It's the size of a business card. Weighing less than a cell phone, it's the world's smallest aviation transponder -- and it's on board Kansas State University at Salina's unmanned aircraft vehicle. Read more
EBONY THEATER SHINES SPOTLIGHT ON WOMEN OF COLOR IN FREE PERFORMANCES
K-State's Ebony Theater is giving free performances of the Broadway play "For Colored Girls Who Have Considered Suicide/When the Rainbow is Enuf."
The play will be presented at 7:30 p.m. Saturday, Feb. 19, and 2:30 p.m. Sunday, Feb. 20, in K-State's Nichols Theater. Advance tickets are not required to attend. Read more
POETS, NOVELISTS AND MORE MAKE FOR LITERARY MONTH AT K-STATE
Late February and early March offer a literary flair with lectures by noted scholars and poetry and fiction readings being offered by the department of English.
All events are free and open to the public. Read more
K-STATE LIBRARIES HOST "THE FUTURE OF INTEGRATION"
K-State Libraries will host a two-day event featuring a playing of an extended version of the newly discovered recording from Martin Luther King's speech at K-State in 1968. The recording was acquired from Galyn Vesey who obtained a tape of the speech shortly after it was broadcast over the radio in Wichita. Read more
NOVELIST PHILIPP MEYER, ONE OF NEW YORKER'S TOP 20 UNDER 40, SPEAKING FEB. 25
Author Philipp Meyer, who in 2010 was selected as one of The New Yorker's top 20 fiction writers under the age of 40, will read and discuss his work at K-State.
Meyer's presentation will be at 3:30 p.m. Friday, Feb. 25, in the Little Theater at the K-State Student Union. A short question-and-answer session and a book signing will follow. All events are free and open to the public. Read more
Editor: Emily Vietti
Coordinator: Julie Fosberg
Phone: 785-532-2535
Fax: 785-532-7355
E-mail: media@k-state.edu