FOR STUDENTS, BY STUDENTS: POWERCAT FINANCIAL COUNSELING EARNS SECOND NATIONAL HONOR
The national honors are adding up for Kansas State University's Powercat Financial Counseling, a free financial counseling and education program for students.
The service, which opened in fall 2009, has received the 2011 Promising Practices Award from Student Affairs Partnering with Academic Affairs Knowledge Community, which is part of NASPA, an organization for student affairs administrators in higher education.
NOTEWORTHY

Kevin Blake, professor of geography, published "Review of 'Historical Atlas of the American West' by Derek Hayes," Montana: The Magazine of Western History, Vol. 60, No. 4.
ON CAMPUS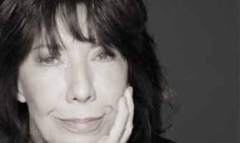 ERNESTINE, EDITH ANN AND MORE ACCOMPANY COMEDIC ARTIST LILY TOMLIN TO MCCAIN
Comedic great Lily Tomlin is bringing a night of laughter to Kansas State University's McCain Performance Series at 7:30 pm. Friday, Feb. 11.
The performance features Tomlin's comic insights and observations about the human condition through several of her special characters, including Sister Boogie Woman, Ernestine, Mrs. Beasley and Edith Ann.
After her rise to national prominence on the television series "Laugh-In" in 1969, Tomlin went on to star in six TV comedy specials. She then made her Broadway debut in 1977 in "Appearing Nitely," written and directed by Jane Wagner.
Tomlin has appeared in several films, including "Tea With Mussolini" and "Pink Panther II," and on television's "The West Wing," "Desperate Housewives," "Damages" and more.
Tickets are on sale now, with prices starting at $37 for K-State faculty and staff. Tickets can be purchased at the McCain Auditorium box office 11:30 a.m. to 4:30 p.m. weekdays, or by calling 785-532-6428. More information is available online at http://www.k-state.edu/mccain.
PICTURE PERFECT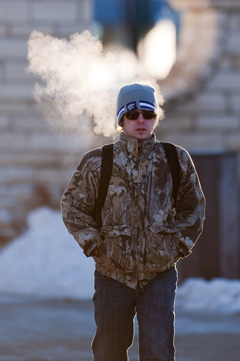 For creative professional images, contact university photographer David Mayes at 785-532-6304 or photo@k-state.edu
For a gallery of Mayes' photos, go to: http://ksuphoto.zenfolio.com
OPPORTUNITIES
CLASSIFIED
• A recording of classified job opportunities is available 24 hours a day on the Employment Information Line, 785-532-6271.
• A list of employment opportunities is posted at http://www.k-state.edu/hr/
• For additional information, call 785-532-6277 or come to the Division of Human Resources in 103 Edwards Hall. Applications are accepted 8 a.m. - 5 p.m. weekdays.
UNCLASSIFIED
• A complete listing of vacancies can be seen at http://www.k-state.edu/affact/
• For additional information, call the office of affirmative action at 785-532-6220 or come by 214 Anderson Hall.
For previous issues click here
The next issue is Feb. 16.
Submit items by noon Feb. 11.
THE POWER OF PURPLE

These are the first two in a series of stories about the color purple in honor of Kansas State University's founding on Feb. 16, 1863. To see the rest of the series, check http://www.k-state.edu/media/ for updates.
ROCK MUSIC'S ROOTS RUN DEEP WITH PURPLE, PROFESSOR SAYS
Ask Steven Maxwell what the color purple means and his answer is simple: turn the volume to 11 and open your mind, because purple is rock and roll in its prime. Read more
PURPLE IS A RARE COLOR IN PLANTS BUT IMPORTANT
Kansas State University isn't the only place where the color purple rules. In the plant world, many plants are defined by their purple color. Read more
PLAUDITS
BIOLOGY PROFESSOR SELECTED AS A TOP SCIENTIST IN KANSAS

Samantha Wisely, associate professor of biology, has been selected as one of the top 150 scientists in Kansas.
This selection is part of the Science in Kansas: 150 Years and Counting project of the Ad Astra Kansas Initiative, which will help celebrate the Kansas Sesquicentennial. This project highlights scientists of accomplishment with the goal of inspiring young Kansans. Read more
NICHOLS AND SCHURLE WIN COLLEGE OF AGRICULTURE DISTINCTION


Dave Nichols and Bryan Schurle were named College of Agriculture faculty of the fall semester.
Nichols, professor and teaching coordinator, advises about 100 students and teaches courses in live animal and carcass evaluation, introductory animal science and livestock sales management. He also serves as adviser for the Little American Royal showmanship contest. Read more
OH, BY THE WAY
COOK, LEARN, EAT: FOOD NETWORK GUEST CHEF EXPLORES TASTES OF ASIA AT CULINARY WORKSHOP
Celebrity chef Jet Tila will demonstrate his signature pad thai, reveal the secrets of rolling sushi and share his award-winning recipe for tom yum soup during a culinary workshop March 10 at K-State.
"A Taste of Asia," the seventh annual department of hospitality management and dietetics' Culinary Enhancement Workshop for professionals and alumni, begins at 10 a.m. in the Gold Room at Derby Dining Center. Registration deadline is Feb. 18. Read more
CONCERTS, RECITALS AND MORE MAKE FOR MUSICAL FEBRUARY
February is a month for music at K-State.
The department of music is offering several recitals and performances by guest artists, students and faculty throughout the month. Unless otherwise noted, all events are free and open to the public. Read more
'HISTORY'S QUIET KEEPERS': DOCUMENTARY TO RECOGNIZE CONTRIBUTIONS OF VOLUNTEER MEMORYKEEPERS
A K-State documentary project is recognizing the contributions of volunteers in five Kansas communities that help preserve historical memories.
The project will create the documentary film, "History's Quiet Keepers," which will feature interviews with volunteers at historical societies and cultural centers in five Kansas communities: Alma, Clay Center, Garden City, Topeka and Westmoreland. The documentary's goal is to increase visibility about diverse Kansas histories and about the gatherers of those histories. Read more
TEACHING, LEARNING AND TECHNOLOGY SHOWCASE
Learn from your colleagues! From 10 a.m.-1 p.m. Tuesday, March 1, in the K-State Student Union Ballroom, K-State faculty and staff will demonstrate how they use technology to enhance teaching and learning.
Have you thought about using social media, videos or portfolios in your courses? Faculty will demonstrate how they use these technologies and many more. Read more
JOHNSON CENTER AWARD DEADLINE APPROACHING
The Johnson Center for Basic Cancer Research is accepting applications for its spring semester awards. The deadline is March 1.
Center-affiliated faculty or K-State faculty eligible for affiliation may apply for innovative research awards, equipment awards and travel fellowships. Awards for affiliated faculty's graduate students and post-docs are also offered. Read more
BROWN V. BOARD OF EDUCATION TRAVELING EXHIBIT TO VISIT K-STATE
To celebrate the legal victory that dismantled racial segregation, the Brown v. Board of Education: In Pursuit of Freedom and Equality traveling exhibit will be on display until Feb. 25 in the William T. Kemper Art Gallery at the K-State Student Union in conjunction with Black History Month. Read more
Editor: Emily Vietti
Coordinator: Julie Fosberg
Phone: 785-532-2535
Fax: 785-532-7355
E-mail: media@k-state.edu