CENTER FOR CHILD DEVELOPMENT MOVES TO NEW HOME
The Center for Child Development is now in its new home at the east end of Jardine Drive on the K-State campus.
The doors to the early care and education facility opened officially Nov. 29, after faculty and administrative staff moved in during the week of Nov. 22-26. The $3.5 million facility is 32,000 square feet, more than double the size of its former location in K-State's Jardine Apartment Complex.
NOTEWORTHY

Denis Medeiros, professor of human nutrition, was elected to a two-year term as president of the National Association of National Institutes of Health Bridges Directors and Coordinators to advise the Division of Minority Office for Research on Bridges policies.
ON CAMPUS
CIRQUE DREAMS ILLUMINATION IMAGINATIVE AND HIP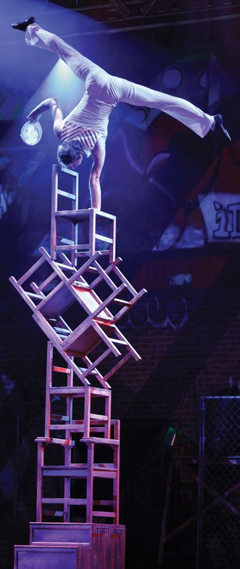 The McCain Performance Series presents Cirque Dreams Illumination Wednesday, Dec. 8, at 7:30 p.m. at McCain Auditorium.
Cirque Dreams Illumination blends imagination, theatrical innovation and breathtaking presentation into a story that illuminates a city of everyday people, workers and pedestrians into feats of disbelief.
Marvel as 27 world-class artists illuminate objects, balance on wires, leap structures and redefine flight with entertaining variety, comedy and extraordinary occurrences that reinvent everyday life. Urban acrobatics, choreography and illusions are ignited by special effects performed to a stylish original score of jazz, salsa, ballroom, pop and trendy beats from the streets.
Tickets can be purchased at the McCain box office or by calling 785-532-6428. Faculty and staff tickets start at $32.
PICTURE PERFECT
For creative professional images, contact university photographer David Mayes at 785-532-6304 or photo@k-state.edu
For a gallery of Mayes' photos, go to: http://ksuphoto.zenfolio.com
OPPORTUNITIES
CLASSIFIED
• A recording of classified job opportunities is available 24 hours a day on the Employment Information Line, 785-532-6271.
• A list of employment opportunities is posted at http://www.k-state.edu/hr/
• For additional information, call 785-532-6277 or come to the Division of Human Resources in 103 Edwards Hall. Applications are accepted 8 a.m. - 5 p.m. weekdays.
UNCLASSIFIED
• A complete listing of vacancies can be seen at http://www.k-state.edu/affact/
• For additional information, call the office of affirmative action at 785-532-6220 or come by 214 Anderson Hall.
For previous issues click here
The next issue is Dec. 15.
Submit items by noon Dec. 10.
FALL GRADUATION CEREMONIES FRIDAY AND SATURDAY AT K-STATE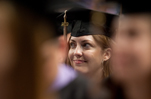 Fall commencement ceremonies will be Friday, Dec. 10, and Saturday, Dec. 11, on the K-State campuses in Manhattan and Salina. More than 1,275 students are candidates for graduation.
OH, BY THE WAY
NEW K-STATE KUDOS PAGE
Read about the recent successes of K-State students, faculty and staff on our new Kudos page: http://www.k-state.edu/vpcm/about/kudos/
And if you'd like to see even more, visit: http://www.k-state.edu/media/achievements/index.html
FALL 2010 GRADES SUBMISSION
This notification is to remind all K-State faculty and staff that grade rosters for regular courses will be available in iSIS after 5 p.m., Friday, Dec. 10. All grades are due by 5 p.m., Tuesday, Dec. 21. The deadline to copy grades from K-State Online to iSIS is 4 p.m., Tuesday, Dec. 21, which allows sufficient time for back-end processes to complete.
Students will be able to view grades for regular courses in iSIS Wednesday, Dec. 22. Read more
FACULTY AND STAFF BREAK ALL-UNIVERSITY CAMPAIGN RECORDS
Faculty and staff members set an all-time record this year with the highest participation rate ever in the annual All-University Campaign for K-State.
In its fifth year, the campaign is an internal fundraising effort run by campus faculty and staff volunteers that specifically focuses on participation. Read more
PROGRAM HELPS TEACHERS BRING ETHIOPIAN CULTURE TO CLASSROOMS
After embarking on a monthlong trip to Ethiopia as part of a K-State program, a group of 12 teachers recently returned to the United States with a fresh perspective on teaching cultural diversity.
The program -- developed by Jacqueline Spears, professor of curriculum and instruction and director of K-State's Center for Science Education, and Laurie Curtis, assistant professor of curriculum and instruction -- was designed to introduce teachers to Ethiopian history, language and culture and to help them to incorporate elements of African culture in their classrooms. Read more
MUSIC OFFERS HOLIDAY-THEMED PERFORMANCES
The music department is offering several holiday-related performances during December.
Unless otherwise noted, all events are free and open to the public. Read more
THERE'S NO PLACE LIKE NOME FOR PROFESSOR RESEARCHING MIGRANT SHOREBIRDS
The small town of Nome on the western coast of Alaska is best known to the world as the finish line for the Iditarod Trail Sled Dog Race. But for Brett Sandercock, associate professor of biology, the area has far more importance.
Every spring thousands of migratory shorebirds fly more than 6,000 miles from the equator to Alaska to breed, but little is known about how these birds are being affected by environmental changes in the Arctic. Read more
NEW STATEWIDE CENTER TO CREATE, COMMERCIALIZE BIOSCIENCE-BASED PRODUCTS AND MORE
The Advanced Manufacturing Institute will use a nearly $600,000 Partnership for Innovation grant from the National Science Foundation to support the development of a statewide science and engineering center to create and commercialize bioscience-based products, processes and technologies. Read more
BRIGADE COMMAND PROGRAM HONORED FOR CONTRIBUTIONS TO ADULT EDUCATION
The Brigade Command Team Spouse Development Program has received a prestigious national award for its outstanding leadership and success as an adult education program.
The American Association of Adult and Continuing Education chose K-State's program to receive the Malcolm Knowles Award for Outstanding Adult Education Program of the Year. The award honors the legacy of Malcolm Knowles, who is best known for his efforts to expand the field's understanding of andragogy, the art and science of teaching adults. The award recognizes an adult learner program that has been built upon and embraces andragogical methods of teaching. Read more
UNIVERSITY'S TECH TRANSFER GROUP TO HELP COMMERCIALIZE INTELLECTUAL PROPERTY PORTFOLIO
K-State's goal of being recognized nationally as a top 50 public research university by 2025 is getting a boost.
A recently formed partnership between the National Institute for Strategic Technology Acquisition and Commercialization, or NISTAC, and the Midwest Research Institute, or MRI, will use many of the processes in the marketing and commercialization of K-State technologies to help deliver technologies to the market on behalf of MRI. Read more
PROFESSOR TO PARTICIPATE IN U.N. CLIMATE CHANGE CONFERENCE
A Kansas State University professor will be in the company of international agricultural and environmental leaders when he attends the 2010 United Nations Climate Change Conference in Cancun, Mexico.
Chuck Rice, university distinguished professor of soil microbiology, will participate in several workshops, lectures and side events held in connection with the Conference of the Parties, COP16, meetings, which started Nov. 29 and run through Dec. 10. Read more
ELATEWIKI WINS PRIZE
The Division of Continuing Education's ELATEwiki took second place in the Center for Transforming Student Services Innovation Awards' Communications Suite – Center for Transforming Student Services Generation 4 category. ELATEwiki is a collaborative website that allows students and faculty to post messages and interact through a dynamic information exchange.
The awards were given to college and university student services professionals who have used tools, creative strategies and fresh thinking to design, develop, implement and maintain online student services that have produced measurable results. The center accepted entries from many areas of student services, including student communications, registration, admissions, advising, career planning, financial aid, legal services, disability services and more.
2011 C. PETER MAGRATH UNIVERSITY COMMUNITY ENGAGEMENT AWARD
Since 2006 the Association of Public and Land-Grant Universities, with support of the W.K. Kellogg Foundation, has recognized the outreach scholarship and engagement partnerships of four-year universities. The C. Peter Magrath University Community Engagement Award recognizes programs that demonstrate how colleges and universities have redesigned their learning, discovery and engagement functions to become even more involved with their communities. Read more
ENROLL FOR 'LEADING A COMMUNITY OF LEARNERS' TEACHING RETREAT
Leading a Community of Learners, the 2011 teaching retreat, will take place Jan. 13, 2011, at the Leadership Studies Building. Come discover the various sorts of learning communities that exist at K-State. The retreat is hosted by the Faculty Exchange for Teaching Excellence. Read more
ACADEMIC EXCELLENCE FUND CHANGES, DEADLINE APPROACHING
The offices of the president and provost have traditionally provided funds for one-time expenses across campus. These monies have been used for a wide variety of different projects, including bringing speakers to campus, purchasing needed pieces of equipment, providing travel support or assisting with modest renovation projects. Read more
NRC APPROVES UNIVERSITY REACTOR SAFETY STEPS
The Nuclear Regulatory Commission has issued one violation in connection with a minor radiation exposure at K-State's nuclear research reactor, but the agency is waiving its usual fine because of K-State's safe reactor operating record and proactive response addressing safety procedures. Read more
Editor: Emily Vietti
Coordinator: Julie Fosberg
Phone: 785-532-2535
Fax: 785-532-7355
E-mail: media@k-state.edu