ADVANCED MANUFACTURING INSTITUTE NOW PART OF WORLDWIDE INSTRUMENTATION EXPERTS PROGRAM
The Advanced Manufacturing Institute has been accepted into the National Instruments Alliance Partner Program.
The program is a worldwide network of consultants, system integrators, developers, channel partners and industry experts who collaborate with the program to provide complete, high-quality virtual instrumentation solutions to customers.
NOTEWORTHY

Doug Benson, professor of modern languages, presented "Enhancing the Second Language Acquisition Process Inside and Outside the Classroom and During Study Abroad," bi-regional conference of NAFSA: Association of International Educators, Nov. 16, Omaha, Neb.
ON CAMPUS
ARCHITECTURE EXHIBIT FEATURES LETAROUILLY'S 'EDIFICES DE ROME MODERNE'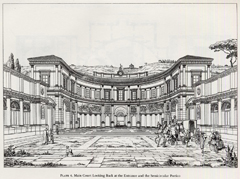 "A Comparative Analysis of Letarouilly's 'Edifices de Rome Moderne' -- Then and Now" will be shown in the Chang Gallery of Seaton Hall at Kansas State University from Nov. 29 to Jan. 21, 2011. The exhibit is sponsored by the College of Architecture, Planning and Design.
The exhibit features the reproductions of engravings and original photographs documenting buildings of renaissance and baroque Rome as depicted by Paul Marie Letarouilly in his three-volume "Edifices de Rome Moderne." The exhibit locates and documents the existing structures and the present state of the buildings depicted in Letarouilly's 354 plates, illustrating both historic changes and original misrepresentations.
Letarouilly published Volume I in 1840 and Volume 2 in 1850; Volume 3 was published in 1857, two years after his death. A companion publication, "Table of Materials," was published to go with the set in 1857.
The engravings were so popular that Volume 1 was substantially upgraded and reprinted in 1851. The enhanced renderings in the 1851 version became the basis for all subsequent versions of the publication.
The Chang Gallery is free and open to the public weekdays from 8 a.m. to 5 p.m. It is closed between Christmas and New Year's Day, as well as on weekday holidays. Funding for this exhibit is provided by the K-State student fine arts fee.
PICTURE PERFECT
For creative professional images, contact university photographer David Mayes at 785-532-6304 or photo@k-state.edu
For a gallery of Mayes' photos, go to: http://ksuphoto.zenfolio.com
OPPORTUNITIES
CLASSIFIED
• A recording of classified job opportunities is available 24 hours a day on the Employment Information Line, 785-532-6271.
• A list of employment opportunities is posted at http://www.k-state.edu/hr/
• For additional information, call 785-532-6277 or come to the Division of Human Resources in 103 Edwards Hall. Applications are accepted 8 a.m. - 5 p.m. weekdays.
UNCLASSIFIED
• A complete listing of vacancies can be seen at http://www.k-state.edu/affact/
• For additional information, call the office of affirmative action at 785-532-6220 or come by 214 Anderson Hall.
For previous issues click here
The next issue is Dec. 8.
Submit items by noon Dec. 3.
PURPLE SWEET POTATOES TURN PIE INTO POSSIBLE CANCER-FIGHTING FOOD
Nutrition scientists here at K-State could be accused of carrying Purple Pride to extremes. But the purple sweet potato pies they created for Thanksgiving are a practical application of research.
PLAUDITS
UNDERGRADUATE RESEARCH MENTORING EFFORTS EARN GOFF NATIONAL RECOGNITION

Briana Nelson Goff, associate dean for academic affairs in the College of Human Ecology, has received national recognition for her work developing the next generation of scholars.
The Association of Public and Land-grant Universities Board on Human Services presented Goff with the Undergraduate Research Mentor Award Nov. 15 at its annual conference in Dallas. The award recognizes a faculty member in the human sciences for exceptional performance as a research mentor for undergraduate students.
Goff, a professor in family studies and human services, is college coordinator for the University Honors Program and provides leadership for undergraduate research projects. She has mentored more than 100 students, including more than 55 undergraduate students, in her research program since 1998. Read more
MAES RECEIVES WCET'S HIGHEST AWARD FOR ADULT AND RURAL EDUCATION LEADERSHIP

The WICHE Cooperative for Educational Technologies, known as WCET, is honoring Sue Maes, dean of continuing education and co-director of the Institute for Academic Alliances at Kansas State University, with the Richard Jonsen Award.
The award is given annually to a WCET member whose career has been committed to improving postsecondary educational programs and services through innovative uses of technology. The award also recognizes Maes' exceptional service to WCET, a membership organization that works to accelerate the adoption of effective practices and policies, advancing excellence in technology-enhanced teaching and learning in higher education. The announcement was made at WCET's recent annual membership conference in La Jolla, Calif. Read more
FALL 2010 ASSESSMENT SHOWCASE AWARDS


Awards were given out at the Fall 2010 Assessment Showcase. Read more
OH, BY THE WAY
NO K-STATEMENT NEXT WEEK
Due to the Thanksgiving holiday, K-Statement will not publish next Wednesday.
The next publication will be Wednesday, Dec. 8. The deadline for getting items into that issue is Friday, Dec. 3.
If you have any questions, please contact Emily Vietti, K-Statement editor, at evietti@k-state.edu or 785-532-1545.
PROFESSOR EVALUATES GLOBAL BUSINESSES TO DETERMINE EFFECTIVE OUTSOURCING PRACTICES
A K-State professor has found that for outsourcing to be effective, the organization must not rely solely upon contracts but should also establish an informal supplier-buyer relationship.
"So many people are looking at whether to do outsourcing or not: is it a good decision or a poor one? Not too many have actually studied how to do it effectively, though. That question of 'how' is really key," said Chwen Sheu, Paul Edgerley Chair in Business Management, professor and interim head of the department of management at K-State's College of Business Administration.
Sheu studied how nearly 1,000 companies worldwide manage outsourcing for his paper, "What makes outsourcing effective -- a transaction cost analysis." He investigated how firms should structure and govern outsourcing transactions in order to achieve a competitive edge in the market. The paper was co-authored by John Wacker from Arizona State University and C.L. Yang from Chung Hau University, Taiwan. Read more
50 HOLIDAY POINSETTIA VARIETIES OFFERED AT K-STATE PLANT SALE
Nearly 50 varieties of poinsettias will be displayed and offered to the public as a fundraiser for the Kansas State University Gardens.
The flowering plants will be on sale 11 a.m. to 3 p.m. Wednesday, Dec. 1; and Saturday, Dec. 4, at the Quinlan Visitor Center, 1500 Denison Ave. Read more
BEACH MUSEUM GATHERS 'MATERIAL EVIDENCE' FOR EXHIBIT
The work of international artists is now on display at the Marianna Kistler Beach Museum of Art.
"Material Evidence: A Phenomenology of Matter" features the work of eight artists from around the world. The artists work in a variety of media, such as painting, video, photography, sculpture, textiles, ceramics, and computer-activated installations.
The exhibit runs through Sunday, Feb. 6, 2011. Read more
K-STATE'S 'MR. MANNERS' PROVIDES HOLIDAY DINING TIPS
This holiday season don't let your bad manners get you relegated to the kids' table.
Pat Pesci, director of the hotel and restaurant management program, said that holiday meals always seem to ramp up people's focus on dining etiquette and table manners. Read more
K-STATE BULLETIN BOARD CHANGES
On Dec. 9 the K-State Bulletin Board will stop running run on Cox channel 21 off campus and Wildcat Cable channel 10 on campus. The channels are being repurposed for other uses.
Options are being considered, including running the daily announcements on channel 8 to reach campus and off-campus audiences. However, this will change the content and format of the events schedule.
Keep an eye out for the plan for airing future announcements. Please contact Susan Jagerson in the Division of Communications and Marketing if you have any questions.
CIRQUE DREAMS ILLUMINATION FINAL MCCAIN PERFORMANCE OF SEMESTER
The McCain Performance Series will end the semester with Cirque Dreams Illumination at 7:30 p.m. Wednesday, Dec. 8, in McCain Auditorium.
The show is appropriate for the entire family. It blends imagination, theatrical innovation and illuminating presentation into a story that turns a city of everyday people, workers and pedestrians into feats of disbelief.
Cirque Dreams Illumination features 27 world-class artists as they illuminate objects, balance on wires and leap structures. Performers redefine flight with entertaining variety, comedy and extraordinary occurrences that reinvent ordinary life. Read more
CREATIVE WRITING STUDENTS TO SHARE LITERARY RESPONSES TO SPECIAL ART EXHIBIT
Creative writing students will share their literary responses to the "Material Evidence" exhibition now on display at the Marianna Kistler Beach Museum of Art. The presentation starts at 3:30 p.m. Friday, Dec. 3, at the museum.
The readings are distinctive because they will not be read in a lecture setting. Instead, students will stand by their chosen art pieces and deliver their responses in poem, short fiction or lyric essay form. This will help listeners understand the sound of the readers' language in relation to the texture and color of the artwork. Read more
Editor: Emily Vietti
Coordinator: Julie Fosberg
Phone: 785-532-2535
Fax: 785-532-7355
E-mail: media@k-state.edu