CARNEGIE FOUNDATION AGAIN RECOGNIZES UNIVERSITY'S EXCELLENCE
The Carnegie Foundation for the Advancement of Teaching has once again recognized K-State for excellence. Already ranked by the Carnegie Foundation as a "very high research activity" university, K-State was named one of 115 institutions to receive the 2010 Community Engagement Classification.
NOTEWORTHY

Charles (Jack) Oviatt, Joel Spencer, Yuxin Fan, geology, and students presented "New Data on The Late Pleistocene History of Lake Fluctuations in The Sevier Desert, Utah," at the American Geophysical Union fall meeting, Dec. 13-17, San Francisco, Calif.
ON CAMPUS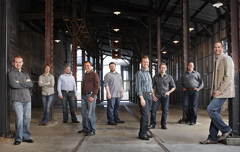 MCCAIN PERFORMANCE SERIES PRESENTS MALE A CAPELLA ENSEMBLE CANTUS
Recognized as one of America's finest professional male vocal ensembles, Cantus comes to K-State's McCain Auditorium 7:30 p.m., Thursday, Jan. 20.
The ensemble enjoys a vigorous schedule of national tours, subscription concerts in its home of Minneapolis and Saint Paul, educational outreach programs and recording. The ensemble is known for adventurous programming spanning many periods and genres, including chant, Renaissance music, contemporary works, art song, folk, spirituals, world music and pop.
The Washington Post hails the ensemble's sound as having both "exalting finesse" and "expressive power" and refers to its music-making as "spontaneous grace."
Faculty and staff tickets start at $27, and purchasing information can be found online at http://www.k-state.edu/mccain/performances/cantus/ or by calling the box office at 785-532-6428.
PICTURE PERFECT
For creative professional images, contact university photographer David Mayes at 785-532-6304 or photo@k-state.edu
For a gallery of Mayes' photos, go to: http://ksuphoto.zenfolio.com
OPPORTUNITIES
CLASSIFIED
• A recording of classified job opportunities is available 24 hours a day on the Employment Information Line, 785-532-6271.
• A list of employment opportunities is posted at http://www.k-state.edu/hr/
• For additional information, call 785-532-6277 or come to the Division of Human Resources in 103 Edwards Hall. Applications are accepted 8 a.m. - 5 p.m. weekdays.
UNCLASSIFIED
• A complete listing of vacancies can be seen at http://www.k-state.edu/affact/
• For additional information, call the office of affirmative action at 785-532-6220 or come by 214 Anderson Hall.
For previous issues click here
The next issue is Jan. 19.
Submit items by noon Jan. 14.
K-STATE RESEARCHERS MAKE 2010 A YEAR OF INTRIGUING DISCOVERIES
2010 was a busy year of discoveries for Kansas State University researchers. Here is a sampling of some intriguing and fun faculty and student research projects from the past year.
PLAUDITS
K-STATE PROFESSOR IS STATE SOCIAL WORKER OF THE YEAR

Jacque Gibbons has been named the social worker of the year in Kansas.
Gibbons, an associate professor of social work, was selected for the honor by the Kansas Chapter of the National Association of Social Workers. The chapter cited Gibbons' commitment to the values and ethics of the profession; his volunteer service, particularly with the American Red Cross as a certified mental health responder; and his work training future social workers. Read more
SMITH, CAI EARN HONORS FROM COLLEGE OF BUSINESS ADMINISTRATION


Two College of Business Administration faculty members received teaching and research awards at the college's Dec. 11 commencement ceremony.
Fred Smith, instructor in accounting, is the fall 2010 recipient of the Kansas State Bank Teaching Excellence Award. Gangshu "George" Cai, assistant professor of management, received the 2010 College of Business Administration Outstanding Contributions in Research Award. Read more
WILLIAMSON EARNS PROFESSIONAL ENGINEER LICENSE

Matthew Williamson, instructor of construction engineering technology at K-State Salina, has earned his professional engineer license in civil engineering-geotechnical.
The licensure allows Williamson to seal his own designs, plans and documents as being approved by a professional engineer. Read more
OH, BY THE WAY
WEB EDITORS MEETING SCHEDULED FOR FEB. 1
The Web Services team invites all departmental Web editors to join them for an open monthly meeting 11:30 a.m.-12:30 p.m. Feb. 1 in the Leadership Studies Building, Room 201. The meeting will address what's happening online at K-State. The possibilities are growing through a new content management system, evolving Web templates and expanding Web 2.0 technologies. Seating is limited, so people interested in attending should register at http://www.k-state.edu/webservices/meeting or send an email to wherndon@k-state.edu.
K-STATE'S WEB ACCESSIBILITY BETTER THAN ANALYSIS SUGGESTS
On Dec. 12, 2010, the Chronicle of Higher Education released some statistics on the "Best and Worst College Websites for Blind Students" based on data compiled by Jon Gunderson from the University of Illinois at Urbana-Champaign. K-State was ranked 106 out of 183 institutions analyzed with a total average score of 51.9 percent.
However, in analyzing the data, it seems that K-State's website may not be as inaccessible as the article's data suggests. Read more
PRESIDENT KIRK SCHULZ ANNOUNCES NEW CONTRACT FOR ATHLETICS DIRECTOR JOHN CURRIE
President Kirk Schulz announced Monday that John Currie, K-State athletics director, has accepted a new contract, a move that recognizes Currie for his outstanding leadership and allows K-State Athletics to continue the stability and momentum provided since his appointment 18 months ago. Read more
PARTNERSHIP WITH ARGENTINEAN UNIVERSITY KICKS OFF
Two K-State professors recently traveled to Argentina to kick off an international institutional cooperation between K-State and the University of Lanus, or UNLa, in Buenos Aires.
The institutional agreement was developed last summer after Gabriela Diaz de Sabates, instructor of women's studies, and Marcelo Sabates, associate professor and head of the philosophy department, presented the idea to authorities at the University of Lanus. Their trip was supported by a grant from K-State's office of international programs. Read more
K-STATE PROJECT PUTTING IPADS IN LOCAL MATH CLASSROOMS
The department of curriculum and instruction is using a $70,000 grant enhancement to purchase iPads for mathematics teachers in local school districts.
The iPads will be used as a technological resource to enhance math lessons and instruction in the classroom. Read more
RESEARCH LOOKS AT PATHOGENIC ATTACKS ON HOST PLANTS
Two K-State researchers focusing on rice genetics are providing a better understanding of how pathogens take over a plant's nutrients.
Their research provides insight into ways of reducing crop losses or developing new avenues for medicinal research. Read more
PROFESSORS USING USDA GRANT FOR VETERINARY EDUCATION ENHANCEMENT PROJECT
Three faculty members from the College of Veterinary Medicine have received a grant for developing a new method of teaching veterinarians involved with food safety.
David Anderson, Robert Larson and Brad White, all from the department of clinical sciences, are receiving part of a Higher Education Challenge Grant from the U.S. Department of Agriculture for their project, "Food Systems Veterinary Medicine for the 21st Century." Read more
DODDS CONTRIBUTES TO NEW NATIONAL STUDY ON NITROGEN WATER POLLUTION
Walter Dodds, university distinguished professor of biology, is part of a national research team that discovered that streams and rivers produce three times more greenhouse gas emissions than estimated by the Intergovernmental Panel on Climate Change.
Through his work on the Konza Prairie Biological Station and other local streams, Dodds helped demonstrate that nitrous oxide emissions from rivers and streams make up at least 10 percent of human-caused nitrous oxide emissions -- three times greater than current estimates by the climate change panel. Read more
PROFESSOR EDITS NEW BOOK ABOUT SOVIET UNION IN WORLD WAR II
David Stone, the Pickett Professor of Military History and director of the Institute for Military History and 20th Century Studies, is editor of the new volume "The Soviet Union at War 1941-1945."
The book is published by British publishing company Pen and Sword Books; Casemate Publishing will distribute it in the U.S. Read more
DRAMA THERAPIST'S NEW BOOK PROMOTES BARRIER-FREE THEATER
Sally Bailey, associate professor and director of the drama therapy, had her third book, "Barrier-Free Theatre," published by Idyll Arbor.
In the book Bailey shares her ideas, tips and anecdotes about making theater accessible to children and adults with disabilities. Read more
THE ECOSYSTEM ENGINEER: RESEARCH LOOKS AT BEAVERS' ROLE IN RIVER RESTORATION
When engineers restore rivers, one K-State professor hopes they'll keep a smaller engineer in mind: the North American beaver.
Beavers are often called ecosystem engineers because they can radically alter stream or valley bottom ecosystems, said Melinda Daniels, an associate professor of geography who recently studied the connection between beavers and river restoration. Beaver dams create diverse river landscapes, she said, and can turn a single-thread channel stream into a meadow, pond or multichannel, free-flowing stream. Read more
STUDY LOOKS AT ENHANCING THE FOOD SAFETY CULTURE TO REDUCE FOODBORNE ILLNESS
If providing safe food is a priority, why do large outbreaks of foodborne illness keep happening?
Incidents like 2010's salmonella-in-eggs outbreak sickened more than 1,900 across the U.S. and led to the recall of 500 million eggs. Read more
POP ART, COMMUNITY INTERSECT AT BEACH MUSEUM'S OPEN HOUSE FOR MARTIN LUTHER KING DAY
The Beach Museum will celebrate two world-changers with its Martin Luther King Day Open House.
The free Day-On Open House is 10 a.m. to noon Monday, Jan. 17. The event, funded by a Community Giving Program Grant from Target, celebrates the holiday as a day on, not a day off. Read more
HIGHLIGHTS FROM DECEMBER FACULTY SENATE MEETING
Faculty Senate minutes for the Nov. 9 meeting have been posted at http://www.k-state.edu/facsen/facsenate/2011/minutes.htm. Read more
K-STATE ALREADY ON THE MOVE IN 2011: PROVOST MASON VISITS CONFUCIUS INSTITUTE
On Jan. 5, Provost April Mason and Wei Wu, Chinese program director and special assistant on China affairs, visited the Confucius Institute at the University of Kansas Edwards campus. The visit was a further step in the investigation process to evaluate if a Confucius Institute could be established at K-State. The idea was proposed by the Chinese program and the East Asian Studies program as a way to strengthen Chinese language and culture teaching at K-State. As the first step of the investigation process, Mason and Wu visited the headquarters of the Confucius Institute in Beijing in July 2010. Read more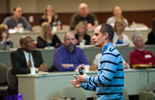 Michael Wesch, associate professor in cultural anthropology and expert in the effects of new media on society and culture, discusses leadership and social media at the Coffman Institute Retreat, Jan. 5. The next Coffman Leadership Institute will be in 2012, with nominations opening in January that year. More information about the institute, visit http://www.k-state.edu/leadership
/coffmanLeadershipInstitute.html?section=na&selected=na
Editor: Emily Vietti
Coordinator: Julie Fosberg
Phone: 785-532-2535
Fax: 785-532-7355
E-mail: media@k-state.edu