FOOTBALL FINDS PLACE IN THANKSGIVING CELEBRATIONS, PROFESSOR SAYS
The Thanksgiving holiday in the U.S. means plenty of turkey, mashed potatoes, pumpkin pie -- and football.
American football has become a staple in the Thanksgiving celebration of feast and family, according to a Kansas State University expert on the history of sport. The day typically includes nationally televised college and pro games.
NOTEWORTHY

Jeffrey S. Hornsby, director of the Center for the Advancement of Entrepreneurship, presented the keynote speech "Creating an Organizational Architecture to Facilitate Corporate Entrepreneurship and Innovation: An Integration of Research," Strategic Entrepreneurship: Bringing Organization Design and Micro-foundations Into the Field, Nov. 11-12, Copenhagen, Denmark.
ON CAMPUS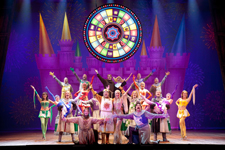 MCCAIN PRESENTS TONY AWARD-WINNING MUSICAL 'SPAMALOT'
The musical "Monty Python's Spamalot" will be performed at 7:30 p.m. Thursday, Nov. 18, in McCain Auditorium as part of the 2010-2011 McCain Performance Series.
Based on the film "Monty Python and the Holy Grail," "Spamalot" is a musical comedy about King Arthur and his knights of the round table as they embark on their quest for the Holy Grail. The stage performance includes characters such as dancing divas and knights, killer rabbits, and a legless knight.
The production has received several awards, including 2005 Tony Awards for best musical and best director; the Drama Desk and Outer Critics Circle awards for best musical; and the 2006 Grammy Award for best musical show album.
"Spamalot" features music and lyrics by the award-winning team of Eric Idle and John Du Prez, and choreography by Casey Nicholaw.
The McCain show is produced by Stephen B. Kane, Michael McFadden and Phoenix Entertainment. It is recommended for ages 12 and up.
Tickets are on sale now, and discounts for K-State faculty and staff are available. Tickets can be purchased at the McCain Auditorium box office, 11:30 a.m.-4:30 p.m. weekdays, or by calling 785-532-6428. More information is available online at http://www.k-state.edu/mccain.
PICTURE PERFECT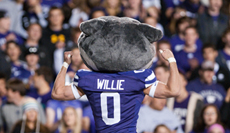 **Walk-in portraits for faculty and staff are from 10 a.m. to noon and 1 to 3 p.m. Tuesday, Nov. 23. Photo Services is located in Studio B of Dole Hall.**
For creative professional images, contact university photographer David Mayes at 785-532-6304 or photo@k-state.edu
For a gallery of Mayes' photos, go to: http://ksuphoto.zenfolio.com
OPPORTUNITIES
CLASSIFIED
• A recording of classified job opportunities is available 24 hours a day on the Employment Information Line, 785-532-6271.
• A list of employment opportunities is posted at http://www.k-state.edu/hr/
• For additional information, call 785-532-6277 or come to the Division of Human Resources in 103 Edwards Hall. Applications are accepted 8 a.m. - 5 p.m. weekdays.
UNCLASSIFIED
• A complete listing of vacancies can be seen at http://www.k-state.edu/affact/
• For additional information, call the office of affirmative action at 785-532-6220 or come by 214 Anderson Hall.
For previous issues click here
The next issue is Nov. 24.
Submit items by noon Nov. 19.
K-STATE TOP MILITARY-FRIENDLY HONOREE FOR FOURTH YEAR IN A ROW

K-State is a Military Advanced Education magazine Top Military-Friendly Colleges and Universities honoree for the fourth year in a row.
The magazine has been honoring military-friendly colleges and universities since 2007, and K-State has been on its list each year. K-State and the other institutions receiving the honor are featured in the magazine's December issue.
PLAUDITS
JOHN HATCLIFF AND ROBBY RECEIVE ANOTHER AWARD FOR INFLUENTIAL SOFTWARE ENGINEERING RESEARCH
John Hatcliff, professor of computing and information science, pictured left, and Robby, associate professor of computing and information science, pictured right, have received a second prestigious award for their 2000 paper titled "Bandera: Extracting Finite-State Models from Java Source Code." Read more
THREE FACULTY MEMBERS RECEIVE INTERNATIONAL EDUCATOR AWARD
Kansas State University's International Educator Award is being presented to three faculty members for their efforts to advance international education at the university.
Swinder Janda, professor of marketing; Delores Chambers, professor of human nutrition; and Edgar Chambers, university distinguished professor of human nutrition, will receive the award at a ceremony and reception at 3 p.m. Friday, Nov. 19, in Hale Library's Hemisphere Room. The event is open to the public. Read more
BUYLE NAMED ADVISER OF THE YEAR
Ray Buyle, assistant professor of architectural engineering and construction science, has been named K-State's 2010-2011 adviser of the year by the Office of Student Activities and Services.
Buyle was given the award for his involvement with the student chapter of the Associated General Contractors of America. Read more
OH, BY THE WAY
ENERGY COMPETITION TO PIT K-STATE, MANHATTAN AGAINST KU, LAWRENCE
K-State will be teaming up in 2011 with the city of Manhattan to try to beat the University of Kansas and Lawrence in a nine-month energy conservation competition. Read more
FOOD FOR THOUGHT LECTURE SERIES HONORS DAN UPSON
The student group Food for Thought is launching a new lecture series in honor of Dan Upson, K-State professor emeritus of anatomy and physiology.
The lecture series will focus on bringing information about agriculture and food production to a broad audience, said Chelsea Good, a member of the group. Read more
BEACH MUSEUM ORGANIZES HOLIDAY-THEMED ART WORKSHOP
Student Friends of the Marianna Kistler Beach Museum of Art will sponsor a holiday-themed art workshop from 2-4 p.m. Sunday, Dec. 5.
Children and parents can create ornaments, cards and holiday-related artwork at the event. Read more
EIGHTH ANNUAL K-STATE TEACHING RETREAT
How can we inspire students to encourage and challenge each other? How can we engender a sense of community in our classes and on our campus? If we don't, are we failing to teach effectively? If you have answers or questions that might lead to answers, we invite you to share your wisdom by presenting at the eighth annual K-State Teaching Retreat.
The retreat, "Leading a Community of Learners," will take place 8:30 a.m.-3 p.m. Thursday, Jan. 13, in the Leadership Studies Building. Read more
HOLIDAY RECEPTIONS AT THE PRESIDENT'S HOME
Holiday receptions for K-State faculty and staff will take place Dec. 13-17. The receptions will be at the president's home at 100 Wilson Court. Read more
FACULTY SENATE HAPPENINGS
Faculty senate minutes for the Oct. 12 meeting have been posted to the faculty senate website, http://www.k-state.edu/facsen/facsenate/2011/minutes.htm. Read more
Editor: Emily Vietti
Coordinator: Julie Fosberg
Phone: 785-532-2535
Fax: 785-532-7355
E-mail: media@k-state.edu