AMERICAN LEGION BOYS STATE OF KANSAS RENEWS AGREEMENT WITH UNIVERSITY
The American Legion Boys State of Kansas and Kansas State University have extended their partnership to keep the Boys State annual summer conference on the K-State campus for five more years, through 2015.
The 2011 Kansas Boys State will be June 5-11. K-State has been home to Kansas Boys State since 1991.
NOTEWORTHY

Nicole M. Laster, assistant professor of communication studies, and colleague published "Looking Across The Divide: Analyzing Cross-Disciplinary Approaches For Teaching Business Communication," Business Communication Quarterly, Vol. 73, No. 3.
ON CAMPUS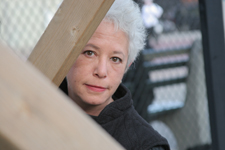 MCCAIN PERFORMANCE SERIES PRESENTS JANIS IAN
Come enjoy an intimate concert with folk icon Janis Ian, a voice of a generation, at 7:30 p.m. Friday, Oct. 8 at McCain Auditorium.
She will share inspiring songs and stories of her life, including the Grammy-Award winning hit, "At Seventeen." Ian is a star of song and poetry and a musical genius.
Faculty and staff tickets range from $24-$34. For more information, or to order tickets, visit http://www.k-state.edu/mccain/ or call 785-532-6428.
PICTURE PERFECT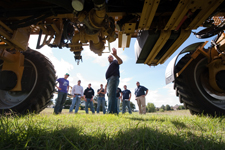 For creative professional images, contact university photographer David Mayes at 785-532-6304 or photo@k-state.edu
For a gallery of Mayes' photos, go to: http://ksuphoto.zenfolio.com
OPPORTUNITIES
CLASSIFIED
• A recording of classified job opportunities is available 24 hours a day on the Employment Information Line, 785-532-6271.
• A list of employment opportunities is posted at http://www.k-state.edu/hr/
• For additional information, call 785-532-6277 or come to the Division of Human Resources in 103 Edwards Hall. Applications are accepted 8 a.m. - 5 p.m. weekdays.
UNCLASSIFIED
• A complete listing of vacancies can be seen at http://www.k-state.edu/affact/
• For additional information, call the office of affirmative action at 785-532-6220 or come by 214 Anderson Hall.
For previous issues click here
The next issue is Oct. 13.
Submit items by noon Oct. 8.
DCE GREEN TEAM WORKS TO MAKE COLLEGE COURT BEAUTIFUL

Like the rest of the university, the Division of Continuing Education has learned to be creative when dealing with limited resources. When the division staff learned that facilities could no longer provide the plants or labor for the gardens around College Court Building, they decided to take matters into their own hands.
PLAUDITS
CHARDIE BAIRD WINS PUBLICATION AWARD

Chardie Baird, K-State assistant professor of sociology, and John Reynolds, Florida State University professor of sociology, looked at the mental health consequences of shooting for the stars versus planning for the probable in their publication "Is There a Downside to Shooting for the Stars? Unrealized Educational Expectations and Symptoms of Depression." Read more
KRISHNA TUMMALA PRESENTED WITH BOOK

During his recent visit to India, Krishna K. Tummala, director of the master of public administration program, department of political science, was presented with a copy of a book dedicated to him.
The book on Indian public administration, "Public Administration: Steel or Plastic Frame" was written by professor V. Bhaskara Rao, currently dean of postgraduate studies, Kakatiya University, Warangal. Read more
PETER MAGYAR ELECTED A FULL MEMBER OF THE ROYAL INSTITUTE OF BRITISH ARCHITECTS

Peter Magyar, professor and head of the K-State department of architecture, has been elected as a full member of the Royal Institute of British Architects.
He was invited by the Hungarian Ministry of National Resources and by the curators of the Hungarian Pavilion of the 12th International Architecture Exhibition of the Venice Biennale to give the opening speech at the opening ceremony of the exhibition, "BorderLINE Architecture." The ceremony was Aug. 26 in the Giardini Pubblici, Venice, Italy. Read more
JOHN HATCLIFF, ROBBY HONORED FOR INFLUENTIAL CONTRIBUTIONS TO SOFTWARE ENGINEERING FIELD
Two Kansas State University professors, John Hatcliff, professor of computer and information science, and Robby, associate professor of computing and information science, were parts of a seven-member research team that received one of software engineering's most prestigious awards. Read more
OH, BY THE WAY
LETTER ABOUT K-STATE/NEBRASKA FOOTBALL GAME FROM PROVOST AND SENIOR VICE PRESIDENT APRIL MASON
Dear faculty and staff,
This year our home football schedule includes a Thursday night game on Oct. 7, when our Wildcats host the Nebraska Cornhuskers at 6:30 p.m. in Bill Snyder Family Stadium. This is a wonderful opportunity to showcase our university and football program since the game will be nationally telecast on ESPN. As this will be the final time Nebraska plays here as a member of the Big 12 Conference, we know K-Staters will welcome Huskers fans to our campus with the very best hospitality. Read more
BEACH MUSEUM OF ART OFFERS FULL SLATE OF OCTOBER EVENTS
As the autumn air starts to get chillier, the Marianna Kistler Beach Museum of Art is the place to be. The museum will have a variety of workshops and events for all ages during October. Read more
NUTRITIOUS MEALS AT K-STATE DINING CENTERS EARN NATIONAL HONOR
Dining services served up the first-place entry in the 2010 Most Innovative Nutrition Program contest, sponsored by the National Association of College and University Food Services, also known as NACUFS.
Members of the dining services management staff represented K-State at the association's recent national convention in San Jose, Calif., where winners were recognized in the 37th annual Loyal E. Horton Dining Awards and in the Most Innovative Nutrition Program contest. K-State also took second place in the Best Vegan Recipe contest. Read more
WEBSITE EXPLORES FOOD HERITAGE OF KANSAS, GREAT PLAINS
The Great Plains Foodways Connection, a website just launched at Kansas State University, explores the food heritage of Kansas and other Great Plains states and celebrates their contributions to the American culinary tapestry. Read more
VISIONARY HOUSING LEADER ANNOUNCES RETIREMENT
Charles J. "Chuck" Werring, assistant vice president for student life and director of housing and dining services, has announced his retirement effective December 2011. Read more
RESEARCH REACTOR OPERATING PROCEDURES UNDER REVIEW
K-State is reviewing operating procedures with its TRIGA Mark II research reactor. The Nuclear Regulatory Commission is also on campus conducting its own inspection. Read more
DAVE LEWIS' PINK AND PURPLE POLYESTER PARTY TO CELEBRATE, SUPPORT K-STATE CANCER RESEARCH
Dave Lewis, public address announcer for K-State football and men's basketball, will speak up for cancer research when he throws a 30th birthday party for the Johnson Center for Basic Cancer Research. Read more
AMERICAN CHEMICAL SOCIETY SPEAKER GIVING PRESENTATION AT K-STATE SALINA
Donald M. Burland, former executive officer and acting director of the National Science Foundation's Division of Chemistry, will present "What Happened in That 'Warm Little Pond': The Search for the Molecular Origins of Life" at 7:30 p.m. Tuesday, Oct. 12, in the College Center Conference Room at Kansas State University at Salina. Read more
CANCER RESEARCH CENTER HOSTING BREAST CANCER AWARENESS LUNCHEON OCT. 15
Ladies are invited to enjoy lunch with friends as they learn about breast health and breast cancer at the Pink Power Luncheon for Breast Cancer Awareness from 11:45 a.m. to 1 p.m. Friday, Oct. 15, in the Landon Room at Manhattan's Holiday Inn at the Campus, 1641 Anderson Ave.
The featured speaker will be Suzanne Mayo-Theus, a cancer survivor and former Manhattan resident who is a doctoral candidate in Kansas State University's College of Human Ecology. She will present "Cancer and Families: Up Close and Personal."
Read more
CRIMINOLOGY CLUB TO HOST SPEAKERS FROM KANSAS CRIMINAL JUSTICE SYSTEM
K-State's Criminology Club will host two presentations from prominent members of the Kansas criminal justice system in October.
Robert Blecha, director of the Kansas Bureau of Investigation, will present a lecture at 6:30 p.m. Wednesday, Oct. 13, in the Cottonwood Room at the K-State Student Union. Charles Simmons, deputy secretary for facilities management at the Kansas Department of Corrections, will speak at 6:30 p.m. Thursday, Oct. 28, in 213 Union. Both events are free and open to the public, but seating reservations are requested to ensure all can be accommodated. Read more
SHAWNEE COUNTY EXTENSION MASTER GARDENERS PROGRAM SEEKS VOTES FOR PEPSI REFRESH PROJECT
It's election season, and the Shawnee County Extension Master Gardeners program wants the public to vote -- and vote often -- for a special project that benefits Topeka and Shawnee County residents, as well as local and regional fruit and vegetable growers. Read more
UNIVERSITY RECEIVES INVITATION TO EXCLUSIVE RECRUITMENT FAIR IN CHINA
Kansas State University is among only nine schools from the U.S. selected to participate in an exclusive graduate student recruitment event in China.
Carol Shanklin, dean of the Graduate School, and Jishu Shi, associate professor of anatomy and physiology and director of the U.S.-China Center for Animal Health, will represent K-State at the China Scholarship Council's 2010 International Graduate Scholarship Fair, Oct. 15-23. The council is a branch of China's Ministry of Education and is responsible for government scholarships. Read more
CALL FOR PROPOSALS: DEVELOPMENT OF FACULTY-LED GROUP STUDY ABROAD PROGRAMS FOR 2010-2011
The K-State study abroad office invites qualified K-State professors and instructors to design and teach faculty-led group study abroad programs for undergraduate and graduate students. The study abroad office assists faculty in program planning and administration through continuous support and service. Read more
WOMEN OF K-STATE BROWN BAG BOWLING LUNCH
The Women of K-State's first brown bag bowling lunch event will be Wednesday, Oct. 13.
Bring your own lunch (or purchase it at the Union); beverages and dessert will be provided.
Come enjoy some time to network, as well as a little friendly competition, so mark your calendar. More details to come via e-mail in early October.
NEW FACEBOOK PAGE FOR THE KANSAS BOARD OF REGENTS
The Kansas Board of Regents has a new Facebook page. The page was created to enhance their public advocacy efforts by increasing awareness about the challenges facing public higher education in Kansas.
The board's Facebook page is continuously updated with links to pertinent news articles. It will include updates throughout the upcoming 2011 state legislative session. Read more
Editor: Emily Vietti
Coordinator: Julie Fosberg
Phone: 785-532-2535
Fax: 785-532-7355
E-mail: media@k-state.edu