K-STATE ARTISTS TO DISCUSS THEIR WORK IN REVIVED BIENNIAL SHOW AT THE BEACH MUSEUM OF ART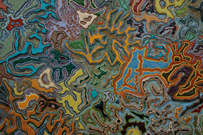 Faculty members from K-State's department of art will discuss the process and passion behind their works in several lectures at the Marianna Kistler Beach Museum of Art beginning in October.
The first lecture is Oct. 15 and all are in conjunction with the "Renewal: K-State Art Department Faculty Biennial" exhibition, on display through Dec. 24.
Read more
NOTEWORTHY

Mary T. Copple presented "Los Adverbios Temporales y el Preterito Perfecto Gramaticalizado," VIII Congreso Internacional de Historia de la Lengua Espanola, Sept. 14-18, Universidad de Santiago de Compostela, Santiago de Compostela, Spain. Copple also presented "Muy Bueno y Bien Bonito: Spanish Intensifier Use in Predicative Constructions," LASSO 2009: Linguistic Association of the Southwest, Sept. 25-26, Brigham Young University, Provo, Utah.

On Campus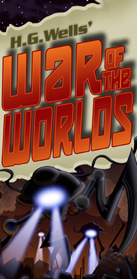 Oct. 1
McCain Performance series: LA Theatre Works - War of the Worlds and The Lost World
7:30 p.m., McCain Auditorium. L.A. Theatre Works, America's premiere radio theater company, will present two masterpieces of science fiction and adventure: "War of the Worlds" and "The Lost World." The cast features actors from television shows such as "Star Trek" and "The X-Files." For tickets or information call 532-6428.
For previous issues click here
The next issue is Oct. 7
Submit items by noon Oct. 1
PAVING THE WAY: PRESIDENT SCHULZ HIGHLIGHTS UNIVERSITY SUCCESSES AND SETS GOALS DURING HIS FIRST STATE OF THE UNIVERSITY ADDRESS
K-State's new president, Kirk Schulz, is here to help the university be successful -- and he knows he can't do it alone.
This was the message delivered by Schulz at his inaugural State of the University address Sept 25. The address was followed by a question and answer session.
Read more
A NEW BEGINNING: KIRK SCHULZ'S INAUGURATION PHOTOS
PLAUDITS
JEFFREY HORNSBY JOINS BOARD OF GLOBAL ENTREPRENEURSHIP GROUP

Jeffrey Hornsby, director of K-State's Center for the Advancement of Entrepreneurship, has been named to the board of directors of the Global Consortium of Entrepreneurship Centers, a group representing nearly 300 university-based entrepreneurship centers and programs.
The consortium helps participating members collaborate and communicate on the specific issues and challenges confronting university-based entrepreneurship centers, ranging from well established and nationally ranked centers to new and emerging centers.
Read more
PAPER BY K-STATE MANAGEMENT PROFESSOR WINS INTERNATIONAL HONORS
An article co-written by Chwen Sheu, a K-State professor of management, recently received the Indiana University CIBER Best International Collaboration Paper Award.
"The Effects of Environmental Regulations on Global Supply Chain Management: Transaction Cost Analysis" was recognized with the top honor at the third International Conference on Operations and Supply Chain Management.
Read more
EXCELENCIA IN EDUCATION AWARDS $50,000 TO HELP WITH LATINO SUCCESS AND RECOGNIZES K-STATE'S DEVELOPING SCHOLARS PROGRAM
K-State will use a special $50,000 grant to expand university efforts for the retention and academic success of Latino students.
JohnElla Holmes, coordinator of multicultural recruitment and retention for the College of Arts and Sciences, and Dawne Martin, assistant to the dean for diversity at the College of Business Administration, are the recipients of a 2009 Semillas grant, funded by the Walmart Foundation.
Read more
PICTURE PERFECT
Willie the Wildcat "texts" during the ice cream social Sept. 24.
For creative professional images contact university photographer David Mayes at 785-532-6304 or photo@k-state.edu
For a gallery of Mayes' photos, go to: http://ksuphoto.zenfolio.com
OH, BY THE WAY
THE CRITICAL ROLE OF MILITARY FAMILIES IN WARTIME TO BE FOCUS OF K-STATE COLLEGE OF HUMAN ECOLOGY'S CELEBRATION OF EXCELLENCE OCT. 1-2
Former Fort Riley Commander Lt. Gen. Robert E. Durbin and his wife, Diana, will address the importance of military families in a lecture marking the official opening of K-State's new Institute for the Health and Security of Military Families.
The lecture, "Army Family Strong: Lightening Their Load," will be at 1:30 p.m. Friday, Oct. 2, in the K-State Student Union's Forum Hall. The lecture is one of several events that are part of the College of Human Ecology's Celebration of Excellence.
Read more
'RECREATING OZ' CONFERENCE AT K-STATE OCT. 3
The International Wizard of Oz Club is bringing its national convention to Kansas, and K-State's department of English is helping with the "Recreating Oz" conference Saturday, Oct. 3.
Read more
'STAY FIRE SMART' DURING FIRE PREVENTION WEEK AT K-STATE, OCT. 4-10
Free fire extinguisher training and other hands-on activities will help K-Staters "Stay Fire Smart" during Fire Prevention Week Oct. 4-10.
This year's theme, "Stay Fire Smart," is designed to raise awareness on campus about how to prevent and survive building fires, said Randy Slover, K-State's fire marshal.
Read more
K-STATE'S ANNUAL BENEFITS EXPO TAKING PLACE OCT. 8
K-State's Division of Human Resources is hosting the annual Benefits EXPO Thursday, Oct. 8, in the K-State Student Union Ballroom. Additional special events will take place in the K-State Student Union's Forum Hall.
From 10 a.m. to 3 p.m., representatives from Board of Regents voluntary and mandatory retirement providers; Kansas Public Employees Retirement System, or KPERS; health insurance providers; life insurance companies associated with K-State; and many other agencies will be available in the ballroom of the K-State Student Union.
Read more
OPPORTUNITIES
CLASSIFIED
• A recording of classified job opportunities is available 24 hours a day on the Employment Information Line, 785-532-6271.
• A list of employment opportunities is posted at www.k-state.edu/hr/
• For additional information, call 785-532-6277 or come to the Division of Human Resources in 103 Edwards Hall. Applications are accepted 8 a.m. - 5 p.m. weekdays.
UNCLASSIFIED
• A complete listing of vacancies can be seen at www.k-state.edu/affact/
• For additional information, call the office of affirmative action at 785-532-6220 or come by 214 Anderson Hall.
Editor: Katie Mayes
Coordinator: Julie Fosberg
Phone: 785-532-6415
Fax: 785-532-6418
E-mail: media@k-state.edu