BOYD FAMILY DONATION, LEGACY TO BE CELEBRATED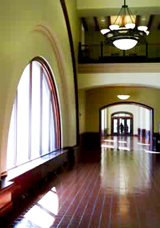 The legacy of one of Kansas' most noted newspaper and political families will be celebrated Thursday, Sept. 3, at K-State's Hale Library with a special ceremony to mark the donation and opening of the Mamie Alexander Boyd Papers and the McDill "Huck" and Marie Boyd Papers, which are housed in the library's Morse Department of Special Collections. The papers were donated by members of the Boyd family.
Read more
NOTEWORTHY

Gerad Middendorf and students published "Transition and Resilience in the Kansas Flint Hills," Online Journal of Rural Research and Policy, Vol. 4, No. 3.
On Campus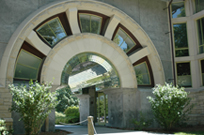 For previous issues click here
The next issue is Sept. 2
Submit items by noon Aug. 27
CAMPUS PREPARES FOR FALL CASES OF H1N1 (SWINE) FLU
With the expected resurgence of the H1N1 flu virus this fall, K-State officials have begun educating students, staff and faculty on what to expect, as well as how to prevent the disease's spread and where to seek help if needed.
Read more
UP CLOSE
'Star Wars' fascination inspires K-State librarian to write short stories
When you walk into Charlene Simser's office at K-State's Hale Library, it's difficult not to notice that she's a fan of "Star Wars." But Simser is more than just your run of the mill "Star Wars" fan -- she's a contributor to the vast body of literature that followed the "Star Wars" movies.
Read more
PLAUDITS
K-STATE'S JAMES GODDARD NEW VICE PRESIDENT, PRESIDENT-ELECT OF THE AMERICAN COUNCIL FOR CONSTRUCTION EDUCATION
James Goddard, professor of architectural engineering and construction science in the College of Engineering at K-State, has been named vice president and president-elect of the American Council for Construction Education.
Read more
K-STATE'S JULIA KEEN RECEIVES 2009 OUTSTANDING TEACHING AWARD FROM REGIONAL SECTION OF AMERICAN SOCIETY OF ENGINEERING EDUCATION
Julia Keen, an assistant professor in the College of Engineering's department of architectural engineering and construction science at K-State, is receiving the 2009 Outstanding Teaching Award from the Midwest Section of the American Society of Engineering Education.
Read more
OH, BY THE WAY
COMMITMENT BETWEEN K-STATE AND FORT RILEY TO BE RE-UPPED
A model partnership between K-State and Fort Riley will be renewed at a signing ceremony Thursday, Aug. 27, at the K-State Alumni Center.
Signing the partnership renewal will be K-State President Kirk Schulz and Maj. Gen. Vincent Brooks, commanding general of the 1st Infantry Division and Fort Riley. The signing ceremony will start around 4:40 p.m. in the Alumni Center's Great Room.
Read more
FUNDRAISER FOR K-STATE'S BEACH MUSEUM OF ART TO FEATURE JAZZ PERFORMER DONNA TUCKER
The annual Friends of the Marianna Kistler Beach Museum of Art fundraiser will be at 6 p.m. Friday, Sept. 11, at K-State's Alumni Center.
Funds raised will support the purchase of works by regional artists who represent the best of Kansas' visual arts culture.
Read more
OPPORTUNITIES
CLASSIFIED
• A recording of classified job opportunities is available 24 hours a day on the Employment Information Line, 785-532-6271.
• A list of employment opportunities is posted at www.k-state.edu/hr/
• For additional information, call 785-532-6277 or come to the Division of Human Resources in 103 Edwards Hall. Applications are accepted 8 a.m. - 5 p.m. weekdays.
UNCLASSIFIED
• A complete listing of vacancies can be seen at www.k-state.edu/affact/
• For additional information, call the office of affirmative action at 785-532-6220 or come by 214 Anderson Hall.
Editor: Katie Mayes
Coordinator: Julie Fosberg
Phone: 785-532-6415
Fax: 785-532-6418
E-mail: media@k-state.edu