BUILDING FOR K-STATE'S SCHOOL OF LEADERSHIP STUDIES HAS MADE PROGRESS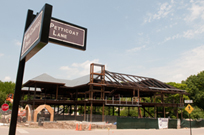 The soon-to-be new home of K-State's School of Leadership Studies has made considerable progress this summer. The building's steel structure is up, concrete floors have been poured, the roof is on and work on the exterior has begun.
Read more
NOTEWORTHY

Dan Thomson will present "Management Tips for Starting High Risk Calves on Feed"; "Nutrition for Newly Received Calves" and "Beef Cattle Well-being-science, Media and Politics"; North Dakota Veterinary Medical Association, Aug. 5-7, Minot, N.D.
On Campus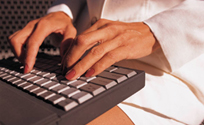 For previous issues click here
The next issue is Aug. 12
Submit items by noon Aug. 6
K-STATE'S 2009-2010 MCCAIN PERFORMANCE SERIES TO FEATURE ANOTHER STELLAR LINEUP
K-State's 2009-2010 McCain Performance Series will feature something for everyone to enjoy: Broadway, comedy, swing music, ballet and more.
Read more
PICTURE PERFECT
A construction worker totes a window frame into the parking garage early in the morning.
For creative professional images contact university photographer David Mayes at 785-532-6304 or photo@k-state.edu
For a gallery of Mayes' photos, go to: http://ksuphoto.zenfolio.com
OH, BY THE WAY
ANNUAL REGIER GOLF TOURNAMENT SEPT. 4 TO BENEFIT K-STATE'S CENTER FOR BASIC CANCER RESEARCH
Golfers can tee off to help fight cancer at the 12th annual Rob Regier Memorial Golf Tournament Friday, Sept. 4. Proceeds from the tournament will support critical research and education programs at K-State's Terry C. Johnson Center for Basic Cancer Research.
Read more
PANEL TO DISCUSS HOW TO MAKE CAMPUS FRIENDLY TO INTERNATIONAL STUDENTS
A panel of seven people from across campus will gather at 10:30 a.m. Monday, Aug. 10, in the K-State Student Union's Big 12 Room to talk about what they've done to make their offices friendly to international students.
Read more
K-STATE COLLEGE OF BUSINESS ADMINISTRATION AND BEEF CATTLE INSTITUTE PARTNER TO OFFER GRADUATE CERTIFICATE FOR ANIMAL HEALTH INDUSTRY
K-State will offer a new 16-credit-hour online graduate certificate in the management of animal health-related organizations beginning this fall.
The program highlights K-State's strengths in agriculture, business, continuing education and distance learning, meeting the special needs of industries in the growing Animal Health Corridor between Manhattan, Kan., and Columbia, Mo.
Read more
K-STATE PRESIDENT USING NEW AIR SERVICE TO DALLAS
K-State President Kirk Schulz will join various community leaders on a flight to Dallas, Texas, Friday, Aug. 28, to commemorate the availability of air service between the Manhattan Regional Airport and the Dallas/Fort Worth International Airport.
Read more
OPPORTUNITIES
CLASSIFIED
• A recording of classified job opportunities is available 24 hours a day on the Employment Information Line, 785-532-6271.
• A list of employment opportunities is posted at www.k-state.edu/hr/
• For additional information, call 785-532-6277 or come to the Division of Human Resources in 103 Edwards Hall. Applications are accepted 8 a.m. - 5 p.m. weekdays.
UNCLASSIFIED
• A complete listing of vacancies can be seen at www.k-state.edu/affact/
• For additional information, call the office of affirmative action at 785-532-6220 or come by 214 Anderson Hall.
Editor: Katie Mayes
Coordinator: Julie Fosberg
Phone: 785-532-6415
Fax: 785-532-6418
E-mail: media@k-state.edu