K-STATE PROGRAM WILL HELP TRANSLATE SCIENCE INTO ENGLISH
This fall will mark the beginning of a special collaborative effort between graduate students at K-State and teachers at Junction City High School in Geary County USD 475.

The National Science Foundation awarded K-State a $2.7 million grant for five years to establish a K-State-based project of the foundation's Graduate Science Fellows in Kindergarten through 12th Grade Education program. The K-State project will work to improve the communication and collaboration skills of young scientists while enriching science content in the classroom.
Read more
NOTEWORTHY

Fred Guzek, K-State at Salina, presented "Teaching SPIN through Practical Application: The Impact on Students' Lives," at the third annual Global Sales Science Institute Conference, June 3-5, Clermont-Ferrand, France.
On Campus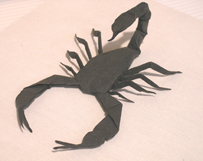 "Scorpion varileg, opus 379, 2003" will be featured as part of the Robert J. Lang exhibition, scheduled to open Aug. 4 at K-State's Marianna Kistler Beach Museum of Art.
For previous issues click here
The next issue is Aug. 5
Submit items by noon July 30
THE GARDEN UP TOP
Two faculty members from K-State's College of Architecture, Planning and Design have taken their garden to new heights.
R. Todd Gabbard, assistant professor of architecture, and Lee Skabelund, an assistant professor of landscape architecture, have installed an experimental green roof -- or living roof -- over a third-floor breezeway in Seaton Hall's west wing.
Read more
UP CLOSE
K-State professor researches the 'art' of sustainability in her own backyard
Tall, vivid stands of flowers bloom in the beds surrounding Sherry Haar's Manhattan home. The plants are inspirational, to say the least, and are for more than just looking at, according to the Kansas State University associate professor of apparel, textiles and interior design.
Read more
PLAUDITS
HARNER WINS AGRICULTURAL ENGINEERING AWARD

The American Society of Agricultural and Biological Engineers recently named Joseph P. Harner, a K-State professor of biological and agricultural engineering, the 2009 winner of the Henry Giese Structures and Environment Award. The award is given for distinguished service in advancing the knowledge and science of agricultural structures and environment.
Harner, who is also interim head of his department, was honored for his accomplishments and contributions in the design and development of engineering practices for grain handling, storage and livestock systems.
Read more
GWINNER INVITED TO JOIN CENTER FOR SERVICES LEADERSHIP
Kevin Gwinner, head of K-State's department of marketing, has accepted an invitation to join Arizona State University's Center for Services Leadership as a research faculty member. In this role, Gwinner becomes part of formal community of academic thought leaders focused on advancing the field of services, while remaining here at K-State.
The center strives to improve the business and academic understanding of the distinctive and growing role of services in organizations and with customers. To become a faculty network member, individuals must have an exceptional academic reputation, expertise within service research and a firm commitment to advancing knowledge in the field.
Read more
PICTURE PERFECT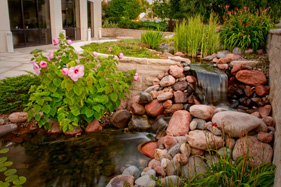 The garden outside K-State's Terry C. Johnson Center for Basic Cancer Research.
For creative professional images contact university photographer David Mayes at 785-532-6304 or photo@k-state.edu
For a gallery of Mayes' photos, go to: http://ksuphoto.zenfolio.com
OH, BY THE WAY
NEW HORTICULTURAL THERAPY GRADUATE CERTIFICATE OFFERED
K-State's department of horticulture, forestry and recreation resources and Division of Continuing Education will offer a 16-credit hour graduate certificate program in horticultural therapy beginning this fall.
The program will train professionals to use live plants and the growing environment to heal and rehabilitate people.
Read more
K-STATE EXPERTS TRAIN COCHRAN FELLOWS FROM EGYPT THROUGH AUG. 4
K-State experts in food safety and security will train special visitors from Egypt on topics related to food safety policies.
K-State's Doug Powell, associate professor of food safety, and Justin Kastner, assistant professor of food safety and security, both in the department of diagnostic medicine and pathobiology in K-State's College of Veterinary Medicine, will train five U.S. Department of Agriculture Foreign Agricultural Service Cochran Fellows visiting from Egypt.
Read more
OPPORTUNITIES
CLASSIFIED
• A recording of classified job opportunities is available 24 hours a day on the Employment Information Line, 785-532-6271.
• A list of employment opportunities is posted at www.k-state.edu/hr/
• For additional information, call 785-532-6277 or come to the Division of Human Resources in 103 Edwards Hall. Applications are accepted 8 a.m. - 5 p.m. weekdays.
UNCLASSIFIED
• A complete listing of vacancies can be seen at www.k-state.edu/affact/
• For additional information, call the office of affirmative action at 785-532-6220 or come by 214 Anderson Hall.
Editor: Katie Mayes
Coordinator: Julie Fosberg
Phone: 785-532-6415
Fax: 785-532-6418
E-mail: media@k-state.edu