YUNK IS THE FIRST IN THE WORLD TO EARN NEW CERTIFICATION

Ray Yunk, a K-State associate professor of architectural engineering and construction science, recently became the first university faculty member in the world to be certified as a Leadership in Energy and Environmental Design Accredited Professional in building design and construction.
Read more
NOTEWORTHY

Robert Szoszkiewicz and colleagues published "Linear Ripples and Traveling Circular Ripples Produced on Polymers by Thermal AFM Probes," Physical Review B, Vol. 79, No. 23.
On Campus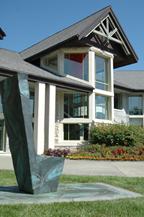 For previous issues click here.
The next issue is July 22
Submit items by noon July 16
UP CLOSE
K-State Researcher Says Miniaturized Likeness of Himself is a Conversation Starter
When K-State's Daniel Fung, professor of animal sciences and industry and of food science, helps organize a seminar or make a conference presentation, he usually receives a small token of appreciation: a lapel pin, a personalized pen or other goodies. Read more
PLAUDITS
SUSAN ALLEN RECEIVES K-STATE'S INAUGURAL SUSAN M. SCOTT COMMUNITY LEADERSHIP AWARD

Susan Allen, director of the nonviolence education program at K-State, recently received the inaugural Susan M. Scott Community Leadership Award from the School of Leadership Studies.
The award is named for the founding director of leadership studies at K-State, Susan Scott, and was established to honor those whose leadership is focused on bringing progressive change to communities. Read more
THREE K-STATE RESEARCHERS HONORED
Research excellence has earned three K-State scientists honors from the university's chapter of Sigma Xi, the scientific research society.
Ryszard Jankowiak, professor of chemistry, and John Leslie, professor and head of the department of plant pathology, are the 2009 recipients of Sigma Xi's Outstanding Senior Scientist Award; Krista Walton, assistant professor of chemical engineering, is the recipient of Sigma Xi's 2009 Outstanding Junior Scientist Award. Read more
OH, BY THE WAY
K-STATEMENT WANTS YOUR 'SAVINGS STORIES'
K-Statement wants to know what you are doing to save K-State money. From truly creative solutions to everyday deeds, we want to know what folks are doing to meet our budgetary challenges. Send your information to K-Statement editor Katie Mayes at kmayes@k-state.edu or give her a call at 532-6415. The information you send may be used in a future story or news release.
NEW AIR SERVICE FROM MANHATTAN
K-State faculty and staff can now book flights to Dallas, Texas, from the Manhattan Regional Airport. American Eagle Airlines will begin offering twice-daily flights starting Aug. 25 and seats can be reserved now.
Read more
K-STATE'S MAINFRAME RETIRED
K-State's 11-year-old mainframe was recently dismantled and removed from the K-State Data Center by computing and telecommunications services staff, ending 42 years of IBM mainframes at K-State.
Read more
K-STATE AT SALINA ADDS GARMIN G1000 TRAINING SUITE
K-State at Salina has acquired a complete G1000 integrated avionics training suite to be used by students in the avionics maintenance and professional pilot degree programs. The ground-based suite includes line replaceable units, avionics racks, line replaceable unit racks and connector kits.
Read more
K-STATE ONLINE TO BE UNAVAILABLE DURING JULY 18 UPGRADE
K-State Online will be unavailable from 6 a.m. to 5 p.m. Saturday, July 18, during a scheduled upgrade to version 9.0.
Read more
OPPORTUNITIES
CLASSIFIED
• A recording of classified job opportunities is available 24 hours a day on the Employment Information Line, 785-532-6271.
• A list of employment opportunities is posted at www.k-state.edu/hr/
• For additional information, call 785-532-6277 or come to the Division of Human Resources in 103 Edwards Hall. Applications are accepted 8 a.m. - 5 p.m. weekdays.
UNCLASSIFIED
• A complete listing of vacancies can be seen at www.k-state.edu/affact/
• For additional information, call the office of affirmative action at 785-532-6220 or come by 214 Anderson Hall.
Editor: Katie Mayes
Coordinator: Julie Fosberg
Phone: 785-532-6415
Fax: 785-532-6418
E-mail: media@k-state.edu