K-STATE OFFERING HELP TO STUDENTS DISPLACED BY RECENT FLOODING
K-State is offering assistance to students who have been displaced by recent flooding in the Manhattan area.
"The university is aware that some students have been permanently and unexpectedly displaced from their places of residence. Some have lost most, if not all, personal belongings, while others are unable to return to their residence until an inspection for safety and insurance purposes has been conducted," said Heather Reed, director of student life. "The K-State family understands the serious and disruptive impact this has on those who have been displaced."
ON CAMPUS

Orientation and enrollment for fall 2010 freshmen continues on campus through Friday. Currently, 4,200 students have registered for orientation.
All freshmen will receive a copy of Suzanne Collins' book "The Hunger Games" as a newly introduced part of the first-year experience program. To read more about this program, visit http://www.k-state.edu/media/k-statement/vol32/52610book.html
PICTURE PERFECT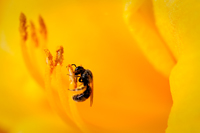 For creative professional images contact university photographer David Mayes at 785-532-6304 or photo@k-state.edu
For a gallery of Mayes' photos, go to: http://ksuphoto.zenfolio.com
OPPORTUNITIES
CLASSIFIED
• A recording of classified job opportunities is available 24 hours a day on the Employment Information Line, 785-532-6271.
• A list of employment opportunities is posted at www.k-state.edu/hr/
• For additional information, call 785-532-6277 or come to the Division of Human Resources in 103 Edwards Hall. Applications are accepted 8 a.m. - 5 p.m. weekdays.
UNCLASSIFIED
• A complete listing of vacancies can be seen at www.k-state.edu/affact/
• For additional information, call the office of affirmative action at 785-532-6220 or come by 214 Anderson Hall.
For previous issues click here
The next issue is June 30.
Submit items by noon June 24.
K-STATE FACULTY TO PARTICIPATE IN MEADOWLARK HILLS LECTURE SERIES
Several K-State professors will soon be lecturing to a new type of student as they venture off campus to Meadowlark Hills Retirement Community.
Starting this summer K-State's Center on Aging will host an ongoing faculty lecture series at the retirement facility to enlighten residents about research currently being conducted at the university.
PLAUDITS
U.S. STATE DEPARTMENT SELECTS K-STATE PHYSICS PROFESSOR AS 2010-2011 JEFFERSON SCIENCE FELLOW
A K-State physics professor will spend the next school year serving as a scientific adviser to the U.S. Department of State as a Jefferson Science Fellow. Brett DePaola says he was inspired to seek the elite fellowship by President Obama. Read more
MILITARY AFFAIRS DIRECTOR AT K-STATE RECEIVES HONOR FROM THE ASSOCIATION OF THE UNITED STATES ARMY
Retired Army Lt. Col. Art DeGroat, director of military affairs at K-State, has received the Lt. Gen. Robert H. Forman Award for Distinguished Service from the Association of the United States Army. Read more
OH, BY THE WAY
BETTER HEARING AND SPEECH PROGRAM
In recognition of the importance of hearing to communication, the K-State Speech and Hearing Center is offering free hearing screenings and video otoscopic examinations through July 28.
All employees are eligible for this service. Read more
Interim editor: Greg Tammen
Coordinator: Julie Fosberg
Phone: 785-532-2535
Fax: 785-532-6418
E-mail: media@k-state.edu