SEVERAL K-STATE GRADUATE PROGRAMS RANKED AMONG NATION'S TOP 100 BY U.S. NEWS AND WORLD REPORT
U.S. News and World Report has ranked several K-State graduate programs among the nation's top 100.
The new list includes the following K-State graduate programs and their rankings: statistics, 62; education, 79; chemistry, 83; physics, 85; mathematics, 89; history, 92; computer science, 99; and biological sciences, 100. K-State's graduate programs in engineering were also ranked 99th in the nation.
NOTEWORTHY

Katie Kingery-Page, landscape architecture/regional and community planning, presented "Landscape and Contemporary Art: Overlap, Disregard and Relevance," annual conference of Council of Educators in Landscape Architecture, May 12-14, Maastricht, Netherlands.
On Campus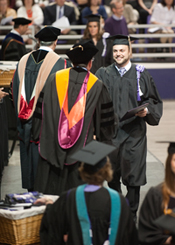 Missed a commencement when it originally aired? K-State TV has got it covered as re-airing of the Manhattan ceremonies begins at 2 p.m. today on Channel 8.

For a complete schedule of playback times and dates, please check the calendar.

For previous issues click here

The next issue is May 26.
Submit items by noon May 20.
GOING GLOBAL
With summer often comes travel, and for 16 K-State faculty members, travel is certainly on the agenda as they begin to pack their bags to escort undergraduate students hundreds - and even thousands of miles - across the globe, all in the name of education and culture.
PLAUDITS
BACHELOR RECEIVES NATIONAL ACCREDITATION IN VOLUNTEER ADMINISTRATION
Lynda Bachelor, project director for the School of Leadership Studies, was recently awarded the credential "certified in volunteer administration" by the Council for Certification in Volunteer Administration.
Read more
UNRUH NAMED WAKONSE FELLOW
John Unruh, professor of animal sciences and industry, was recently recognized for his commitment to excellence in teaching by being selected as a 2010 Wakonse Fellow.
Unruh will attend the 21st annual Wakonse Conference for College Teachers at Camp Miniwanca on Lake Michigan in May. The goal of the conference is to provide inspiration and support for college teaching.
DIRECTOR OF ENGINEERING LIBRARY SELECTED FOR HOBROCK AWARD
Alice Trussell, director of the Fiedler Engineering Library and associate professor at K-State Libraries, has received the sixth annual Brice G. Hobrock Distinguished Library Faculty Award.
Read more
AACC INTERNATIONAL NAMES K-STATE'S DAVID WETZEL A FELLOW

David Wetzel, professor of grain science and industry at Kansas State University, has been named one of two Fellows of the AACC International this year. This is one of the top international honors in cereal chemistry.
Read more
DODD AND JOERN NEWEST UNIVERSITY DISTINGUISHED PROFESSORS


Two Kansas State University faculty members who specialize in studying the natural world are K-State's newest university distinguished professors, a lifetime title that is the highest honor the university bestows on its faculty.
Both Elizabeth Dodd, professor of English, and Anthony Joern, professor of biology, are accomplished in their respective fields.
Read more
OH, BY THE WAY
K-STATE BEEF CATTLE INSTITUTE SYMPOSIUM BEGINS TODAY
Amid consumers' growing interest in how their food is produced, Kansas State University's Beef Cattle Institute is hosting the 2010 International Symposium on Beef Cattle Welfare today through Friday on the K-State campus.
Read more
IT SECURITY'S 'TRAVELING SAFELY' POWERPOINT SLIDES NOW AVAILABLE
The "Traveling Safely" PowerPoint presentation from the IT security roundtable May 7 is available online at http://www.k-state.edu/its/security/training/roundtables/presentations/SIRT_roundtable-TravelingSafely-May2010.ppt
Read more
CHANGING WEATHER CAN BRING SEVERE STORMS
The transition from spring to summer can be a welcome one, but can also bring with it severe weather. Below is a reminder about the tornado sirens.
Read more
OPPORTUNITIES
CLASSIFIED
• A recording of classified job opportunities is available 24 hours a day on the Employment Information Line, 785-532-6271.
• A list of employment opportunities is posted at www.k-state.edu/hr/
• For additional information, call 785-532-6277 or come to the Division of Human Resources in 103 Edwards Hall. Applications are accepted 8 a.m. - 5 p.m. weekdays.
UNCLASSIFIED
• A complete listing of vacancies can be seen at www.k-state.edu/affact/
• For additional information, call the office of affirmative action at 785-532-6220 or come by 214 Anderson Hall.
Interim editor: Greg Tammen
Coordinator: Julie Fosberg
Phone: 785-532-2535
Fax: 785-532-6418
E-mail: media@k-state.edu