U.S. NEWS AND WORLD REPORT RANKS K-STATE'S GRADUATE ENGINEERING PROGRAMS AMONG THE NATION'S TOP 100
Continuing Kansas State University's tradition of engineering excellence, the graduate programs in the College of Engineering have been ranked among the nation's top 100 by U.S. News and World Report.
NOTEWORTHY

Elizabeth Seaton, Beach Museum of Art, presented "New Deal Print Exhibitions: A Historical and Critical Perspective," Northern Illinois University Art Museum, April 21, DeKalb, Ill.
On Campus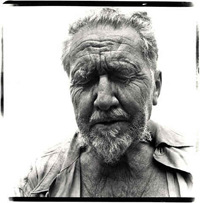 Through May 30
Beach exhibition: Richard Avedon Photographs
Features two important photographs by Richard Avedon. Beach Museum of Art, through May 30.
Avedon gained attention during the late 20th century for his large-scale, black-and-white portrait photographs of celebrities and working-class Americans. Many of his photographs appeared in national magazines such as Vogue, Harper's Bazaar and Life. One writer has referred to Avedon's formal, yet powerful images as "veritable symbols of the contrasts of American life."
For previous issues click here
The next issue is May 12.
Submit items by noon May 6.
K-STATE SPRING COMMENCEMENT CEREMONIES MAY 8, 14 and 15
Around 2,900 students are candidates for degrees from Kansas State University this spring. Commencement ceremonies will be Saturday, May 8, on the K-State at Salina campus, and Friday, May 14, and Saturday, May 15, on the K-State campus in Manhattan.
OH, BY THE WAY
BNSF FOUNDATION MAKES $230,000 GIFT TO K-STATE
The BNSF Foundation, Fort Worth, Texas, recently made a gift of $230,000 to establish an outreach partnership with the College of Engineering at K-State. The partnership between K-State's Women in Engineering and Science Program, or WESP, and the BNSF Foundation will fund events designed to encourage diverse populations of young people to pursue careers in engineering and science.
Read more
KEITH RUTLIN JOINING K-STATE'S CENTER FOR SUSTAINABLE ENERGY AS EDUCATIONAL PROGRAMS ADMINISTRATOR
Keith Rutlin is joining Kansas State University as educational programs administrator of K-State's Center for Sustainable Energy. The center conducts and facilitates research for global, sustainable energy systems and lower greenhouse gas emissions; educates students and the general public about sustainable energy; and facilitate industrial adoption of new technology.
Read more
K-STATERS PARTICIPATE IN GROUNDBREAKING FOR KIOWA COUNTY COMMONS IN GREENSBURG
On April 20, Kiowa County officials and officials from K-State conducted the groundbreaking ceremony on Main Street in Greensburg for the $6.1 million Kiowa County Commons building.
Read more
IT ROUNDTABLE: TRAVELING SAFELY
With summer just in view, the traveling season will soon begin. This IT Roundtable will focus on how to travel safely so people can protect themselves from identity theft, financial fraud and other threats related to information and technology while on vacation. The session will be 9-10:30 a.m. Friday in room 213 of the K-State Student Union.
Read more
OPPORTUNITIES
CLASSIFIED
• A recording of classified job opportunities is available 24 hours a day on the Employment Information Line, 785-532-6271.
• A list of employment opportunities is posted at www.k-state.edu/hr/
• For additional information, call 785-532-6277 or come to the Division of Human Resources in 103 Edwards Hall. Applications are accepted 8 a.m. - 5 p.m. weekdays.
UNCLASSIFIED
• A complete listing of vacancies can be seen at www.k-state.edu/affact/
• For additional information, call the office of affirmative action at 785-532-6220 or come by 214 Anderson Hall.
Editor: Katie Mayes
Coordinator: Julie Fosberg
Phone: 785-532-6415
Fax: 785-532-6418
E-mail: media@k-state.edu