K-STATE ONLY SCHOOL IN KANSAS TO BE INCLUDED IN NEW GUIDEBOOK ABOUT THE NATION'S MOST GREEN CAMPUSES

Move over, purple. Kansas State University is going green.
That's the view of new guidebook about institutions of higher education that have demonstrated an above-average commitment to sustainability in terms of campus infrastructure, activities and initiatives.
NOTEWORTHY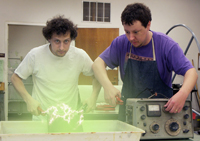 Jason Scuilla and Mike McMann, art, presented "Non-Toxic Electro-Etching Using Traditional and Digital Intaglio Techniques," International SGC conference, March 24-27, Philadelphia.
On Campus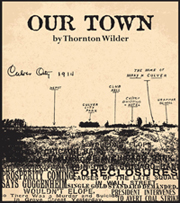 April 28 - May 1
K-State Theater: 'Our Town'
7:30 p.m., April 28 -May 1, Nichols Theater. "Our Town" conveys life's fundamental meaning through the rituals and routines of the daily lives of the inhabitants of a small American town. To buy tickets, go to http://cstd.k-state.edu/Theatre/
index.html#buytickets or call 532-6428.
For previous issues click here
The next issue is May 5.
Submit items by noon April 29.
K-STATE BECOMING MORE GREEN AS SUSTAINABILITY MEASURES TAKE HOLD
At Kansas State University, sustainability is more than just the latest buzzword. Several projects are now under way to make the university a greener place.
PLAUDITS
TWO K-STATE DEPARTMENT HEADS INVITED TO PRESTIGIOUS OXFORD ROUND TABLE


Two department heads at Kansas State University were recently tapped to take part in the Oxford University Round Table on women in academia.
Lorraine Cutler, head of K-State's department of interior architecture and product design, and Geraldine Craig, head of the department of art, attended the invitation-only event March 14-19, in Oxford, England. The round table's official title was "Women in the Academy: Status and Prospects."
Read more
MAES RECOGNIZED WITH NATIONAL AWARD

Sue Maes, dean of the division of continuing education at K-State, was honored with the Friends of Great Plains Interactive Distance Education Alliance award on Sunday, April 18.
Maes received the award due to her expertise on building new academic programs and fostering institutional collaboration.
Read more
OH, BY THE WAY
PRICES REDUCED FOR PREFERRED SPACES IN PARKING GARAGE, SPACES CURRENTLY AVAILABLE
Faculty and staff hoping to find a prime parking space on campus are in luck as officials at Kansas State University's parking services have announced a price reduction for preferred parking spots in the new parking garage.
Read more
K-STATE'S PROGRAM IN COMMUNICATION SCIENCES AND DISORDERS EARNS REACCREDITATION, HIGH PRAISE FROM KEY AUDIOLOGY AND SPEECH-LANGUAGE PATHOLOGY COUNCIL
Kansas State University's master's program in communication sciences and disorders has been accredited for another eight years by the Council on Academic Accreditation for Audiology and Speech-Language Pathology.
Read more
OPEN FORUM FOR VICE PRESIDENT FOR ADMINISTRATION AND FINANCE TO BEGIN IN MAY
The search committee for the vice president for administration and finance has invited three candidates to campus to interview during the first two weeks of May.
Read more
OPPORTUNITIES
CLASSIFIED
• A recording of classified job opportunities is available 24 hours a day on the Employment Information Line, 785-532-6271.
• A list of employment opportunities is posted at www.k-state.edu/hr/
• For additional information, call 785-532-6277 or come to the Division of Human Resources in 103 Edwards Hall. Applications are accepted 8 a.m. - 5 p.m. weekdays.
UNCLASSIFIED
• A complete listing of vacancies can be seen at www.k-state.edu/affact/
• For additional information, call the office of affirmative action at 785-532-6220 or come by 214 Anderson Hall.
Editor: Katie Mayes
Coordinator: Julie Fosberg
Phone: 785-532-6415
Fax: 785-532-6418
E-mail: media@k-state.edu