FIVE FACULTY MEMBERS RECOGNIZED WITH K-STATE'S PRESIDENTIAL AWARDS
Five Kansas State University faculty members are receiving a 2010 Presidential Award for their commitment and compassion as teachers, advisers or administrators.
Receiving the Presidential Awards for Undergraduate Teaching Excellence are Patricia Ackerman, associate professor of language arts at K-State at Salina; John Fliter, associate professor of political science; and Shawna Jordan, assistant professor of human nutrition.
The Presidential Award for Excellence in Undergraduate Advising is going to Anne K. Phillips, associate professor of English. David Fritchen, head of the department of architectural engineering and construction science, will receive the Presidential Award for Outstanding Department Head.
NOTEWORTHY

Ken Harkin, clinical sciences, presented "Current Concepts in Adrenal Disease of the Dog, Parts 1 and 2" and on other topics at the 2010 Central Veterinary Conference East, April 10-12, Baltimore, Md.
On Campus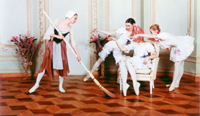 April 25
McCain Performance Series finale: 'Cinderella'
The McCain Performance Series will conclude its 2009-2010 season with a performance of "Cinderella" by the Moscow Festival Ballet. The performance will be at 7:30 p.m. Sunday, April 25, in McCain Auditorium.

Under the direction of Sergei Radchenko, a legendary principal dancer of the Bolshoi Ballet, the Moscow Festival Ballet features leading dancers from across Russia and stages original productions of timeless classics.

Ticket information is available at http://www.k-state.edu/mccain/ or by calling 532-6428.

For previous issues click here

The next issue is April 28.
Submit items by noon April 22.
'CLASSY' EMPLOYEES TO BE GIVEN TOP HONORS
More than 375 classified employees will be recognized for their dedication to Kansas State Unversity on Wednesday, April 28, during the 33rd annual Classified Employee Recognition Ceremony.
PLAUDITS
SOCIOLOGY PROFESSOR RECEIVES APPOINTMENT TO NATIONAL RESEARCH COUNCIL COMMITTEE ON THE ECONOMIC AND ENVIRONMENTAL IMPACTS OF BIOFUELS

Theresa Selfa, assistant professor of sociology, will serve on a National Research Council committee studying the economic and environmental impacts of increasing biofuels production.
Read more
HARTMAN NAMED K-STATE'S DIRECTOR OF COMMUNITY RELATIONS AND ASSISTANT TO THE PRESIDENT

Jackie Hartman, a K-State graduate and former president of K-State's Alumni Association, has been appointed director of community relations and assistant to the president at K-State.
Hartman will report directly to the president and serves as a member of the president's cabinet.
Read more
MORCOS AND BARKLEY CHOSEN AS RECIPIENTS OF THE PROMOTING AN ACCESSIBLE CAMPUS AWARDS
The Disability Support Services office, in partnership with K-State For All! has given the inaugural Promoting An Accessible Campus awards.
This year's winners are Sharon Morcos, instructor in human nutrition, and Mary Ellen Barkley from career and employment services.
Read more
SMITH SELECTED AS BELL TOWER OF FAME RECIPIENT

John Smith, professor of animal sciences and industry, was recently selected as the 2010 Bell Tower of Fame Award recipient.
Smith was recognized for his achievements as an outstanding dairy industry educator and researcher at K-State.
Read more
PICTURE PERFECT

Jon Wefald, professor of leadership studies and history, and Mary Hale Tolar, director of the School of Leadership Studies, congratulate each other during the new building dedication for the School of Leadership Studies held April 16.
For creative professional images contact university photographer David Mayes at 785-532-6304 or photo@k-state.edu
For a gallery of Mayes' photos, go to: http://ksuphoto.zenfolio.com
OH, BY THE WAY
PUBLIC FORUM FOR DIRECTOR OF ENERGY AND ENVIRONMENT CANDIDATES BEGINS APRIL 26
Interviews for a newly created position as director of energy and environment will begin next Monday, April 26. A public forum for each candidate will run from Monday to Wednesday.
The director of energy and environment will be responsible for the development of energy reduction initiatives and tasks for the university.
Read more
INTERNATIONALLY KNOWN MATHEMATICAL PHYSICS EXPERT CARL BENDER TO GIVE PRESENTATION IN K-STATE'S PETERSON PUBLIC LECTURE SERIES IN PHYSICS
Carl Bender, an internationally known leader in mathematical physics, will be the speaker for the spring 2010 presentation in Kansas State University's Peterson Public Lecture Series in Physics.
Bender's lecture, "In the Complex World Classical Mechanics and Quantum Mechanics are Very Much Alike," will be at 3 p.m. Tuesday, April 27, in Hale Library's Hemisphere Room. The lecture is free and the public is invited. The talk will be presented at an elementary, popular science level.
Read more
K-STATE'S WOMEN IN ENGINEERING AND SCIENCE PROGRAM RECOGNIZED AS BEST IN THE NATION
A Kansas State University program that cultivates the science and technology interests of women from grade school through postgraduate levels is being nationally recognized for excellence.
K-State's Women in Engineering and Science Program, also known as WESP, has received the Women in Engineering Program Award as the nation's outstanding Women in Engineering program. The award, from the Women in Engineering Pro-Active Network, was presented at the network's joint conference with the National Association of Multicultural Engineering Program Advocates, April 12-14, in Baltimore, Md.
Read more
OPPORTUNITIES
CLASSIFIED
• A recording of classified job opportunities is available 24 hours a day on the Employment Information Line, 785-532-6271.
• A list of employment opportunities is posted at www.k-state.edu/hr/
• For additional information, call 785-532-6277 or come to the Division of Human Resources in 103 Edwards Hall. Applications are accepted 8 a.m. - 5 p.m. weekdays.
UNCLASSIFIED
• A complete listing of vacancies can be seen at www.k-state.edu/affact/
• For additional information, call the office of affirmative action at 785-532-6220 or come by 214 Anderson Hall.
Editor: Katie Mayes
Coordinator: Julie Fosberg
Phone: 785-532-6415
Fax: 785-532-6418
E-mail: media@k-state.edu