NEW DOCTORATE IN PERSONAL FINANCIAL PLANNING IN DEMAND
K-State's new distance-based doctorate program in personal financial planning is in demand.
The new program, launched in summer 2009, is receiving inquiries and applications on a daily basis, with much of the interest stemming from a desire to obtain the research skills to help others make better daily household financial decisions, according to program organizers.
NOTEWORTHY

Elizabeth Dodd, English, gave a reading at the University of Nebraska, March 23, Lincoln, Neb.
On Campus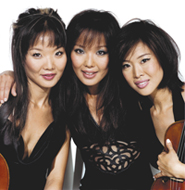 April 9
McCain performance series:
The Ahn Trio
7:30 p.m., McCain Auditorium. Korean-born and Juilliard-educated, this sister piano trio fuses its work with dancers, pop singers, disc jockeys, painters, photographers and lighting designers. Call 532-6428 for tickets or go to http://www.k-state.edu/mccain/
For previous issues click here
The next issue is April 14.
Submit items by noon April 8.
ALL-UNIVERSITY OPEN HOUSE APRIL 24 A CHANCE TO SHOW OFF ALL K-STATE HAS TO OFFER

K-State is inviting everyone to experience university life firsthand during the All-University Open House 9 a.m. to 3 p.m. Saturday, April 24.
Every year, open house brings visitors to campus to experience what being a K-Stater is all about. Hands-on demonstrations, entertainment, exhibits and tours offer the public a taste of what the university offers.
PLAUDITS
TEENER RECEIVING SUSAN M. SCOTT COMMUNITY LEADERSHIP AWARD
Linda Inlow Teener, executive director of UFM Community Learning Center in Manhattan, is the recipient of the 2010 Susan M. Scott Community Leadership Award from K-State's School of Leadership Studies.
"Linda Teener has an extraordinary record of service, and continues to lead change and build community," said Mary Hale Tolar, director of the School of Leadership Studies. "We are delighted to have this opportunity to recognize Linda's outstanding community leadership."
Read more
OH, BY THE WAY
THIRTY-FIVE FACULTY GRANTED SABBATICAL LEAVE FOR THE 2010-2011 SCHOOL YEAR
Sabbatical leaves have been granted to 35 K-State faculty members during the 2010-2011 school year.
The purpose and length of each leave varies, with some faculty members using the time for research projects in the United States or internationally, to teach at other institutions or for other academic pursuits.
Read more
DONATION ALLOWS BEACH MUSEUM OF ART TO DIGITIZE COLLECTION
A generous donation is allowing K-State's Marianna Kistler Beach Museum of Art to digitize its entire permanent collection of close to 7,000 artworks. The new digitization project is being funded in memory of Robert K. and Dale J. Weary.
Bill North, the museum's senior curator, and Sarah Price, registrar/collections manager, will be in charge of the digitizing efforts. With the large number of works to be copied, North and Price estimate it will take approximately 1,000 hours of work. In order to accomplish this within a one-year schedule, the museum will hire three part-time students from grant funds to assist the museum staff.
Read more
APRIL 14 CENTENNIAL LECTURE TO COVER THE CHALLENGES OF SCIENTIFIC PUBLISHING
Steve Nelson, executive vice president of the American Association of Cereal Chemists International and American Phytopathological Society, will present "The Challenges and Opportunities of Scientific Publication" at 2 p.m. Wednesday, April 14, in Hale Library's Hemisphere Room. The lecture is free and open to the public.
Read more
K-STATE'S GUIDE TO PERSONAL SUCCESS PROGRAM LOOKING FOR MENTORS TO HELP FIRST-YEAR STUDENTS STAY ON TRACK
K-State's Guide to Personal Success -- or GPS -- program is looking for 1,000 faculty, staff and graduate students to mentor students through their first year of college.
Now in its second year, the GPS program is designed to increase the retention of first-year students by connecting them to a GPS guide who has knowledge of university resources and can help them better acclimate to campus. The intention this year is to open the program to all first-year students.
Read more
ENTREPRENEUR TOBY RUSH TO DELIVER KEYNOTE ADDRESS FOR K-STATE'S SPOTLIGHT ON INTELLECTUAL PROPERTY
The application of intellectual property to start-up companies will be the topic of the keynote address at K-State's seventh annual Spotlight on Intellectual Property, 11:30 a.m. to 1 p.m. Friday, April 16, in the K-State Alumni Center Ballroom.
Toby Rush, president and chief executive officer of Rush Tracking Systems based in Lenexa, received his bachelor's degree in mechanical engineering from K-State in 1998. In 2003, he co-founded Rush Tracking Systems as a consulting firm to help companies purchase and install radio frequency identification systems. Soon after, Wal-Mart announced that it would begin using the technology to track its inventory. Rush Tracking Systems played into the trend and eventually turned to the niche market of warehousing and logistics.
Read more
K-STATE DIETETICS PROGRAMS EARN CONTINUING ACCREDITATION FROM COMMISSION ON ACCREDITATION FOR DIETETICS EDUCATION
The Commission on Accreditation for Dietetics Education has reaccredited both of K-State's programs in dietetics for another 10 years.
The commission is the American Dietetic Association's accrediting agency for education programs preparing students for careers as registered dietitians or dietetic technicians, registered.
Read more
OPPORTUNITIES
CLASSIFIED
• A recording of classified job opportunities is available 24 hours a day on the Employment Information Line, 785-532-6271.
• A list of employment opportunities is posted at www.k-state.edu/hr/
• For additional information, call 785-532-6277 or come to the Division of Human Resources in 103 Edwards Hall. Applications are accepted 8 a.m. - 5 p.m. weekdays.
UNCLASSIFIED
• A complete listing of vacancies can be seen at www.k-state.edu/affact/
• For additional information, call the office of affirmative action at 785-532-6220 or come by 214 Anderson Hall.
Editor: Katie Mayes
Coordinator: Julie Fosberg
Phone: 785-532-6415
Fax: 785-532-6418
E-mail: media@k-state.edu