LANDON LECTURE BY CHAIR OF JOINT CHIEFS OF STAFF RESCHEDULED FOR MARCH 3

The Landon Lecture by Adm. Michael G. Mullen, chairman of the Joint Chiefs of Staff, has been rescheduled for 4 p.m. Wednesday, March 3, at K-State's McCain Auditorium.
NOTEWORTHY

Kimberly Kramer, architectural engineering and construction science, was invited to chair the American Concrete Institute Committee 124, Concrete Aesthetics, for a three-year term.
On Campus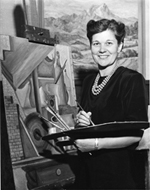 Through May 2
Beach exhibition: 'Following the Sun: The Art of Sue Jean Covacevich 1905-1998'
This exhibition surveys the career of Covacevich, a dynamic Kansas artist and art educator whose work was also inspired by time spent in Mexico. The exhibition goes through May 2.
For previous issues click here
The next issue is Feb. 17
Submit items by noon Feb. 11
ALONE ON VALENTINE'S DAY?
K-STATE EXPERT SAYS SINGLES SHOULD CELEBRATE THE HOLIDAY, WITH A TWIST
Those without a sweetheart this Valentine's Day need not drown their sorrows in heart-shaped boxes of chocolate. K-State relationship expert Tony Jurich says instead, singles should make light of the traditionally couples holiday.
PLAUDITS
KANSAS SUPREME COURT NAMES SPIKES TO THE STATE'S CONTINUING LEGAL EDUCATION COMMISSION

The Kansas Supreme Court has appointed K-State's W. Franklin Spikes to the Kansas Continuing Legal Education Commission.
Spikes, a professor of educational leadership and director of K-State's doctoral program in adult and continuing education, is the only non-attorney to serve on the commission since it was created 25 years ago.
Read more
SCHARMANN HONORED BY THE NATIONAL ASSOCIATION FOR RESEARCH IN SCIENCE TEACHING
Lawrence C. Scharmann, head of K-State's department of secondary education, has won the 2009/10 NARST Paper Award for "Evolution and Personal Religious Belief: Christian Biology-Related Majors' Search for Reconciliation at a Christian University." He wrote the paper with two colleagues.
Read more
HENDRIX NAMED ADVISER OF THE YEAR

Scott Hendrix, K-State instructor of finance, has been named Adviser of the Year by K-State's office of student activities and services.
The office sponsors the award to honor an individual who has made a commitment to a student organization and its goals by challenging, motivating and supporting students in the group.
Read more
OH, BY THE WAY
WAKONSE NOMINATIONS DUE FEB. 19
Since 2002, more than 60 K-State faculty have attended the Wakonse Conference on College Teaching, the purpose of which is to provide inspiration and support for college teaching.
As many as five K-State faculty members will be selected to be 2010 Wakonse Fellows by attending the upcoming Wakonse Conference. The deadline for nominations is Friday, Feb. 19.
Read more
BUTEL HEADLINING CULINARY WORKSHOP FEB 25-26
Jane Butel wears the title Chile Queen with aplomb. She is often credited with starting the Tex-Mex cooking craze and has written and taught about Southwestern and regional Mexican cuisine. She has written "Real Women Eat Chiles," published by Northland in 2006, and 19 other cookbooks.
Butel will bring her internationally famous skills to K-State Thursday, Feb. 25, and Friday Feb. 26, for the annual Culinary Enhancement Workshop sponsored by the department of hospitality management and dietetics.
Read more
DOCENT TRAINING AT KONZA PRAIRIE BEGINS FEB. 20
If you are interested in sharing the wonder of the tallgrass prairie and Konza Prairie Biological Station, docent training will soon begin.
From 9 a.m. to noon Saturday, Feb. 20, an orientation session will take place at the old Dewey Ranch House. This training session is the first of 13 needed to become a Konza Prairie docent.
Read more
HEALTH BENEFITS OF WHOLE GRAINS TO BE FOCUS OF CENTENNIAL LECTURE FEB. 17
K-State's department of grain science and industry will kick off its Centennial Celebration Lecture Series with a noted expert in grain foods and nutrition at 2 p.m. Wednesday, Feb. 17, in Hale Library's Hemisphere Room.
Julie Miller Jones, a nutrition adviser to government, the food industry and the International Life Sciences Institute, will present "Grains of Truth: Separating Grain Nutrition Myths and Facts."
Read more
OPPORTUNITIES
CLASSIFIED
• A recording of classified job opportunities is available 24 hours a day on the Employment Information Line, 785-532-6271.
• A list of employment opportunities is posted at www.k-state.edu/hr/
• For additional information, call 785-532-6277 or come to the Division of Human Resources in 103 Edwards Hall. Applications are accepted 8 a.m. - 5 p.m. weekdays.
UNCLASSIFIED
• A complete listing of vacancies can be seen at www.k-state.edu/affact/
• For additional information, call the office of affirmative action at 785-532-6220 or come by 214 Anderson Hall.
Editor: Katie Mayes
Coordinator: Julie Fosberg
Phone: 785-532-6415
Fax: 785-532-6418
E-mail: media@k-state.edu