PHOTO SERVICES TO OFFER FREE IMAGES AND SESSIONS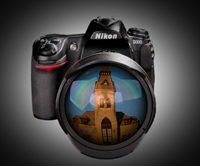 As the university moves toward a unified marketing and communications strategy, beginning Feb. 15 K-State Photo Services will provide free photo sessions and digital images to be used on the university's Web sites and in other media.
NOTEWORTHY

Neil Dunn, communication studies, theater and dance, presented the panel discussion "Dance Musicians as Choreographers," International Guild of Musicians in Dance 20th Anniversary Conference, Jan. 14-17, University of Arizona, Tucson, Ariz.
On Campus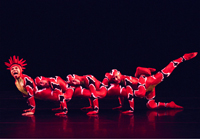 Feb. 4
McCain Performance Series: Momix
7:30 p.m., McCain Auditorium. The company of dancer-illusionists will perform highlights from their most popular shows. Go to http://www.k-state.edu/mccain/ or call 532-6428 for ticket information.
For previous issues click here
The next issue is Feb. 10
Submit items by noon Feb. 4
TWO NEW K-STATE BUILDINGS 'LEED' THE WAY TOWARD SUSTAINABILITY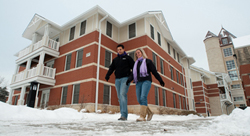 Reflecting a campus commitment to sustainability, two of K-State's latest building projects are seeking international recognition that they were built with environmental impact in mind.
K-State is seeking LEED certification for the new School of Leadership Studies building and Building 5 at Jardine Apartments.
PLAUDITS
TOLAR HONORED AT KENNEDY CENTER AMERICAN COLLEGE THEATER FESTIVAL
Work by Dwight Tolar, a K-State instructor of communication studies, theater and dance, was recently honored at the Kennedy Center American College Theater Festival Region 5.
Read more
PICTURE PERFECT

A night shot of K-State at Salina's new Student Life Center.
For creative professional images contact university photographer David Mayes at 785-532-6304 or photo@k-state.edu
For a gallery of Mayes' photos, go to: http://ksuphoto.zenfolio.com
OH, BY THE WAY
K-STATE LIBRARIES SEEKING NOMINATIONS FOR THE HOBROCK AWARD
K-State Libraries are seeking nominations for the sixth annual Brice G. Hobrock Distinguished Faculty Award. The award, sponsored by Friends of K-State Libraries, recognizes outstanding librarianship and superior accomplishments among the libraries' faculty.
Read more
SMITH TO PRESENT A LARSON LECTURE ON MEXICAN IMMIGRATION

Jeffrey S. Smith, associate professor of cultural geography at K-State, will present the spring semester's first Vernon Larson International Luncheon Lecture, "Three Types of Migrants Out of Rural Mexico," at 12:20 p.m. Tuesday, Feb. 16.
The lecture, which is free and open to the public, will be preceded by a luncheon at 11:45 a.m. Both events will be at the Holiday Inn at 17th Street and Anderson Avenue. The luncheon costs $15 and reservations, which are required, may be made by Friday, Feb. 12, at 532-5990.
Read more
DIGITAL HUMANITIES EXPERT TO DEMYSTIFY WIKIS, BLOGS AND OTHER WAYS TO ENGAGE STUDENTS
Leigh Grinstead, a principal in the Bibliographic Research Center in Denver, Colo., will present "Leading Edge Education: Is There an App for That?" at 9 a.m. Tuesday, Feb. 9, in Hale Library's Hemisphere Room.
Grinstead specializes in using new technology to reach students, colleagues and communities, and will walk workshop participants through wikis, blogs and other new concepts that can be used to reach students effectively.
Read more
DEADLINE APPROACHES FOR NEW INTERNATIONAL INCENTIVE GRANTS PROGRAM
To promote the internationalization of K-State, a new grant program has been launched by the office of international programs and office of the provost.
The International Incentive Grants program will provide opportunities for faculty and staff across the university to promote internationalization through the development of study-abroad programs, incorporation of international perspectives into curricula, research collaboration with colleagues in other countries, presentations at international conferences and other related areas.
Read more
OPPORTUNITIES
CLASSIFIED
• A recording of classified job opportunities is available 24 hours a day on the Employment Information Line, 785-532-6271.
• A list of employment opportunities is posted at www.k-state.edu/hr/
• For additional information, call 785-532-6277 or come to the Division of Human Resources in 103 Edwards Hall. Applications are accepted 8 a.m. - 5 p.m. weekdays.
UNCLASSIFIED
• A complete listing of vacancies can be seen at www.k-state.edu/affact/
• For additional information, call the office of affirmative action at 785-532-6220 or come by 214 Anderson Hall.
Editor: Katie Mayes
Coordinator: Julie Fosberg
Phone: 785-532-6415
Fax: 785-532-6418
E-mail: media@k-state.edu