U.S. DIRECTOR OF NATIONAL INTELLIGENCE TO DELIVER LANDON LECTURE FEB. 22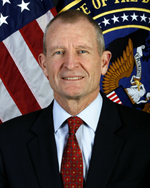 Dennis C. Blair, the director of national intelligence, will present the first Landon Lecture of the spring 2010 semester at K-State. Blair's lecture will be at 1:30 p.m. Monday, Feb. 22, in McCain Auditorium.
NOTEWORTHY

Melinda Daniels, geography, and colleague published "Operator Bias Characterizing Stream Substrates Using Wolman Pebble Counts with a Standard Measurement Template," Geomorphology, Vol. 115.
On Campus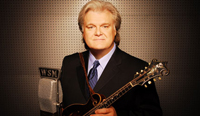 JAN. 28
McCain Performance Series: Ricky Skaggs and Kentucky Thunder
7:30 p.m., McCain Auditorium. Skaggs, a 14-time Grammy Award winner and a Country Music Association Entertainer of the Year, will perform with his band, Kentucky Thunder, which has been named the International Bluegrass Music Association's instrumental group eight of the last 10 years. Go to http://www.k-state.edu/mccain/ or call 532-6428 for ticket information.
For previous issues click here
The next issue is Feb. 3
Submit items by noon Jan. 28

2010 SEASON FOR NONVIOLENCE CELEBRATING A DECADE OF DEDICATION
Measuring 10 years of nonviolence work isn't easy, but the impact is real says Susan Allen, K-State's director of nonviolence education.
PLAUDITS
K-STATE'S ALUMNI ASSOCIATION, FOUNDATION WIN 11 AWARDS AT 2010 CASE CONFERENCE
Advancement professionals at K-State earned 11 awards from the Council for the Advancement and Support of Education at the District 6 meeting Jan. 10-12 in St. Louis, Mo.
Read more

PICTURE PERFECT
Myra Gordon, K-State's associate provost for diversity and dual career development, responds to the crowd during a banquet recognizing the winners of the Commerce Bank Presidential Awards for enhancing multiculturalism and distinguished services to historically underrepresented students.
For creative professional images contact university photographer David Mayes at 785-532-6304 or photo@k-state.edu
For a gallery of Mayes' photos, go to: http://ksuphoto.zenfolio.com
OH, BY THE WAY
MAILED PAY STUBS TO STOP FOR EMPLOYEES WHO HAVE PAY DEPOSITED ELECTRONICALLY
Beginning Friday, Feb. 5, pay stubs reflecting pay deposited electronically will no longer be mailed to employees. Paycheck and leave balance information are available through the Human Resource Information System employee self service -- also called HRIS -- at http://www.as.ksu.edu/HRIS/
Read more
K-STATE'S BEACH MUSEUM TO HOST VALENTINE-THEMED WORKSHOPS FOR ADULTS AND THE FAMILY
K-State's Marianna Kistler Beach Museum of Art will have two workshops for sweethearts inspired to make valentines.
A workshop for adults will be at 6:30 p.m. Wednesday, Feb. 3, with a workshop for the whole family 2-3:30 p.m. Sunday, Feb. 7.
Read more
CAMPUS MIGRATION TO ZIMBRA CALENDAR TO BEGIN
Following the successful migration to K-State Zimbra e-mail in the spring, work is now under way on the implementation of the K-State Zimbra calendar. This process will include the transition of data from Oracle calendar.
Oracle calendar is still the official K-State calendar, with plans for K-State Zimbra Calendar to become the official calendar in June.
Read more
OPPORTUNITIES
CLASSIFIED
• A recording of classified job opportunities is available 24 hours a day on the Employment Information Line, 785-532-6271.
• A list of employment opportunities is posted at www.k-state.edu/hr/
• For additional information, call 785-532-6277 or come to the Division of Human Resources in 103 Edwards Hall. Applications are accepted 8 a.m. - 5 p.m. weekdays.
UNCLASSIFIED
• A complete listing of vacancies can be seen at www.k-state.edu/affact/
• For additional information, call the office of affirmative action at 785-532-6220 or come by 214 Anderson Hall.
Editor: Katie Mayes
Coordinator: Julie Fosberg
Phone: 785-532-6415
Fax: 785-532-6418
E-mail: media@k-state.edu