K-STATE'S DEPARTMENT OF HOSPITALITY MANAGEMENT AND DIETETICS RANKS 14TH AMONG THE WORLD'S TOP 100 RESEARCH PROGRAMS
K-State's department of hospitality management and dietetics has been named one of the top hospitality management research programs in the world, according to an article in November's Journal of Hospitality and Tourism Research. Of the 100 programs ranked, K-State is No. 14.
NOTEWORTHY

Florence Neymotin, economics, has been invited to present "The Economic Impact of the Dropout: Now and Then" to members of the New Mexico Legislature at The New Mexico Dropout Rate: Contributing Factors and Implications for Policy, a Family Impact Seminar, Dec. 3-4, Albuquerque, N.M.
On Campus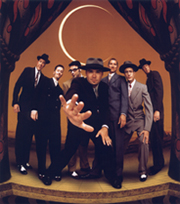 DEC. 4
McCain Performance Series: Big Bad Voodoo Daddy
7:30 p.m., McCain Auditorium. The Grammy-nominated group will perform a holiday swing music show featuring rollicking big band arrangements of favorites such as "Jingle Bells," "Blue Christmas" and "We Three Kings." Call 532-6428 for tickets.
For previous issues click here
The next issue is Dec. 9
Submit items by noon Dec. 3
TRIM YOUR HOLIDAYS THE K-STATE WAY
K-State is helping spread the spirit of the holidays with gift ideas, seasonal foods, musical performances and other activities.
PLAUDITS
K-STATE'S ARCHITECTURE AND DESIGN PROGRAMS RANKED HIGH NATIONALLY
K-State's accredited academic design programs have again been ranked highly by professionals in a recent survey published in the journal DesignIntelligence.
Read more
K-STATE'S CHRISTER AAKEROY NAMED TO BOARD OF GOVERNORS OF THE CAMBRIDGE CRYSTALLOGRAPHIC DATA CENTRE

K-State chemistry professor Christer Aakeroy is serving on the board of a prestigious international center that promotes the advancement of the science of chemistry and crystallography for public benefit.
Aakeroy was recently appointed to a four-year term on the board of governors of the Cambridge Crystallographic Data Centre. The center is a nonprofit, charitable institution based at the University of Cambridge in England. It is best known as the provider of the Cambridge Crystallographic Database, the world's foremost repository of molecular crystallographic data with nearly 500,000 crystal structures on file.
Read more
BARNABY WINS NATIONAL AWARD FOR EXCELLENCE IN EXTENSION

G.A. "Art" Barnaby Jr., professor of agricultural economics and K-State Extension specialist, received the 2009 National Award for Excellence in Extension at the 122nd annual meeting of the Association of Public and Land-Grant Universities in Washington, D.C., Nov 15-17.
The National Award for Excellence in Extension is presented each year to an individual who has demonstrated high-impact programming, visionary leadership and who has anticipated emerging issues for clientele and the system. The recipient is also committed to diversity and integration of programs in partnerships with university colleagues and outside clientele.
Read more
OH, BY THE WAY
ANNUAL FAMILY HOLIDAY WORKSHOP DEC. 6 AT K-STATE'S BEACH MUSEUM OF ART
The annual Family Holiday Workshop at K-State's Marianna Kistler Beach Museum of Art will be 2-4 p.m. Sunday, Dec. 6.
The workshop is sponsored by the Student Friends of the Beach Museum. Children will be able to create and decorate Christmas cards, ornaments, gingerbread figures or anything else they come up with.
Read more
GOT THE FLU? CAREFUL, YOU MIGHT PASS IT ON TO YOUR PET
Pet owners who contract H1N1 flu may pass the disease along to their pets, especially if the pet is a cat or ferret.
"A small number of companion animal H1N1 flu cases have been confirmed in the U.S.," said Dick Hesse, a flu expert and director of virology in K-State's Veterinary Diagnostic Laboratory. "The pets appear to have become ill after being in close contact with their owners and caretakers who were sick with H1N1. There is no evidence of pets passing H1N1 to people at this time."
Read more
OPPORTUNITIES
CLASSIFIED
• A recording of classified job opportunities is available 24 hours a day on the Employment Information Line, 785-532-6271.
• A list of employment opportunities is posted at www.k-state.edu/hr/
• For additional information, call 785-532-6277 or come to the Division of Human Resources in 103 Edwards Hall. Applications are accepted 8 a.m. - 5 p.m. weekdays.
UNCLASSIFIED
• A complete listing of vacancies can be seen at www.k-state.edu/affact/
• For additional information, call the office of affirmative action at 785-532-6220 or come by 214 Anderson Hall.
Editor: Katie Mayes
Coordinator: Julie Fosberg
Phone: 785-532-6415
Fax: 785-532-6418
E-mail: media@k-state.edu