K-STATE GRADUATES RANK HIGH NATIONALLY ON PASSING CERTIFIED PUBLIC ACCOUNTING EXAM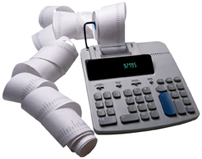 When it comes to the certified public accounting examination, K-State ranks high nationally in passing rates for some first-time candidates taking the rigorous test.
Read more
NOTEWORTHY

Matthew Brueseke, geology, presented "Geology and Geochemistry of Early Miocene Intermediate Composition Volcanism in Northern Nevada and its Relationship to Regional Tectonomagmatic Processes" at the annual meeting of the Geological Society of America, Oct. 18-21, Portland, Ore.
On Campus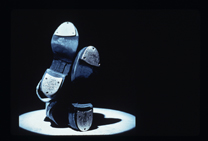 OCT. 27
McCain performance series: 'Tap Dogs'
7:30 p.m., McCain Auditorium. The high-octane Broadway sensation features extreme tap dancing by six "brawny blokes" in faded jeans, flannel shirts and Australian work boots on industrial-size metal sets. Call 532-6428 for tickets.
For previous issues click here
The next issue is Oct. 28
Submit items by noon Oct. 22
WORKING TOGETHER
Classified employees help one another during 2009 All-University Campaign
Sometimes the best inspiration for giving back is sitting right next to you. At least, that's how Connie Kissee sees it.
Read more
PLAUDITS
K-STATE KINESIOLOGY PROFESSOR RECEIVES HALL OF FAME HONORS FROM WEST VIRGINIA UNIVERSITY
David Dzewaltowski, professor and head of K-State's department of kinesiology, is a new member of the West Virginia University College of Physical Activity and Sport Sciences Hall of Fame.
Read more
K-STATE MATHEMATICS PROFESSOR SERVING AS PROGRAM DIRECTOR AT NATIONAL SCIENCE FOUNDATION
A K-State professor is learning firsthand the trends and future direction of scientific research by serving as a program director for the National Science Foundation in Washington, D.C.
Zongzhu Lin, professor of mathematics, said his experience as a program director with the foundation's Visiting Scientists, Engineers and Educators Program should benefit K-State.
Read more
OH, BY THE WAY
NO 'DOCTOR'S NOTE' REQUIRED WITH THE ONSET OF H1N1
The reported number of students with H1N1 or flu-like symptoms is on the rise at K-State. As predicted, Lafene Health Center has become very busy with students seeking medical attention and treatment. As a result, Lafene does not have the capacity to provide "excuse notes" for students.
Read more
K-STATERS EXCITED ABOUT NEW EPSCoR GRANT
Since the announcement that K-State would share in a $20 million grant to Kansas NSF EPSCoR -- also known as the Experimental Program to Stimulate Competitive Research -- K-Statement has learned that faculty in several departments are involved in the research program. This grant's focus is climate change and renewable energy challenges.
Read more
SIGN UP TO VOLUNTEER DURING COMMUNITY SERVICE WEEK OCT. 24-30
More than 500 K-State students, employees and Manhattan community members will have a chance to donate their time and energy during Community Service Week, Oct. 24-30.
Read more
KIDS CAN MAKE BUGGY DECOR AT HALLOWEEN-THEMED WORKSHOP OCT. 23 AT BEACH MUSEUM
Children age 6 and older can make their own creepy, crawly Halloween decorations at an upcoming workshop at K-State's Marianna Kistler Beach of Art.
Kathrine Schlageck, senior educator at the Beach Museum of Art, will guide children through the "Robert J. Lang: Insect Origami" exhibition at 1 p.m. Friday, Oct. 23. Children will then make 3-D creepy crawlies, such as insects and spiders, out of origami paper, clay and other found materials. Each child can create up to six sculptural pieces, with the final products to go into a display box to be taken home and used for Halloween decorations.
Read more
K-STATE'S ASSESSMENT SHOWCASE OCT. 30
The office of assessment would like to invite faculty and staff associated with assessment of student learning to attend the Fall 2009 Assessment Showcase featuring best practices in assessment of student learning. The showcase will be from 9 a.m. to noon Friday, Oct. 30 on the second floor of the K-State Student Union.
Read more
OPPORTUNITIES
CLASSIFIED
• A recording of classified job opportunities is available 24 hours a day on the Employment Information Line, 785-532-6271.
• A list of employment opportunities is posted at www.k-state.edu/hr/
• For additional information, call 785-532-6277 or come to the Division of Human Resources in 103 Edwards Hall. Applications are accepted 8 a.m. - 5 p.m. weekdays.
UNCLASSIFIED
• A complete listing of vacancies can be seen at www.k-state.edu/affact/
• For additional information, call the office of affirmative action at 785-532-6220 or come by 214 Anderson Hall.
Editor: Katie Mayes
Coordinator: Julie Fosberg
Phone: 785-532-6415
Fax: 785-532-6418
E-mail: media@k-state.edu