K-STATE ONE OF FOUR UNIVERSITIES SHARING $20 MILLION FOR CLIMATE CHANGE, RENEWABLE ENERGY RESEARCH

A $20 million National Science Foundation grant will further establish Kansas as an internationally recognized leader in global climate change and renewable energy research -- and will let a Nobel Prize-winning K-State scientist continue his work on the effects of climate change.
Read more
NOTEWORTHY
Donald J. Mrozek, professor of history, presented "Athletes, Scholars, and Warriors: Sport, Physical Education, and Institutional Unity at the United States Air Force Academy," Triennial Military History Symposium, Sept. 28-30, United States Air Force Academy, Colo.

On Campus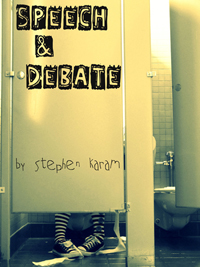 Oct. 15
Theater: 'Speech and Debate'
7:30 p.m., Nichols Theater. Salem is in for another witch-hunt when a scandal involving a teacher shakes the halls of a small Oregon high school, linking three students. This play will be on stage from Oct. 15 to 17 and Oct. 21 to 24. For tickets call 532-6428.
For previous issues click here
The next issue is Oct. 21
Submit items by noon Oct. 15
FEDERAL MONEY 'STIMULATING' WORK AT K-STATE
From atomic collisions to steam pipes, millions of dollars disbursed under the American Recovery and Reinvestment Act of 2009 are being well spent at K-State.
Read more
PLAUDITS
TWO K-STATE PROFESSORS AMONG HIGUCHI WINNERS
Two K-State professors received 2009 Higuchi-KU Endowment Research Achievement Awards.
The awards honor outstanding research by faculty members at the University of Kansas and other Kansas Board of Regents institutions.
Read more
SKABELUND RECOGNIZED FOR COMMUNITY SERVICE IN THE CREATION OF LOCAL RAIN AND ROOF GARDENS
K-State's chapter of the American Institute of Architecture Students has presented Lee Skabelund, assistant professor of landscape architecture, with the 2009 Community Service Award.
Read more
PICTURE PERFECT
Signs of fall on the K-State campus.
For creative professional images contact university photographer David Mayes at 785-532-6304 or photo@k-state.edu
For a gallery of Mayes' photos, go to: http://ksuphoto.zenfolio.com
OH, BY THE WAY
K-STATE'S ANNUAL SECURITY REPORT NOW AVAILABLE
Each year, a fall issue of the faculty/staff newsletter is addressed to every person employed by K-State. This is to remind employees that the annual security report is now available.
In compliance with the Higher Education Amendments of 1965, as amended, K-State prepares and distributes an annual security report that contains important information concerning crime on campus, crime prevention and other policy statements as required by law. A copy of the annual security report is available at http://k-state.edu/studentlife/publications.html or by contacting the office of student life at 785-532-6237.
Read more
K-STATE'S NEW CHILD DEVELOPMENT CENTER OFFICIALLY BREAKS GROUND
With a little special help, K-State officially broke ground for a new Child Development Center.
The $5 million project will allow for the on-campus care of around 70 more children than is presently possible. The new center will be 32,000 square feet -- more than double the current facility size of 15,500 square feet -- and is slated for completion in summer 2010. It is being built on the east end of Jardine Drive. The K-State Child Development Center began as parent cooperative for child care 24 years ago.
Read more
FORMER U.S. POET LAUREATE TO GIVE INAUGURAL LECTURE IN 2009-2010 VISITING WRITERS LECTURE SERIES
Former U.S. Poet Laureate Billy Collins will kick off the department of English's 2009-2010 Visiting Writers Lecture Series.
Collins will read from his body of work at 5:30 p.m. Wednesday, Oct. 21, in the ballroom of the K-State Alumni Center. The lecture is free and open; a book signing will follow.
Read more
CONOCOPHILLIPS COMMITS $3 MILLION TO K-STATE SCHOLARSHIPS AND PROGRAMS
ConocoPhillips, Houston, recently made a five-year philanthropic commitment to support four areas at K-State and a 2009 gift designated for scholarships and initiatives in the colleges of Business Administration and Engineering, as well as the ConocoPhillips SPIRIT Scholars program.
Read more
ENGAGEMENT INCENTIVE GRANTS AVAILABLE, DEADLINE FOR PROPOSALS IS NOV. 2
K-State's Center for Engagement and Community Development is soliciting proposals from tenured and tenure-track faculty, full-time instructors and K-State Research and Extension faculty for projects that will lead to enhanced engagement in teaching, research and/or outreach. These grants are intended to provide seed money to faculty who would like to incorporate engagement into their instructional, research and/or outreach programs.
Read more
OPPORTUNITIES
CLASSIFIED
• A recording of classified job opportunities is available 24 hours a day on the Employment Information Line, 785-532-6271.
• A list of employment opportunities is posted at www.k-state.edu/hr/
• For additional information, call 785-532-6277 or come to the Division of Human Resources in 103 Edwards Hall. Applications are accepted 8 a.m. - 5 p.m. weekdays.
UNCLASSIFIED
• A complete listing of vacancies can be seen at www.k-state.edu/affact/
• For additional information, call the office of affirmative action at 785-532-6220 or come by 214 Anderson Hall.
Editor: Katie Mayes
Coordinator: Julie Fosberg
Phone: 785-532-6415
Fax: 785-532-6418
E-mail: media@k-state.edu