K-Statement

K-STATE'S FIRST LADIES HONORED
The history of K-State's first ladies is being celebrated with an exhibit, program and reception at Hale Library.
The first ladies exhibit is now open through March 27 in the fifth-floor gallery of Hale Library. It features photographs, artifacts and information about each of K-State's 13 first ladies,

from original first lady Frances Denison, to current first lady Ruth Ann Wefald, pictured at right, and incoming first lady Noel Nunnally Schulz. While their individual interests and activities varied widely, collectively the first ladies became leaders in campus and community organizations; hosted visiting dignitaries, faculty and students; and carried out countless other roles to benefit the university and the Manhattan community.
The first ladies will be the topic of a program co-sponsored by the Friends of the K-State Libraries in Hale Library's Hemisphere Room at 3:30 p.m. Wednesday, March 25. The program will feature Michaeline Chance-Reay, K-State assistant professor of secondary education and the author of "Land Grant Ladies: Wives of the K-State Presidents." In addition, Sharon Reagan, president of the Friends of the K-State Libraries, will honor current first lady Wefald; and Lori A. Goetsch, dean of K-State Libraries, will discuss the evolving first ladies portrait gallery in Hale Library.
NOTEWORTHY
Wendy Matlock, English, published "Vernacular Theology in the Disputacione betwyx the Body and Wormes," Translation, or Transmission of Culture, ed. Laura H. Hollengreen. Arizona Studies in the Middle Ages and Renaissance 13 (Turnhout, Belgium: Brepols, 2008): 113-127.
On Campus March - April
March 16-20
Spring Break
March 24
'Persépolis'
As part of the Tournées French Film Festival, the film "Persépolis" will be shown with English subtitles. 8 p.m., Forum Hall, K-State Student Union. Admission is free.
Concert
Tuba and euphonium students of Steve Maxwell, assistant professor of music, will perform. 5:45 p.m., All Faiths Chapel.
March 26
'Lili et la Baobab (Lili and the Baobab)'
As part of the Tournées French Film Festival, the film "Lili et la Baobab (Lili and the Baobab)" will be shown with English subtitles. 7 p.m., 106 Kedzie Hall. Admission is free.
Wiki Mania!
As part of the IDT roundtable series for faculty, several K-Staters will take you on a tour of their wikis, both in the classroom and the professional setting. 11 a.m. to 12:30 p.m., Room 212, K-State Student Union.
March 26
'Black Gold: A film about coffee and trade'
This film follows Tadesse Meskela, general manager of the Oromia Coffee Farmers Cooperative Union in Ethiopia, as he seeks a fair trade market for more than 74,000 Ethiopian coffee farmers. Summer Lewis, K-State alum and former Equal Exchange employee, will introduce the film. Fair trade tea and chocolate will be served. 7 p.m., Hemisphere Room, Hale Library.
March 28
'The American College Town'
Blake Gumprecht will discuss his book about college towns. 1:30 p.m., Manhattan Public Library auditorium.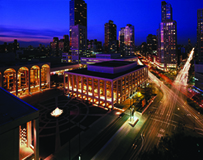 April 5
The Chamber Music Society of Lincoln Center will explore the sound of America at 7:30 p.m., April 5 in McCain Auditorium. The performance will feature American mezzo-soprano Stephanie Blythe.
Setting about a strategic plan
In preparation for K-State's next accreditation review by the Higher Learning Commission, North Central Region, and to develop new strategic directions for the university, a campus committee has identified a number of new priorities. Read more
Grassland birds in the Flint Hills facing decline
The wide-open spaces of the Flint Hills may no longer provide a secure home on the range for several familiar grassland birds, according to research by a K-State ecologist and her colleagues. Read more
Investing in excellence
One of K-State's priorities for elevating the institution's national and international success is the Targeted Excellence program, which made its first awards in 2004. Awards have helped inter-disciplinary teams in such diverse areas as food safety and security, the Developing Scholars Program, ecological genomics, civic discourse and democracy, geographic information systems, sensors research, nanotechnology, and improving access to careers in science, technology, engineering and mathematics. Read more
UP CLOSE
Tender loving care
She keeps a scrapbook detailing their every milestone. When there's a chill in the air, she wrestles them into homemade fleece jackets. Each has its own personality and they're so adorable that Emily Lehning now has seven of them -- and counting. Read more
PLAUDITS
PSYCHOLOGY SOCIETY NAMES WRIGHT A FELLOW
Thomas A. Wright, K-State's Jon Wefald Leadership Chair in Business Administration, has been named a Fellow by the Society for Industrial and Organizational Psychology.

This makes Wright the first K-State faculty member ever to have been named fellow by both the Society for Industrial and Organizational Psychology and the Association for Psychological Science, an honor he received in 2007.
Society Fellows are distinguished industrial and organizational psychologists who have made "unusual and outstanding" contributions to the field.
Wright is a professor of management and is best known for his innovative thinking on psychological well-being, which can affect job performance and turnover. He is also director of the College of Business Administration's Center for Character-based Leadership.
KANSAS ARTS COMMISIION HONORS FACULTY
Three K-State faculty members have received Kansas Mid-Career Fellowships from the Kansas Arts Commission. Jonathan Holden, University Distinguished Professor of English and poet-in-residence; Nancy Morrow, associate professor of art; and Julie Pentz, assistant professor of dance, were honored during a reception in Topeka March 4.
ADVANCED MANUFACTURING INSTITUTE WINS ADDY AWARD
A new brochure for the Advanced Manufacturing Institute at K-State made in collaboration with jones huyett Partners, a Topeka-based marketing and advertising firm, has received an Addy award from the American Advertising Federation.
The brochure emphasizes the institute's broad spectrum of services and ability to work with businesses of all sizes in a wide variety of markets, including manufacturing, transportation, aerospace, consumer, products, agriculture, food, chemicals, plastics, bioprocessing, equipment and machinery.
The Advanced Manufacturing Institute is a part of K-State's College of Engineering and is a Kansas Technology Enterprise Corporation Center of Excellence that provides innovative and cost effective engineering and business solutions.
PICTURE PERFECT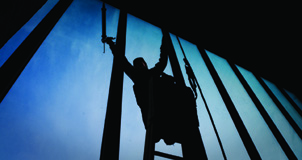 A worker replaces windows in Seaton Court.
Visit Photo Services' new Web site at www.k-state.edu/photo.
OH, BY THE WAY
MORE THAN 40 EARN PROMOTIONS, TENURE
K-State is promoting 17 faculty members to the rank of full professor and 24 faculty members to the rank of associate professor with tenure. In addition, one faculty member has been granted tenure and one has been promoted to associate professor. K-State President Jon Wefald has approved the promotions and tenure, which go into effect July 1.
Promoted to full professor are: Michael Apley, clinical sciences; Charles Barden, horticulture, forestry and recreation resources; Louise Benjamin, journalism and mass communications; Timothy Dayton, English; Brad DeBey, diagnostic medicine and pathobiology; Briana Nelson Goff, family studies and human services; Wayne Goins, music; Eric Higgins, finance; Marianne Korten, mathematics; James Neill, statistics; Jung Oh, arts, sciences and business; Charlotte Shoup Olsen, family studies and human services; Zhijian Pei, industrial and manufacturing systems engineering; Jeffrey Pickering, political science; Michael Sanderson, clinical sciences; Bruce Schultz, anatomy and physiology; and Youqi Wang, mechanical and nuclear engineering.
Promoted to associate professor with tenure are: Patricia Ackerman, arts, sciences and business; Frederick Burrack, music; Leslie Hannah, arts, sciences and business; Peggy Honey, apparel, textiles and interior design; Amy Hubbell, modern languages; Laszlo Kulcsar, sociology, anthropology and social work; Sandra LaPointe, philosophy; Mark Linville, accounting; Jonathan Mahoney, philosophy; Phillip Marzluf, English; L. Tonatiuh Melgarejo, human nutrition; Thomas Mertz, engineering technology; Venkata Vara Prasad Pagadala, agronomy; David Renter, diagnostic medicine and pathobiology; Robby, computing and information sciences; Donald Saucier, psychology; D. Kimball Smith, English; Kay Ann Taylor, special education, counseling and student affairs; Iris Totten, geology; Benjamin Torrico, modern languages; Thomas Vontz, elementary education; Donald Wilson, philosophy; Raphael Yunk, architectural engineering and construction science; and Jeffrey Zacharakis, educational leadership.
In addition, K.C. Olson, associate professor of animal sciences and industry, was granted tenure, and Craig Paukert, biology, was promoted to associate professor.
BEACH MUSEUM OF ART HOSTING PHOTOGRAPHIC EXHIBITION ABOUT THE AMERICAN SOLDIER
An exhibition of more than 100 photographs depicting the life of members of the American military is on display through May 31 at K-State's Marianna Kistler Beach Museum of Art.
"The American Soldier: A Photographic Tribute" is an exhibition of 116 photographs depicting military life in nine wars, from the Civil War to the war in Iraq. The exhibition, suitable for all age groups, also celebrates the contributions made by photojournalists who risked danger at the front lines.
Cyma Rubin, the exhibition's curator, reviewed more than 4,000 photos for the exhibition, selecting those that tell stories of camaraderie, courage, humor and sacrifice. Rubin also was curator of the "Capture the Moment: The Pulitzer Prize Photographs" exhibition, which was at the Beach Museum of Art in 2003.
"The American Soldier" is sponsored by EADS North America, Business of Entertainment Inc. and the John B. Stetson Company.
Call the Beach Museum at 785-532-7718 for more information.
OPPORTUNITIES
CLASSIFIED
• A recording of classified job opportunities is available 24 hours a day on the Employment Information Line, 785-532-6271.
• A list of employment opportunities is posted at www.k-state.edu/hr/
• For additional information, call 785-532-6277 or come to the Division of Human Resources in 103 Edwards Hall. Applications are accepted 8 a.m. - 5 p.m. weekdays.
UNCLASSIFIED
• A complete listing of vacancies can be seen at www.k-state.edu/affact/
• For additional information, call the office of affirmative action at 785-532-6220 or come by 214 Anderson Hall.