K-Statement

CATES TO HEAD MASTER OF PUBLIC HEALTH PROGRAM

Retired Brig. Gen. Michael B. Cates, former commander of the U.S. Army Center for Health Promotion and Preventive Medicine and chief of the U.S. Army Veterinary Corps, is the new director of K-State's master of public health program.
The program is designed for people who are currently employed or anticipating a career in the field of public health. Students may specialize in obesity/exercise, human nutrition, food safety, infectious/zoonotic diseases and toxicology.
Cates recently retired after 28 years of military service and was the first veterinarian to head the Army's main public health organization.
"In today's world, there are many complex challenges in animal, human and environmental health, and the future will bring even more," Cates said. "It is an honor to now be part of K-State's outstanding research and educational efforts in these areas."
Besides his doctorate of veterinary medicine, Cates also has a master of public health from the University of Texas Health Science Center, Houston, and is a distinguished diplomate of the American College of Veterinary Preventive Medicine.
NOTEWORTHY

Tiffany L. Kershner, sociology, anthropology and social work, and colleague published "Tense and Cognitive Space: On the Organization of Tense/Aspect Systems in Bantu Languages and Beyond," Cognitive Linguistics, Vol. 19, No. 2.
On Campus - January
Jan. 19
University holiday
Martin Luther King Jr. Day
Jan. 20
Inaugural party
The event, which is part of K-State's week-long MLK Day Observance, is open to the public. 7 p.m., K-State Student Union Ballroom.
Jan. 22
Civil rights lecture
Chester Owens Jr. will deliver "A Firsthand view of Civil Rights in Kansas" during the Diversity Student Leader Luncheon. 12:30 p.m., Kansas State University Alumni Center.
'Nunsense'
This hit musical comedy is celebrating its 25th anniversary with a national tour starring Sally Struthers. 7:30 p.m., McCain Auditorium. Call 785-532-6428 for ticket information.
Jan. 23
MLK luncheon for
diverse faculty and staff
This first annual luncheon of its kind will take place at noon in the Konza Room of the K-State Student Union.
Jan. 29
Lecture
"KansAsians: the Asian-American experience in Kansas from race riots to Roger Shimomura" will be delivered by Bill Tsutsui. 5:30 p.m., Marianna Kistler Beach Museum of Art.
An entrepreneurial campus
Entrepreneurship is more than a buzzword at K-State. With a new Center for Entrepreneurship and a new academic major in entrepreneurship, it's part of the K-State culture. Read more
Presidential interviews
The first of three candidates, Kirk Schulz, is scheduled to visit campus Jan. 15-16, with remaining candidates coming Jan. 22-23 and Jan. 26-27. An open campus forum will be held 3:30-5 p.m. in Forum Hall on the first day of each visit. Go to http://tinyurl.com/a3zv7b for information.
Amped up
If changing the batteries in the remote control or smoke detector seems like a chore, imagine having to change hundreds of batteries in sensors scattered across a busy bridge. That's why K-State engineers are helping a semiconductor manufacturer develop an energy-harvesting radio. Read more
UP CLOSE
Promoting prevention
Nancy Muturi, assistant professor of journalism and mass communications at K-State, has a passion for understanding HIV/AIDS and for finding ways to control it. Read more
PLAUDITS
SALSBERRY HONORED FOR COMMITMENT TO EDUCATIONAL ACCREDITATION AND ASSESSMENT

The Kansas chapter of the North Central Association recently recognized K-State education professor Trudy Salsberry with the 2008 Claradine Johnson Award.
This award, now in its ninth year, honors leadership within both the national and Kansas chapters, educational excellence, service to school and state and a history of work with the organization. The honor is named for M. Claradine Johnson, former director of the Kansas North Central Association.
Salsberry has served as a college representative on the association's state council for more than a decade, during which she has provided leadership in the accreditation and assessment areas. She is one of the primary interpreters of the association's standards and expectations.
BLUE KEY ADVISER OF THE YEAR NAMED
Anil Pahwa, professor of electrical and computer engineering and faculty adviser of Eta Kappa Nu, the electrical and computer engineering honor society, was recently named the 2008-2009 Blue Key Adviser of the Year. This award is given each year by the Blue Key Leadership Honor Society and K-State's office of student activities and services to an adviser of a student organization affiliated with the university.
COLLEGE OF BUSINESS HONORS TEACHING, RESEARCH
Three faculty members in K-State's College of Business Administration were recently recognized for their contributions to teaching and research.
Sukesh Patro, assistant professor in finance, is the fall 2008 recipient of the Kansas State Bank Teaching Excellence Award, while Thomas A. Wright, professor of management, and Chairat Chuwonganant, associate professor of finance, will share the college's fall 2008 Outstanding Contribution in Research Award. The three were recognized during commencement ceremonies in December.
"The teaching and research accomplishments of our three fall faculty award recipients are indicative of the highest quality of academic excellence, said Yar M. Ebadi, dean of the College of Business Administration.
PICTURE PERFECT
Baby, it's cold outside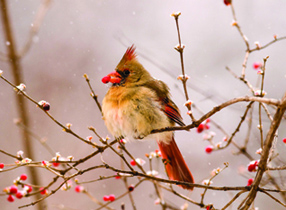 For professional photos contact university photographer David Mayes at 785-532-6304 or photo@k-state.edu
OH, BY THE WAY
LIBRARIES OFFER CALL NUMBER TEXTING
The next time you're using the K-State Libraries catalog and can't find a scrap of paper or pencil, text yourself.
K-State libraries are now offering free texting. When searching for an item using the electronic catalog, patrons will see a phone icon and the phrase "Text me this call number." All they need to do is click the link, enter a cell phone number and hit "send."
The service sends a text message which includes the item's location, call number and title. Messages have a 150-character limit and regular text message charges apply. Questions can be directed to the "Ask a Librarian" Web page at http://www.lib.k-state.edu/reference/vref/
FINANCIAL THERAPY CLINIC TO OPEN LATER THIS MONTH
K-State's Institute of Personal Financial Planning will soon open what is thought to be the first clinic to offer financial therapy.
Financial therapy refers to the combination of financial counseling with marriage and family therapy.
"Since so many couples struggle with financial issues throughout their relationship, it is important to train our future marriage and family therapists and financial counselors and planners to address these issues," said Kristy Archuleta, an assistant professor of family studies and human services and a faculty member of the Institute for Personal Financial Planning.
The clinic, set to open in late January, will be on the second floor of the Colony Square Building, 555 Poyntz Ave., in downtown Manhattan. It will be open on Wednesdays, with hours to be announced.
The clinic also will be a research facility where students can obtain practice and experience working with clients, using established counseling and therapy techniques in a supervised setting.
MEDAL OF EXCELLENCE GOES TO PAUL EDGERLEY
A distinguished graduate and longtime supporter of K-State was awarded the university's highest honor, the Medal of Excellence, at the Graduate School's recent commencement ceremony.
Paul Edgerley, Brookline, Mass., a 1978 graduate of K-State's College of Business Administration, has built a successful career as a financial manager and consultant. After leaving K-State, he received a master's degree in business administration with honors from Harvard Business School. He has worked as a certified public accountant and consulted in the health care, information services, retail and automobile industries. Since 1990, he has been a managing director at Bain Capital Inc., a private investment firm in Boston with more than $45 billion in assets under management.
K-STATE'S EIGHTH RHODES SCHOLAR SINCE 1986 NAMED
Vincent M. Hofer was recently named one of 32 Rhodes scholars nationwide, bringing K-State's count up to eight since 1986.
Hofer, a 2008 graduate in agribusiness, works for U.S. Sen. Sam Brownback as a legislative correspondent in Washington, D.C.
Hofer will pursue Latin American studies and development studies at Oxford University, after which he plans a career in international development.
K-State is second among state universities to the University of North Carolina, Chapel Hill, in Rhodes competition since 1986. Since 1986, K-State has had 11 Marshall Scholars, 23 Truman Scholars, 60 Goldwater Scholars and 19 Udall Scholars.
OPPORTUNITIES
CLASSIFIED
• A recording of classified job opportunities is available 24 hours a day on the Employment Information Line, 785-532-6271.
• A list of employment opportunities is posted at www.k-state.edu/hr/
• For additional information, call 785-532-6277 or come to the Division of Human Resources in 103 Edwards Hall. Applications are accepted 8 a.m. - 5 p.m. weekdays.
UNCLASSIFIED
• A complete listing of vacancies can be seen at www.k-state.edu/affact/
• For additional information, call the office of affirmative action at 785-532-6220 or come by 214 Anderson Hall.