Prince Turki Al-Faisal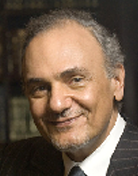 Outgoing Saudi ambassador to the U.S.
"Prince Turki Al-Faisal is the Ambassador of the Kingdom of Saudi Arabia to the United States of America. Prince Turki was born on February 15, 1945 in Makkah, Saudi Arabia. He began his schooling at the Taif Model Elementary and Intermediate School. In 1963, he graduated from The Lawrenceville School in Lawrenceville, New Jersey. He subsequently pursued an undergraduate degree at Georgetown University in Washington, DC.
Prince Turki was appointed an Advisor in the Royal Court in 1973. From 1977 to 2001, he served as the Director General of the General Intelligence Directorate (GID), the Kingdom's main foreign intelligence service. In 2002, he was appointed Ambassador of to the United Kingdom and Republic of Ireland by Custodian of the Two Holy Mosques King Fahd bin Abdulaziz.
In 2005, Prince Turki was appointed Ambassador to the United States on July 20, 2005. He presented a copy of his credentials to Secretary of State Condoleezza Rice in New York City on September 13, 2005. Prince Turki presented his credentials to President George W. Bush at the White House on December 2, 2005.
His Royal Highness is involved in a number of cultural and social activities. He is one of the founders of the King Faisal Foundation and is the chairman of the King Faisal Center for Research and Islamic Studies in Riyadh. He is also co-chair of the C100 Group, which has been affiliated with the World Economic Forum since 2003."
Photo and biography obtained from: http://saudiembassy.net/Country/Government/TurkiBio.asp