Lawrence Douglas Wilder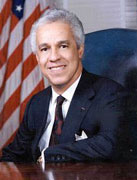 Governor of Virginia
On January 14, 1990, L. Douglas Wilder was sworn in as governor of Virginia, joining a line that includes Patrick Henry, Thomas Jefferson, and Harry F. Byrd. Wilder became Virginia's 66th governor and the nation's first elected black governor. In 2004, Wilder became the first mayor of the city of Richmond, Virginia. The grandson of slaves, Wilder is a moderate who immediately became a major influence in the U.S. political arena, announcing-but eventually repealing-his decision to run for the Democratic nomination in the 1992 U.S. presidential election. As a Washington Post correspondent wrote shortly before Wilder's gubernatorial inauguration, "Willingly or not, Wilder becomes a symbol of the changing climate of politics in the South and the nation as a whole, the aspirations of American blacks to assume an equal place in society, and the uncertainties that confront any public leader as a new century looms."
Wilder himself appeared aware of the significance of his victory in Virginia, noting in the Richmond News Leader that his office would be housed just blocks from the old White House of the Confederacy and just miles from the segregated neighborhood where he grew up. "As a boy," he recalled in the News Leader, "I read the writings of [former U.S. President] Abraham Lincoln about freedom and equality, and I knew they were referring to me. My victory fulfills all of the dreams that could be dreamed by any person."
Surprisingly, race was hardly an issue in the campaign leading to Wilder's November 1989 election. Rather, abortion became the pivotal controversy, and Wilder benefited from his highly publicized pro-choice stance. His media campaign cast the issue in terms of government intervention and personal privacy, and it invoked such symbols as the American flag and Thomas Jefferson's Monticello to illustrate Wilder's abortion-rights views. In the end, one exit-polling sample indicated that single-issue voters concerned about abortion were 62 percent to 38 percent for him. After the elections, analysts predicted that abortion would be one of the litmus tests for candidates in the early 1990s and that politicians favoring a woman's right to an abortion would most often benefit.
This lecture is not available.