Chapman Center Faculty & Staff
Bonnie Lynn-Sherow, Executive Director

Dr. Lynn-Sherow was awarded her PhD in American history from Northwestern University in 1998 and is currently an associate professor and Director of the Chapman Center for Rural Studies at Kansas State University.
Her book, Red Earth: Race and Agriculture in Oklahoma Territory was published by the University of Kansas Press in 2004. Professor Lynn-Sherow has published extensively in North American agricultural history, North American Indian history, and environmental history. Her current project, titled Indian in a Bottle, is a study of early-twentieth-century Americans' fascination with the Indian "Medicine Man" and how Indians' symbolic relationship to "nature" was used to peddle patent medicines.
Professor Lynn-Sherow serves on the Editorial Review Board of the University Press of Kansas and is a founding member of the Board of Directors of the Flint Hills Discovery Center.
Ginette Aley, Research & Curriculum Director
Dr. Ginette Aley joins the Chapman Center as Research Director after more than 15 years as a college educator, teaching at Virginia Tech, Drake University, the University of Southern Indiana, Washburn University, as well as online courses for Purdue University before beginning her association with KSU fall 2017. She is currently also the Associate Editor for Kansas History: A Journal of the Central Plains. Her love of the Midwest and Great Plains and the region's students is reflected in her work.
Dr. Aley is a 19th century U.S. historian specializing in the nation's agrarian past. Her dissertation focused on native-white relations and westward expansion in the Old Northwest, particularly as they impacted women and families. Having published several peer-review essays, she contributed to the Virginia at War series, the 1864 and 1865 volumes, and co-edited a corresponding book on the Midwestern home front, Union Heartland, published by Southern Illinois University Press. Her current research examines pioneering women and their health, Midwestern Civil War soldiers' views on encountering the Confederate South, and Amish farming practices.
She was 1 of 3 founding editors for Amalgam, an undergraduate research journal at the University of Southern Indiana. She has also evaluated MA theses for the MAGS award (Midwestern Association of Graduate Schools), and teaches an online thesis proposal writing course for APUS. Assuming the role of Research Director for the Chapman Center allows Dr. Aley to continue in her passion for mentoring student research projects.
Maggie Cody, Office Specialist III
Maggie is the Office Manager of the Chapman Center for Rural Studies. She is the social media coordinator for the Center and writes content for the website and blog. As the Human Capital Services liaison, she is tasked with recruiting, hiring, and training student workers and staff as well as managing accounting for the Center. Since joining the team in 2017, Maggie has been responsible for coordinating travel, event planning, inventory, and records management.
A transplant from Cookeville, Tennessee, she graduated from Nashville State in 2012 with an associates in Communication and Tennessee Technological University in spring 2014 with a degree in History and Political Science. She is pursuing a Graduate Certificate in Technical Writing at K-State.
Bradley Galka, Assitant Editor of the Online Journal of Rural Research and Policy (OJRRP)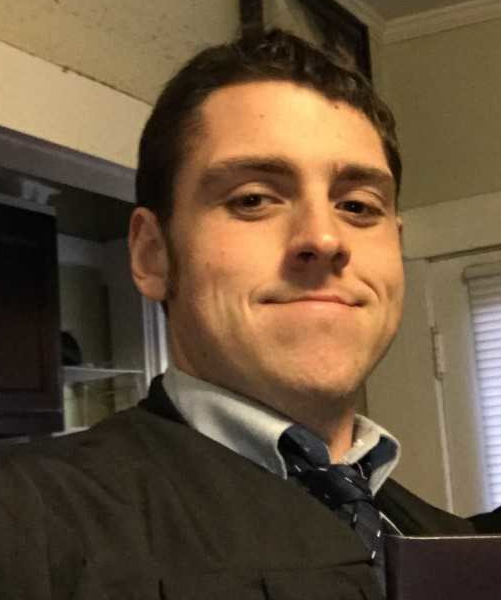 Bradley Galka is a PhD student in the history department studying politics during the Great Depression era in the United States. He has worked as a research assistant for the Chapman Center since the summer of 2016 and has been the assistant editor of the Online Journal of Rural Research and Policy since the fall of 2016. In his spare time, Brad is passionate about jazz music and kick boxing.
Student Team
Mitchell Alexander, Hist 650 Intern
Mitchell Alexander is a History major. For his History 650 internship, Mitchell is digitizing a collection from Adelaide Whisler. As part of the project Mitchell will learn Optical Character Recognition, scanning, and preservation.
Julia Anderson, Spring 2019 Research Intern
Julia Anderson is a Secondary Education major with a focus on Social Studies. She was raised in Kentucky but has lived in China for the last three years of high school. Her parents are both proud K-State alumni and she has a lot of family in the Manhattan area. She loves learning about history and different cultures along with helping kids and teenagers. After she earns her teaching degree she hopes to continue her education in graduate school for counseling so she can be a high school counselor. Julia is working with the research director Dr. Ginette Aley to choose a rural community to study for the semester.
Katie Goldenstein, Spring 2019 Research Intern
Katie is a junior pursuing a degree in Secondary Education with a focus in Social Studies after earning an associates in liberal arts from Butler Community College. She lives in Manhattan with her husband Jacob. She has been passionate about history since starting reenactments with her dad over 15 years ago. In addition to tutoring history to K-State athletes, Katie brings her experience in Marketing Photography from Butler Community College to the Clyde Cessna Homestead project, developing branding and fundraising ideas to help preserve his 40-acre property from being lost from history. While she hopes to one day use her experience in history education to do museum work, she is enjoying College of Ed and looking forward to educating young minds in the near future.
Ethan Levin, Spring 2019 Research Intern
Ethan Levin is junior at Kansas State and working on a degree in History and a minor in Jazz Studies. He is a Manhattan native and has had a love for history all of his life. In addition to history, Ethan has a passion for music and plays the guitar for several local jazz combos and rock bands in Manhattan. He has worked with the Chapman Center for Rural Studies since his Freshman year and, among other projects, is currently the lead researcher for the Clyde Cessna project, hoping to preserve his historic forty-acre farm. This encompasses building and maintaining a website for the Clyde Cessna Homestead Society. Ethan also works at the IT Services Help Desk.
Ethan McCary, Spring 2019 Research Intern
Ethan McCary is a junior majoring in History and minoring in Political Science. His obsession with history stems from exposure since his youth, reading books and listening to family stories. He hopes to attend graduate school and have a career as a military historian. His other interests include Security Studies, Geography, and Astronomy. His hobbies include Photography, watching college sports and his beloved Borussia Dortmund, as well as collecting items and documents with historical significance. Ethan published a research piece on the town of Sylvia. This semester he is tackling a much bigger project involving collecting oral histories from veterans.
Sara Partin, Manuscript Designer & Editor
Sara Partin
is a sophomore majoring in English Literature. When she graduates in Fall of 2020, she intends to pursue a Master's degree in English after which she hopes to enter the publishing field as an editor or the field of linguistics. A California native, she moved to Kansas in 2011 and has resided outside Wichita ever since. She is passionate about reading and writing, and she loves the talented people she is surrounded with every day. At K-State, she is the Panhellenic Delegate of her sorority, Alpha Chi Omega. In addition, she is a member of Silver Key Sophomore Honor Society and in the University Honors Program as well. Sara is copy-editing and designing a manuscript for the Pat Sauble project, a collection of stories and pictures from generations of the Sauble family and their ranch.
Emily Petermann, Student Office Staff

Emily Petermann is a sophomore double majoring in History and Anthropology and double minoring in English and classics. She is a native Manhattanite with family ties to rural Kansas. Spending summers and weekends in rural Kansas gave her a great deal of respect for these small communities and the belief that their histories need to be preserved. At the Chapman Center, Emily helps with day-to-day operations. In addition, she has been tasked with digitizing a collection of materials from Pioneer Bluffs. Emily Petermann brings previous experience from her current employment at K-State Libraries.

Christopher Simerl, Student Office Staff
Christopher Simerl is a senior in Architectural Engineering from Topeka, KS. With knowledge gained from his degree, Christopher wishes to find a job restoring and repurposing historic buildings for posterity. As a Student Office Assistant at the Center, Christopher helps lighten the workloads of the Chapman team in order to expedite research projects. Christopher has been working on converting Chapman Center inventory to a database with a lending function for greater ease in tracking and lending equipment to staff and students. He will also receive training in K-State's Content Management System to help maintain the Chapman Center website.