News
Summer 2017:
The Fong Lab welcomed Mariah Brown, Class of 2018, to the lab this summer. Mariah is developing a novel and sensitive assay for detecting iodide in small samples.
Congratulations to Molly Bassette, who participated in the Amgen Summer Scholars Program. Read about Molly's cancer research at UCSF (where Dr. Fong earned her Ph.D.) by clicking here.
Spring 2017:
Lab Alumna, Molly Bassette, was recognized with an Honorable Mention in this year's Barry M. Goldwater Scholarship and Excellence in Education Foundation. Congratulations on a job well done, Molly!
Sahiba Grover received the Diligence in Research Award on 9th April, 2017 at this year's Developing Scholars Symposium. She is also one of 40 undergraduates named to the Silver Key sophomore leadership honor society for the upcoming 2017-2018 academic year. Silver Key emphasizes community service to the KSU campus and the Manhattan community. Congratulations, Sahiba!

Lab Alumna Olivet Martinez also presented the 2017 Developing Scholars Symposium on her work with Dr. Sara Rosenkranz, Associate Professor in The College of Human Ecology. Olivet received a James R. Coffman Award of Excellence for her work. Earlier in the term, Olivet presented her work with our lab at the ERN Conference in Science, Technology, Engineering and Mathematics, which was held in Washington, D.C. on 2-4 March, 2017. Read Olivet's abstract here. See photos of the 2017 conference by clicking on this link . Olivet's attendance at the conference was supported by a travel award from ERN. Great job and many congratulations, Olivet!
Fall 2016:

We welcomed Sahiba Grover and Tina Langley to the lab this term:
Sahiba, a freshman, is conducting research as a Developing Scholar. Sahiba also is one of four Edgerley-Franklin Urban Leadership Scholarship recipients this year at KSU and also serves as an ambassador for the College of Arts and Sciences.
Tina is a junior honor student majoring in Biochemistry. For the academic year 2015-2016, Tina received awards from the Arts and Sciences Fund for Excellence, the Biochemistry and Molecular Biophysics Excellence Fund and the Georgiana Smurthwaite Memorial Scholarship Fund.
Our alumni and lab members continue achieving the high goals they have set for themselves:

More great news: Molly Bassette will represent Kansas State University in the national Goldwater scholarship competition.
Meredith Schmidt, another alumna of our lab, entered KSU CVM as a member of the Class of 2020. Meredith recently was chosen for the Veterinary Training Program for Rural Kansas. Read about this in a cover article featured in the November 2016 issue of the KSU CVM Lifelines.
Summer 2016:
Olivet Martinez presented her summer project at the KS-LSAMP Research Immersion: Pathways to STEM poster session on 27th July, 2016.
Spring 2016:
We are very proud of Molly Bassette, who was recognized by the Division of Biology with the Most Promising Student Award for the academic year 2015-2016. The lab looks forward to Molly's return in January 2017 after her semester abroad at University College Dublin.
Delia Hernandez presented her research project at the 16th Annual Developing Scholars Program Research Poster Symposium on 17 April, 2016. Congratulations to all participants (and especially to Delia) on a successful year!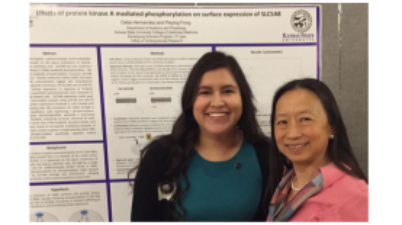 Maria Montes presented her research at the Emerging Researchers National (ERN) Conference in Science, Technology, Engineering and Mathematics (STEM), held in Washington, D.C., 25-27th February 2016. Click here to learn more about ERN.
Fall 2015:
K-State Today News Release: Follow this link to see what Dr. Fong has been up to lately.
Summer 2015:
Summer Research Presentation: Congratulations to Maria Montes, our first KS-LSAMP RiPS student, who presented a summary of her summer research project at the program's poster session on 23 July, 2015!