Commerce Bank Presidential Awards for Diversity
The Commerce Bank Presidential Faculty/Staff Award for Distinguished Services to Historically Under-Represented Minority Students was established in 1978 to recognize outstanding individual contributions to the development of quality education for students of color at Kansas State University. The Commerce Bank Presidential Student Award for Distinguished Services in Enhancing Multiculturalism at Kansas State University was established in the spring of 1997 to recognize outstanding individual contributions to diversity enhancement within the student sector.
Commerce Bank Presidential Awards Selections committee members for 2022-2023 include:
Mirta Chavez, Commitee Chair, Assistant Vice President, Student Belonging and Inclusion
Dr. Rana Johnson, Vice President for Diversity, Equity, Inclusion, and Belonging
Tamara Bauer, Instructor, Staley School of Leadership Studies.
Rebeca Paz, Assistant Director, First-Generation Student Center.
Spencer Clark, Associate Professor of Curriculum and Instruction.
Dr. Brandon Haddock, Coordinator, Spectrum Center.
Dr. Amy Betz, Assistant Dean for Retention, Diversity and Inclusion, Mechanical and Nuclear Engineering Department.
2023-2024 Award Applications:
Faculty, Staff, and Alumni Nomination (PDF)
Student Nomination (PDF)
The nomination deadline is Friday, October 27th, 2023 at 5:00 p.m
Submissions may be send to Adam Carr via email (arcarr@k-state.edu) or mailed / delivered to 224 Anderson Hall.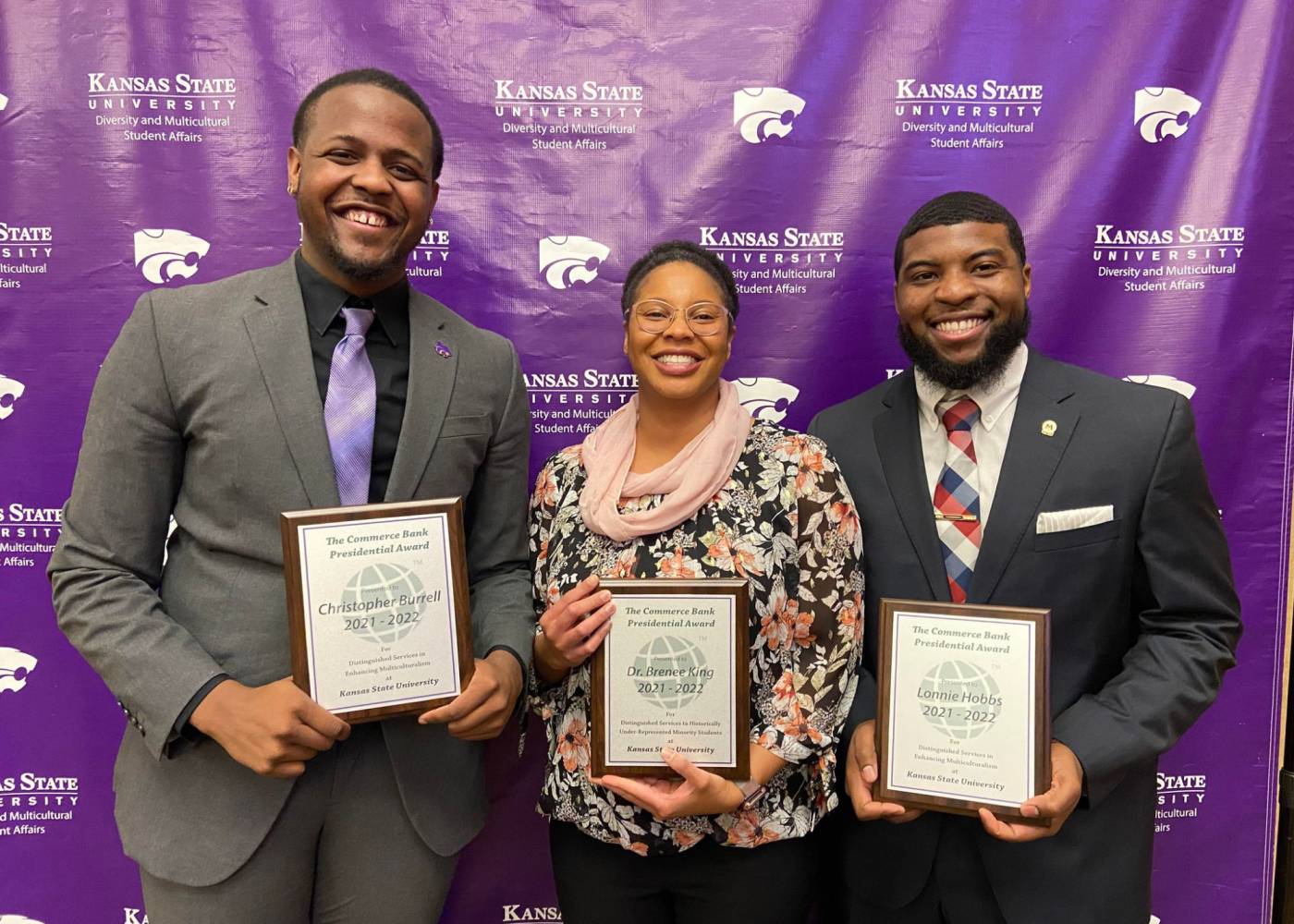 2021-2022 Award Winners:
Faculty & Staff:
Brenee King, Director, Office of Undergraduate Research
Student:
Lonnie Hobbs Jr, PhD Candidate, Agricultural Economics
Christopher Burrell, Senior, Mechanical Engineering
Past Student Award Winners
1996 Stacy Yeager
1997 Colette McLemore
1998 Leo Prieto
1999 Tamara Goodson
2000 Cindy Seto
2001 Brad Crane,
Louis Duncan Jr.
2002 Erica Smith
2003 Isabel Amaya
2004 Yvonne Adame
2005 Naureen Mujeeb Kazi
2006 Abdulrasak Toyin Yahaya
2007 Clemente Jaquez-Hererra
2008 Careem Gladney
2009 Robert Gomez,
Deborah Muhwezi
2010 Samuel Britton
2011 Ariel Anib
2012 Angela Muhwezi
2013 Marcus Bragg
2014 Justine Floyd
2015 Justice Davis
2016 Yubisela Toledo
2017 Chelsea Turner
2018 Adam Carr
2019 Del'Sha Roberts
2020 Ayana Belk
2021 Shumin Li
2022 Lonnie Hobbs Jr
Chrisopher Burrell
Past Faculty & Staff Winners
1978 James Boyer
1979 Antonia Quintana Pigno
1980 E. Bernard Franklin
1981 Anne Butler
1982 Veryl Switzer
1984 Karen Hummel
1985 Wayne Rohrer
1986 Hakim Salahu-Din
1987 William Sutton
1988 Michael Holen
1989 Harriet Ottenheimer
1990 Barbara Baker
1991 William Feyerharm
1992 Phil Anderson
1993 Reginland McGowan
1994 Karen M. Martin
1995 LaBarbara Wigfall
1996 Teto Henderson
1997 David L. Griffin Sr.
1998 Kathleen Greene
1999 Juanita McGowan
2000 Douglas Benson
2001 Anita Cortez
2002 Suzanne Mayo-Theus
2003 James Coffman
2004 Candice Hironaka
2005 Keener Tippin II
2006 Lorena Passarelli
2007 Farrell J. Webb
2008 Rebeca Paz
2009 Dawne Martin
2010 Zelia Wiley
2011 Madaí Rivera
2012 Kay Ann Taylor
2013 LaVerne Bitsie-Baldwin
2014 Bryon Williams
2015 Myra Gordon
2016 Tess Hobson
2017 Larry Moeder
2018 Tanya González
2019 Mariya Vaughan
2020 Doris Carroll
2021 Marianne Korten
2022 Brenee King