Kansas Land Treaties


Chapman Center for Rural Studies Treaty Project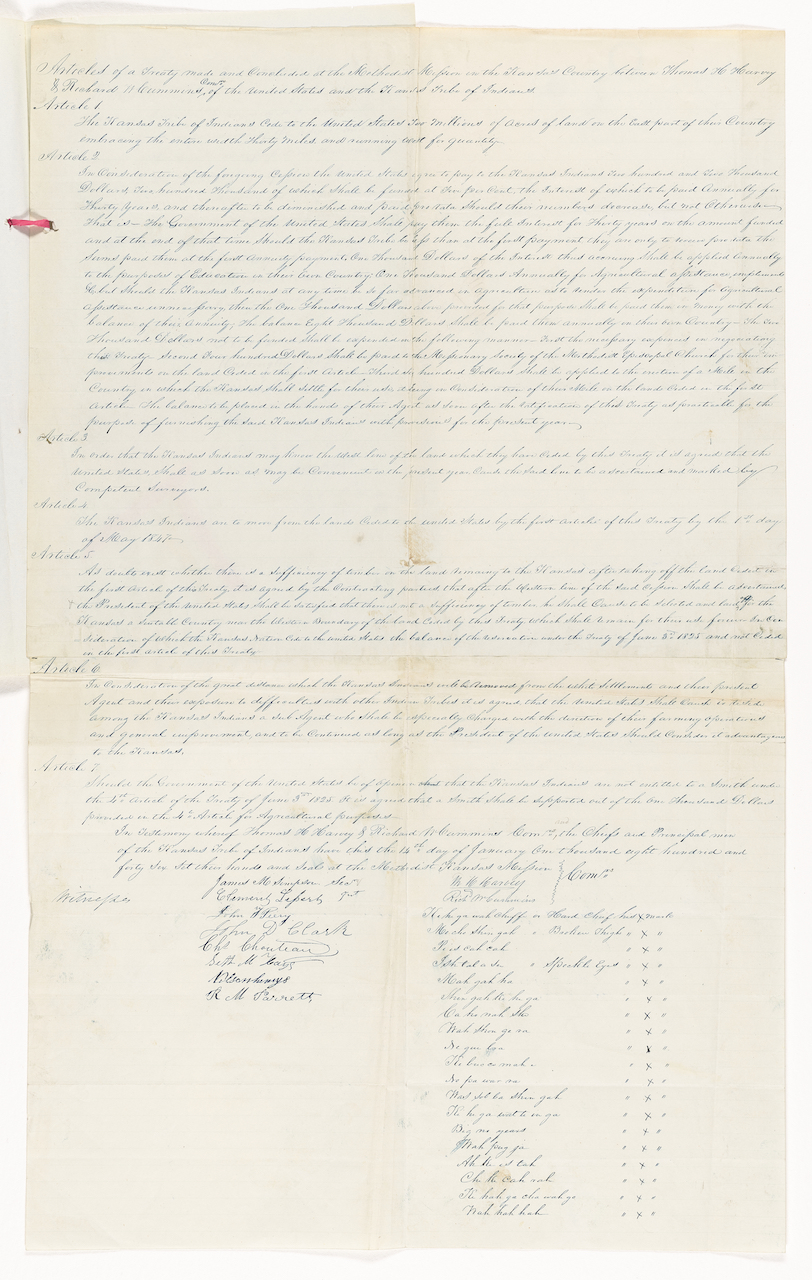 Oral traditions indicate that the Kanza, Kaáⁿze níkashiⁿga in their own language, and the Kaw Nation among today's federally recognized tribes, made their home in the Tallgrass region of the Great Plains since before European colonization. The Kanza were successful farmers, hunters, and traders. They planted crops in their hometowns and conducted lengthy hunting expeditions following bison migrations. The territory supporting Kanza lifeways, including their spiritual practices, spans at least what today constitutes most of the state of Kansas. In the eighteenth century, Kanza towns were located on the Missouri River north and west of modern-day Kansas City. By the nineteenth century, the Kanza were living in towns along the Kansas River between what would become Lawrence and Fort Riley and hunting on the central and western plains. U.S. colonization severely strained Kanza life.
In the nineteenth century, treaties had become part of a larger arsenal that the U.S. government used to dismantle Indigenous lifeways and obtain Indigenous land. The U.S. treaties with the Kanza in 1825, 1846, and 1849 that are annotated in the Chapman Center for Rural Studies Treaty Project, must first be understood on Kanza terms. The Kanza people had and continue to have a deep and long-standing relationship to the lands that would eventually be seized by squatters, railroad speculators, and the U.S. government. The Kanza lived on these lands for hundreds of years. The land housed and fed them: it contained their towns and cemeteries, their sustenance in the form of croplands and hunting grounds, and it held and continues to hold today, not only sacred sites, but also a deep spiritual significance as a whole. Every aspect of Kanza lifeways and beliefs are rooted in their land. The fact that, less than fifty years after the first land-cession treaty, the Kanza were forced from these homelands would have been unfathomable as the 1825 treaty was being signed—this severing of self from homelands represented an apocalypse of nearly unspeakable proportion.
The perspective of the U.S. government, which had only been in existence some forty-nine years at the time of the Treaty of 1825, arose from beliefs that in the nineteenth-century were known as "Manifest Destiny". These beliefs, as the treaty annotations will explain, existed well before Europeans began to colonize North America. Even before they arrived on the shores of North America, non-Indigenous peoples imagined the land as a blank slate (a tabula rasa) and either as empty of inhabitants or as inhabited by people who they believed were inherently lesser than Europeans. When encountered, Indigenous people were most often depicted in early letters, journals, and military accounts as naive, savage, and/or primitive. Difference was labeled deficit. For example, different cultural beliefs, such as Indigenous cultures of exchange in which gifts are shared between groups to forge relationship and mark political alliance, were depicted as childlike (see, for example, Columbus's letters). At the same time, the sophistication of Indigenous knowledges went unseen and unacknowledged (on the Tallgrass prairies, Indigenous practices of controlled burns offer one instance or, to return to Columbus letters, the remarkable technology needed for the massive canoes and outriggers he described are another). These radical misconceptions held by the vast majority of non-Native people were used to rationalize the violent treatment of Indigenous peoples and the exploration, colonization, and eventual conquest of Indigenous lands.
Legally, Europeans – and later, the U.S. - used the Doctrine of Discovery to justify their acquisition of Indigenous land. This doctrine, first defined in the 1493 Papal Bull "Inter Caetera" issued by Pope Alexander VI, was a way of using Christian ideologies to rationalize Spanish conquest and colonization. "Inter Caetera" was specifically issued to authorize Columbus's incursion into Indigenous nations' territories and to give Spain rights over the already occupied lands that Europeans called the "New World." In the early nineteenth century, the U.S. Supreme Court, led by Chief Justice John Marshall, invoked the Doctrine of Discovery as a way to legally authorize U.S. authority over the Indigenous nations that the U.S. constitution recognized as sovereign (politically independent). The Doctrine of Discovery was among a number of power imbalances codified into law through three U.S. Supreme Court cases -- Johnson v M'Intosh (1823), Cherokee Nation v Georgia (1831), and Worcester v Georgia (1831) -- subsequently referred to as the Marshall Trilogy. The first of these cases, Johnson v M'Intosh, held that Indigenous nations could not sell their land to anyone but the U.S. government. Notably, despite the incredible stretches of logic used to form the basis of these opinions, the Marshall Trilogy continues to be used as the basis of federal Indian case law today. In terms of treaties with the Kanza, this legal history meant that the U.S. controlled the price and terms of the negotiation.
A firm belief in cultural and moral superiority was shared by Spanish, French, and British invaders, allowing them not only to rationalize their seizure of Indigenous lands and resources, but also to see such colonial practices as divinely ordained. Once the United States was founded, Americans viewed their colonization as a duty to also spread their system of government – republican democracy – across the continent. This belief, which was given the term "manifest destiny" in the nineteenth-century, contended that North America was destined, by a decidedly Christian god, to be a settler possession. Because this worldview cast conquest and land seizure as a right rather than as invasion, colonial settlers viewed Kanza sovereignty--their inherent political rights and long-standing land claims--simply as a roadblock to westward expansion. Thus, even while settlers were invading Kanza homelands and were themselves strangers with no established relationship to those same lands, the non-Native squatters who settled illegally on Kanza land portrayed the Kanza as intruders and saw their removal from the land they had inhabited and stewarded for hundreds of years as inevitable.
Despite long-held colonial beliefs about manifest destiny, the U.S., and before them the British and French, had always acknowledged Indigenous nations as separate polities. In fact, the U.S. constitution uses the terms "tribe" and "nation" interchangeably. As a result, in their seemingly unceasing quest for new lands, the U.S. government forged treaties, or nation-to-nation compacts, with Indigenous nations like the Kanza. However, as the young country continued to gain territory, status, and citizens, land treaties reflected a clear imbalance of power. The treaties with the Kanza in 1825, 1846, and 1859, together with a May 8, 1872 act of Congress, were tools by which the U.S. government intentionally disrupted Kanza social structures, foodways, spiritual practices, and livelihoods and eventually forced the Kanza from their Neosha Valley homelands to what is now known as Oklahoma. In the space of less than fifty years, the Kanza, and other tribes like them, were transformed from thriving independent nations to refugees.
As the Kanza treaties, the stories shared about them in the following annotations, and the linked oral history clips will show, the land cessions through which settlers took Kanza homelands did not happen overnight. They were a part of a broader pattern of U.S. colonialism that included forced migration, occupation, and eventual elimination and/or relocation of Indigenous nations. This pattern of elimination, which repeated across the land that would become the U.S., expanded federal government influence and opened up resources for some U.S. citizens and companies as Indigenous lands were taken from Native peoples and redistributed to the largely white beneficiaries of empire. It is through this process of land seizure and Indigenous expulsion that the celebrated "gifts" of land authorized by the 1862 Morrill Land Grant Act were redistributed to colleges and universities. The land that Kansas State University stands on, as well as lands that Congress allocated to Kansas State and many other public universities to re-sell (monies that became seed funds for university endowments) was Indigenous land. Recognizing that reality is at the heart of the Chapman Center for Rural Studies Treaty Project.
Visit our Historical Context page for a summarized timeline of Kanza History.

Funding for this program is provided by Humanities Kansas, a nonprofit cultural organization connecting communities with history, traditions, and ideas to strengthen civic life. The findings, conclusions, etc., are not necessarily those of HK or the National Endowment for the Humanities.