2016-2017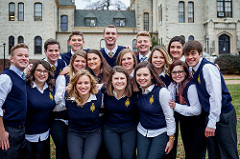 Hunter Post, kinesiology, Beloit; Noah Trapp, microbiology, Ellsworth; Linda Bilberry, agricultural economics, Garden City; Taylor Fry, marketing, Great Bend.

From Greater Kansas City: Sierra Lekie, political science, and Maggie Meyer, chemical engineering, both from Lenexa; and Jordan Reinhardt, communication studies; and Michael Emley, accounting, both from Overland Park.

Emma Barnett, political science, Hutchinson;Jessica Van Ranken, political science, Lindsborg; Jordan DeLoach, computer science; and Caitlyn Webb, accounting, both from Manhattan; Zev Allen, life sciences, Soldier; Luke Garrison, chemical engineering, Topeka; and Erin Woods, mass communications, Wichita.

From out of state: Mandy Marchesini, marketing, Loudonville, New York.
Blog Posts:
Hometown Tours, Carolina Adventures, and the Start of a New Year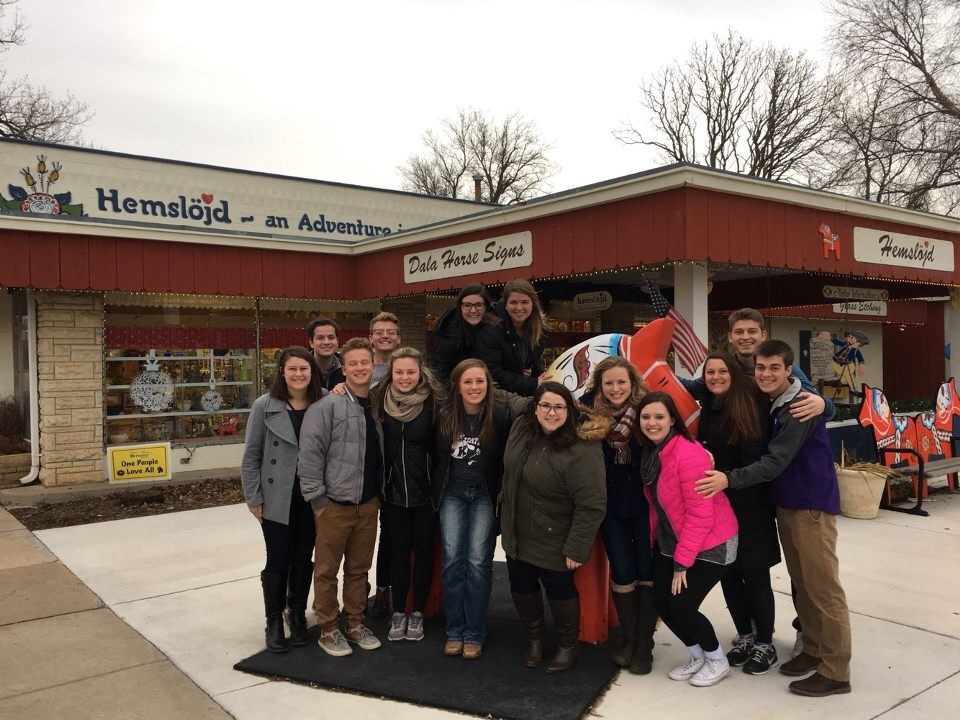 It all began long ago - a member of Blue Key decided to initiate a road trip that would span the state. The trip would unite Blue Key's members by inviting each member to the hometown of the others. This year, like many before, was no different. Our 2016-2017 class embarked on a four-day trip that began in Kansas City, shot (quite literally) out to Garden City, and finished back in Manhattan. On the adventure, our members were privileged with the opportunity of dining – breakfast, lunch, and dinner – every day with a different member's family. We were treated to teleconferencing tours of hometowns as we packed our small, but mighty group, into four vehicles. We also enjoyed enlightening trips down memory lane as we spoke with fathers and mothers about the earlier years of their child and reminisced over how cute everyone once was when pouring over old photographs. At the end of traveling to eight different towns and living with each other for 96 hours straight, we decided that we had not spent near enough time together. So, the morning following our return to Manhattan, we piled back into two (larger) vehicles and headed out east. This year's Nationals Conference was hosted by Clemson University in Clemson, South Carolina. The university was kind enough to make our trip extra special by winning the National Championship and giving us a taste of thefull Clemson Pride. At the National Blue Key Conference, not only did we enjoy the revelry of Clemson celebrating their big win, but we also met members of various Blue Key Chapters around the United States. Our chapter was honored to receive two national awards this year, one of which was the National Best Chapter Website Award, a new award that we proudly claimed title of.
We now find ourselves past our halfway mark. Following Winter Retreat, everyone is in agreement that the next five months will be no less active, engaging, and exciting as the past eleven have been. We are looking forward with great anticipation to selecting the upcoming "New Key" class all the while prepping with enthusiasm for the following highlights of the year: Discover U, YOULead Workshops, Quest Activities, Quest Banquet, Blue Key Banquet, and of course, more quality time with one another (although, maybe not spent in a car).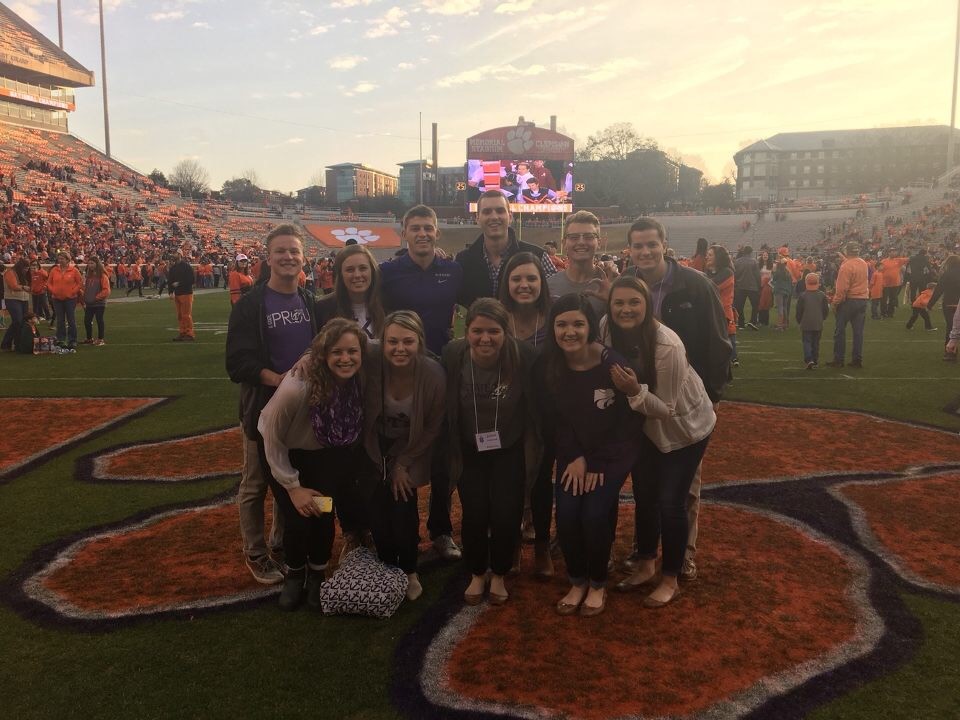 Corn Mazes and Catalyst!
This semester is just flying by. I cannot believe it is already almost November! Recently, we had our Quest Mentor Reveal at Britt's Farm. It brought back so many memories from my time in Quest and searching for my mentor in the corn maze. Quest played such a major role in helping me develop into the individual I am today that I cannot wait to see the same growth in this year's class!
Last week, I also enrolled in my last semester of classes. It was definitely an emotional process as I came to realize just how quickly graduation is approaching. However, I also am excited to see what the future holds! Speaking of next semester, I also cannot wait for Catalyst! As Co-Director of Catalyst along with Noah Trapp, it is becoming more and more of a reality every day. We have not only started to receive applicants but also confirm some amazing large lecture speakers. My favorite part so far has been revealing the small group pairings to Blue Key. While it took several hours to fit all of the puzzle pieces together, the pairings really highlight the diversity within our Blue Key class. I cannot wait to see all of our different strengths intertwine and complement one another. It will be an amazing semester of self-development!
Also, Happy Halloween! I know our Blue Key class is excited to have this holiday fall on the same day as our weekly meetings. There are sure to be some wacky, creative costumes and lots of pictures. Stay tuned for everything that is yet to come for this year's Blue Key class. It's bound to be one for the record books!
Best,
Sierra Lekie
Co-Director of Catalyst
Important Skills: Collaboration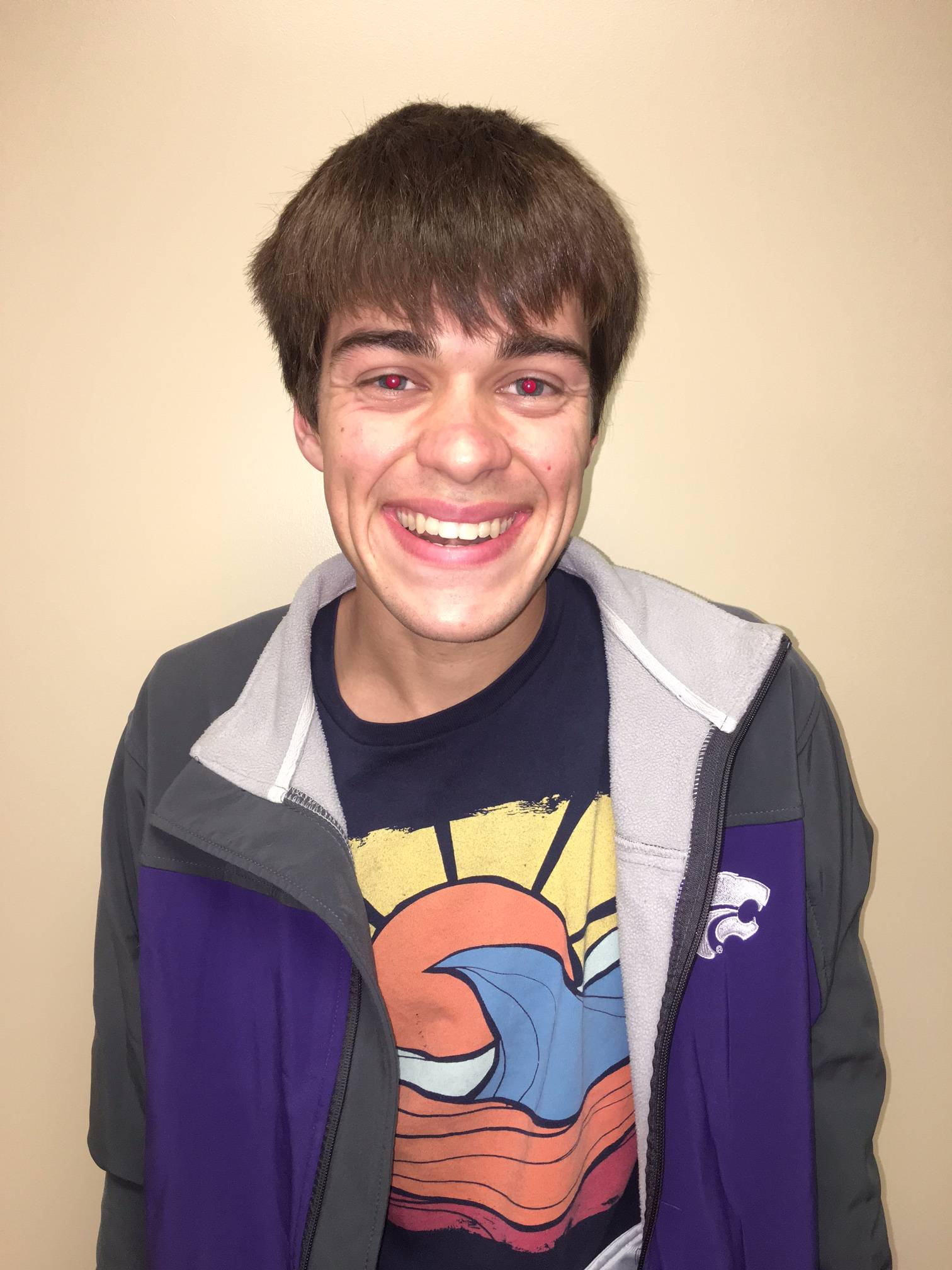 My word, I can't believe we have reached the halfway mark of fall already; this semester has flown by! The trees throughout campus are beginning to change their color, and I find myself wondering at how lucky I am to be in such a beautiful place. It is in appreciating the changing of the seasons that I am reminded of the changes that our Blue Key class is experiencing.
As the Vice President of Personal and Professional Development, it is an honor to watch the different ways our Blue Key class continues to grow and foster an identity as a group. Our first meetings together as a New Key class were a blast! They were filled with a lot of background information and preparation for the coming year, but their routine nature was masked by the lingering excitement of being selected. At these meetings we were oriented to utilizing the Leadership Studies Building, reviewed roles and responsibilities of officers for Blue Key Elections, and perhaps most importantly were fitted for our Blue Key sweater vests. While these meetings brought fresh reminders of the work we had in store, quite honestly they left something to be desired. We were missing the opportunity to collaborate as a team and take ownership of the programs.
It wasn't until our New Key retreat that we had our first opportunity to approach this means of communication while drafting our mission statement for the year. In this brainstorming session, led by Ava Clark and Garrett Kays, the members of our class were able to share their thoughts and opinions that would craft the vision for what the coming year would hold. It was in these conversations that I came to fully realize the diversity of experiences and perspectives that each member brought. We were challenged to align our passions in order to create a concise mission statement that could guide and inform our future decisions. In this exercise we experienced some conflict, but we were also able to compromise in order to fortify the bonds of our group.
It is in these moments of turmoil and adversity that our Blue Key class experiences growth. As we work to develop ourselves and the campus community, the relationships running through our group take on a depth and richness that ready us for the next, more complicated challenges. I for one can't wait to take on the seasons of this coming year with some of the best!
Zev A. Allen
Vice President of Personal and Professional Development