2014-2015
Ross Allen, Ben Brown, Ellen Collingwood, Paige Druffel, Hope Faflick, Cody Kennedy, Ryan Knight, Nathan Laudan, Kurt Lockwood, Jordan Marquess, Paul Meissbach, Allison Niederee, Lizzi Petite, Caroline Toler, Jason Troendle, Adam Wilkerson and Abby Works
Blog Posts from the 2014-2015 class:
DiscoverU
explore・empower・elevate
"Find a need and fill it." -- Ruth Stafford Peale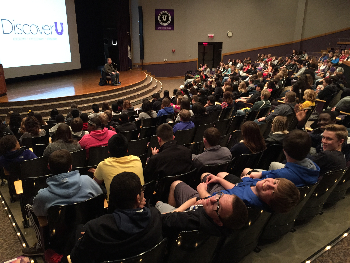 Last year, Blue Key recognized a larger need for Kansas's youth and hosted the first ever DiscoverU. This year, we saw that vision through to year two! By continuing to target students in the AVID program we felt we were living out our mission as Blue Key while helping AVID accomplish their goal to prepare first-generation or students at risk of not receiving higher education, for their post-secondary experience. So, we set the date and after months and months of preparation, advertising, and planning, January 30th found its way here.
That morning, an incredibly caffeinated group of 17 Blue Key members welcomed over 200 AVID students from ten Kansas high schools onto K-State's campus for DiscoverU 2015. To build off 2014's success, we rebranded and selected a conference tag line to guide our day: explore・empower・elevate
Our day began with a welcome from Dr. Pat Bosco as he encouraged the students to recognize higher education as a realistic next step via a Bosco-esque story that filled Forum Hall with laughter. We then broke into groups for the first breakout session where volunteers from K-State's Academic and Career Information Center, along with Blue Key members, created the space for the students to explore what interests them and how that can translate to an academic major or minor.
Immediately following ACIC's workshop, we shuffled back into Forum Hall for what we would later learn was the highlight of almost everyone's' day – a keynote speech from nationally recognized youth speaker, Bob Tryanski. Tryanski pumped up the crowd with a seemingly silly activity and then hit home as he shared several stories about taking steps to do what you love and be who you are, regardless of circumstance. Tryanski's message spoke volumes to every person in the room, young and old, and we know we are not alone in saying that we left feeling empowered by his words.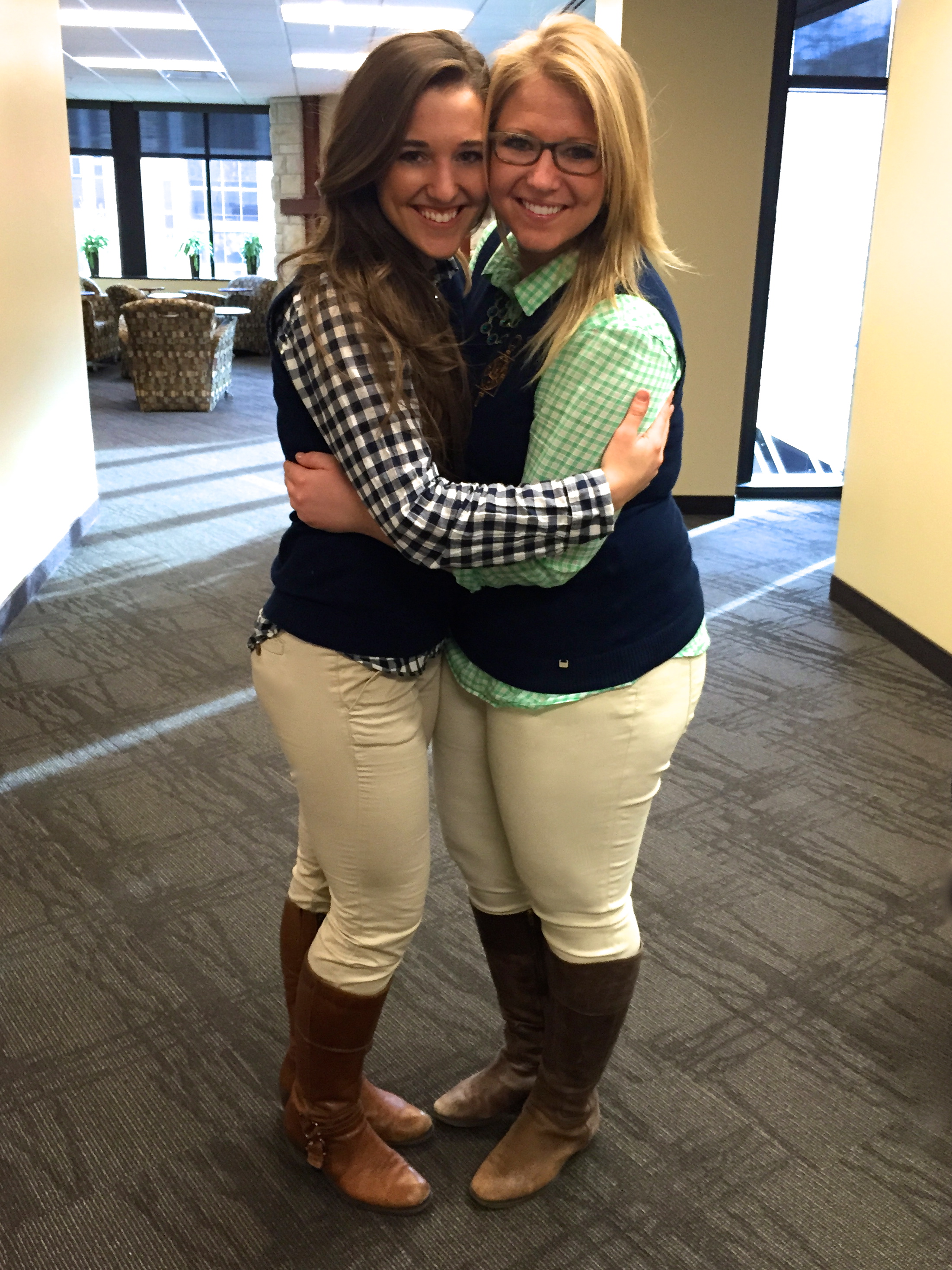 To cap off our morning, students headed into their first workshop of choice, a chance for them to elevate themselves and make good on their promise to Tryanski. Workshops offered ranged in topic from college success, decision-making and financial wellness to leadership and growth and were facilitated by professionals from across campus and Blue Key members. We then made a quick, chilly trek to the north end of campus for lunch in the Derby dining center and then to the Staley School of Leadership Studies for a browsing fair, where we were joined by each academic college and a number of campus life entities as students put some of the ACIC information to use.
After getting some time to meet and ask questions at the browsing fair, students headed into their third workshop of the day, a final chance to choose a topic that spoke to them – Tryanski's room was filled to the brim as he told his story and asked students how they might share theirs. We then packed Town Hall to end the day with a Q&A session with a panel of students from the Edgerly-Franklin Urban Leadership Scholarship program, a group of students who focus on influencing and inspiring future generations to value education, hard work, and achieve success in all areas. Their answers were genuine and we cannot thank them enough for wrapping up our day on such an incredible note!
For a few of the students at DiscoverU, this was the first college campus they set foot on. For others, it was simply an opportunity to learn more about K-State. And for some, DiscoverU was the realization that no matter their past, their future is theirs to create. This year, DiscoverU students were able to explore opportunities and options they didn't know they had and were empowered to take steps to elevate themselves to their outstanding potential! We couldn't be happier with this years' conference and Blue Key looks forward to its continued success and growth in the upcoming years!
"In order to succeed, we must first believe that we can." -- Nikos Kazantzakis
always,
Lizzi Petite and Jordan Marquess
DiscoverU Co-Coordinators
posted February 15th, 2015
---
Quest Guest Edition 2: Tyler Aden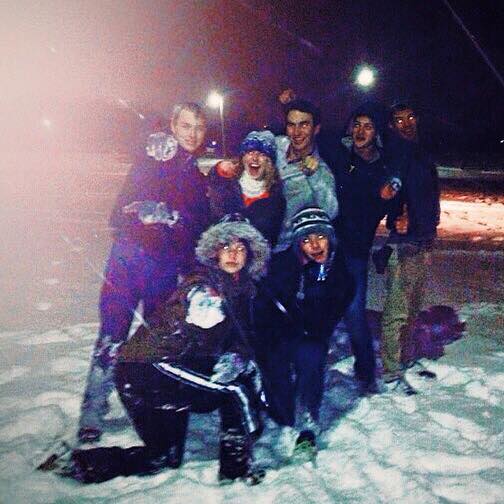 I was first told about Quest by friend, Garrett Wilkinson, a fellow Quest member. He informed me that it will be a great opportunity to become more involved in service and leadership at Kansas State University and get behind the scenes look at everything has to offer. I was convinced right away. During the application process, I successfully spent an over an hour creating the perfect application and then got it taken away by the inconsistency of the internet at Kansas State. However, I re-wrote the application and moved on to the interview process. The interview process for Quest Freshmen Honorary was both thrilling, informative, terrifying, and exhilarating. I went in with little prepared, but answering questions from Blue Key was as natural as talking to a friend - an older, more intelligent, slightly frightening, yet interesting friend. I went in a muggle, and came out… still a muggle, but a muggle with new life experience.
Upon selection, we were paired with mentors from Blue Key Senior Honorary. Under the leadership of Blue Key, we takes a behind the scenes look at everything that K-State has to offer. From touring the athletic facilities to enjoying lunch at the University President's home, connecting with student leaders across campus to giving back through service opportunities in Manhattan, Quest provides ambitious freshmen leaders with the tools necessary to give back to the K-State family. However, Quest has become so much more to me than that. Quest has built me a network of some of the top intellectual minds at K-State all with similar service and academic goals to make K-State and the world a better place. It has created a family of people I could always go to no matter what situation
I am in making freshmen year a little less daunting. Freshman year has been a whirlwind so far, but Quest has been the quintessential place for me to feel a belonging at K-State.
Tyler Aden
Quest Freshman Honorary
posted January 14, 2014
---
Quest Guest Edition 1: Molly Bassette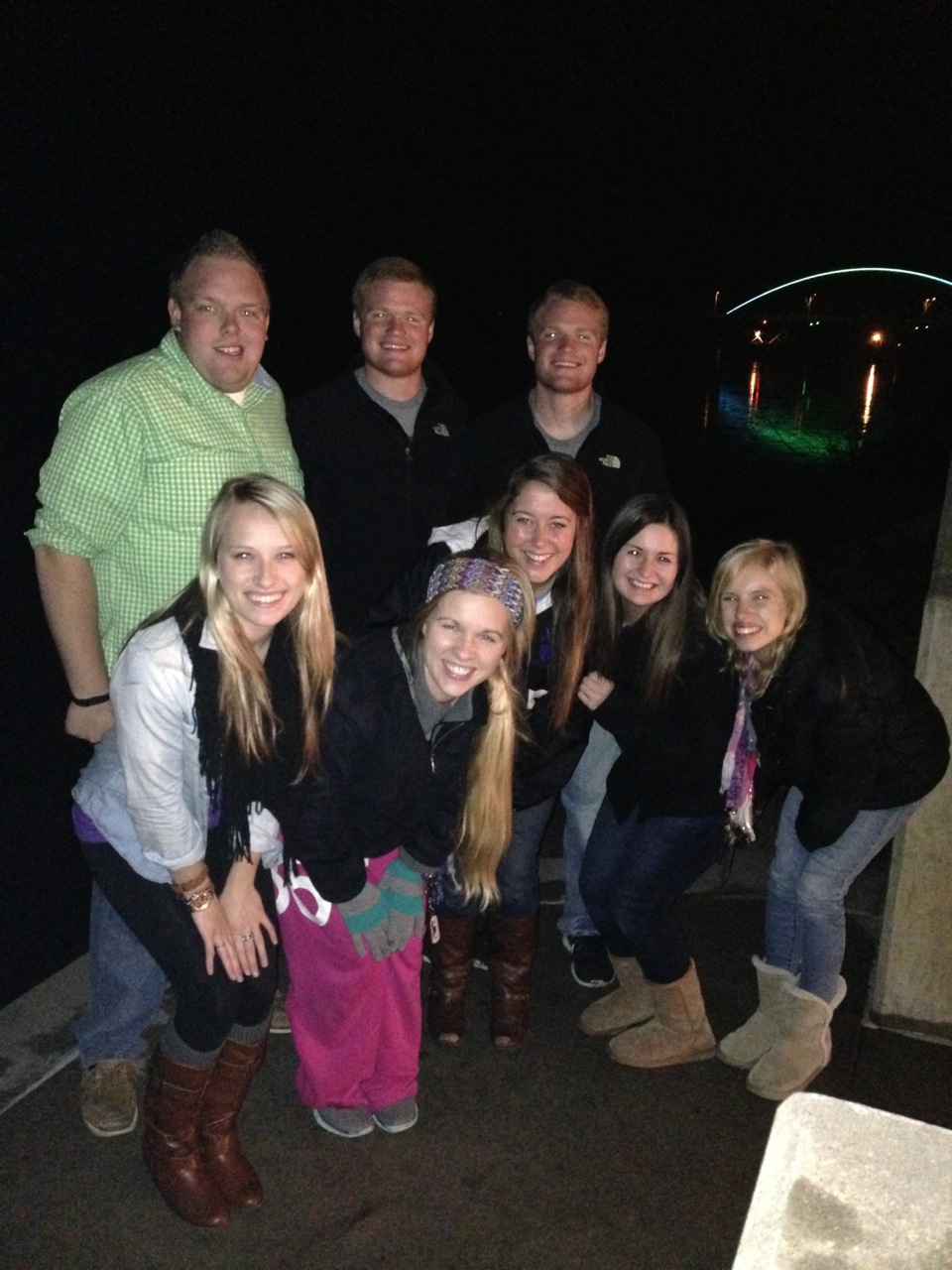 My name is Molly Bassette, and I am a freshman "Questie" majoring in Biology with a minor in Leadership Studies. If I were to share one thing about my experience with Quest, it would be to answer the question, "What is Quest?" This is a question we as Questies are asked quite often by friends, family, and even our Blue Key senior mentors. Honestly; however, it's actually quite a difficult question to answer.
On the surface, Quest is a freshman honorary organization aimed at further facilitating the growth of leadership skills in future leaders on the K-State campus. Every Monday, our Blue Key mentors hold a "Quest Quorum" in which we listen to established leaders as they share
their advice and expertise. We also get to tour different facilities to learn how different organizations are run "behind the scenes." This year, we have toured the K-State Rowing Facilities, GTM, the Call Hall Plant, and the West Side of Bill Snyder Family Stadium. These tours give us unique and incredible opportunities to network with prominent leaders in a large variety of fields.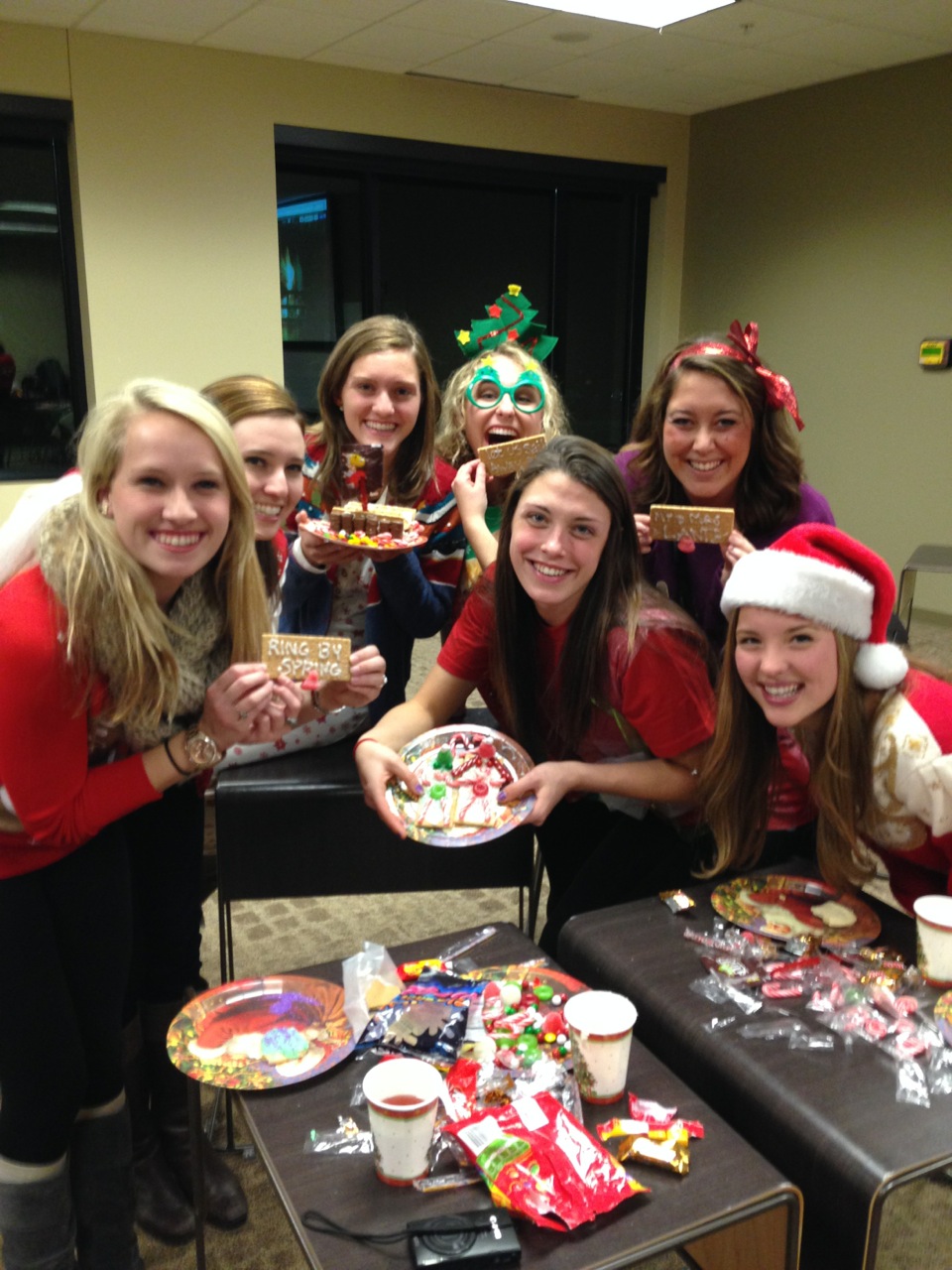 These opportunities are incredible and we couldn't be more thankful. However, diving deeper that simple surface level, there are many more benefits to being a member of Quest than these planned leadership opportunities. The members of Quest are incredible, each more ambitious than the last. They're the kind of people who make you want to be a better person. In three short months, we have all become best friends. We study, laugh, and explore together. The bonds between us have completely changed my outlook on life and have made me a better and more driven person. These individuals have inspired and changed me in ways I cannot even put in to words.
So what is Quest? If I were to describe it, I would say that Quest is a program aimed at developing leadership skills in bright young individuals, but one that invariably forms bonds between these individuals that will last forever and will cause those individuals to grow in ways nothing else can. I can't put in to words how thankful I am for the opportunity I have been given by the Blue Key members, and how glad I am that I have gotten to meet such incredible people. If there was one thing at K-State that I felt I belonged to most, it would, without a doubt, be my beautiful Quest family.
Molly Bassette
Quest Freshman Honorary
posted January 2, 2014
---
Quest Retreat 2014
A few weeks ago Quest kicked off their year with a "quest" to Living Water Ranch for retreat.
After having dinner on campus with Blue Key and traveling to the ranch, we opened the evening by reflecting on a quote the retreat was centered around "The secret to a rich life is to have more beginnings than endings" by David Weinbaum. They talk about how their time in college would full of new beginnings that would connect them to more new beginnings and so on and so forth.
Quest advisor John Lantz shared the history and legacy of Quest. Nathan and Caroline helped the Questies set expectations for their experience and previewed the year. The rest of the evening was full of fun team-building activities like building human tables, seeing who could place a penny the furthest, and the circle of trust (they did it with 30 people!!) led by Jason. I am pretty sure most of the Questies only took a short nap before we finished off the retreat Saturday morning.
Spending time with them brought me back to being a bright eyed and bushy tailed freshman, excited to jumped in and take K-State by storm. This group is so full of energy and excitement about growing together and from each other. I am excited to see them grow throughout the year ahead but even more so to see the HUGE impact each of them will have on K-State by the time they are seniors!
Cheers to a new beginning that will lead to more!
Paige Druffel
Director of Retreats and Team Development


posted November 5, 2014
---
YOULeads: New programming, new brand, same awesome impact
One of the many things that makes K-State special is the energy on campus surrounding leadership.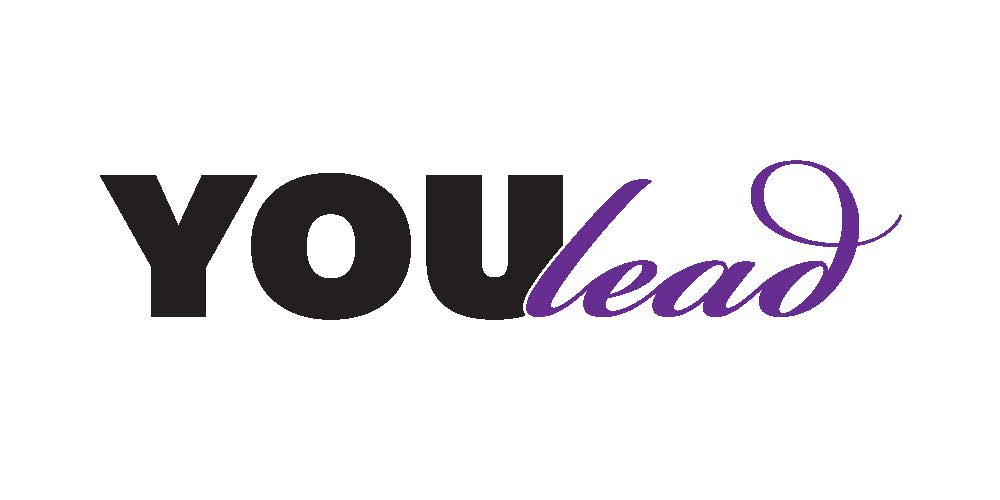 Students are excited to engage in campus organizations and eager to take ownership of their personal development. Blue Key shares this energy through our commitment to leadership and our commitment to serving K-State students. One way we put this commitment into action is with YOULead workshops. YOULead workshops are personalized, meaningful, interactive sessions on topics of leadership and development.
This year, we are excited to have launched a new initiative in tandem with the YOULead workshop program. We are proud to introduce the Blueprint Event Series to K-State's Manhattan campus! Blueprint Events are designed to make YOULead workshops more accessible and collaborative for K-State students. On September 9th, we hosted Event One: "No Title Necessary, YOULead K-State" to explore what leadership looks like beyond titles and positions.
On September 15th, we unpacked what leadership looks like in the context of teams with Event Two: "YOULead Your Team, YOULead K-State." The first of their kind, both events were successful and students enjoyed sharing their passion for leadership with fellow Wildcats. We are excited to host Event Three: "YOULead K-State and Beyond" this spring to explore how leadership translates beyond our campus community!
In addition to the Blueprint Event Series, YOULead workshops are featured as a frequent request in the Presidential Lecture Series coordinated by New Student Services. Blue Key members travel around the state facilitating YOULead workshops for high school students. This year, Blue Key traveled to Wichita to facilitate a workshop on "College Access and Success" at the Futures Fair, the largest annual post-secondary education opportunities fair in the state.
We are excited by the new developments in our YOULead program and reminded what an honor it is to work with such talented, engaged students during each workshop. If you're interested in scheduling a YOULead workshop or want to learn more about the program, please contact Hope Faflick at hetfaf@k-state.edu.
Grace and peace,
Hope Faflick
Director of YOULeads

posted October 16, 2014


---
Fall Update!
As the academic year is quickly flying by, Blue Key is staying busy throughout it all. From DiscoverU fundraising to DYA (Distinguished Young Alumni) applications, the groundwork is being laid. But true to Blue Key's mission, "Serving, I live", other programs have been serving in action.
This year, our Director of YOUlead Programming Hope Faflick introduced a new program that reached over 150 students. The Blueprint Series had two events featuring 8 different YOUlead facilitations. Few feelings of accomplishment can equate to starting a new program and impacting students' lives. In addition to the Blueprint Series, Blue Key members have presented YOULead facilitations both on campus and across the state. In particular, 5 BKers and I road tripped to the Wichita Future's Fair, a college-prep event for Wichita Public Schools. Unfortunately the turnout at our facilitations wasn't what we were hoping but the trip was definitely a success. 1) We promoted all of BK's programs to AVID directors and counselors. 2) We greatly impacted a student's life and were able to personally connect and help prepare him for college. 3) We were able to meet Hope Faflick's entire family. 4) We were given 2 dinners of Chick-Fil-A. 5) We made a brief surprise side trip on the drive home to see Garrett Kennedy, older brother of our very own Cody Kennedy. 6) Six of us were able to road trip together and everything that's involved in a good old road trip!
This just in!! BK has welcomed 36 new Questies into the world! How do you describe 36 incredible, excited and curious Questies becoming part of the family? Every person in Blue Key could rave for hours about them. I know we can because we've done it several times! Early mornings, breaks between classes, and late nights in the BK office, the talk has been Questies!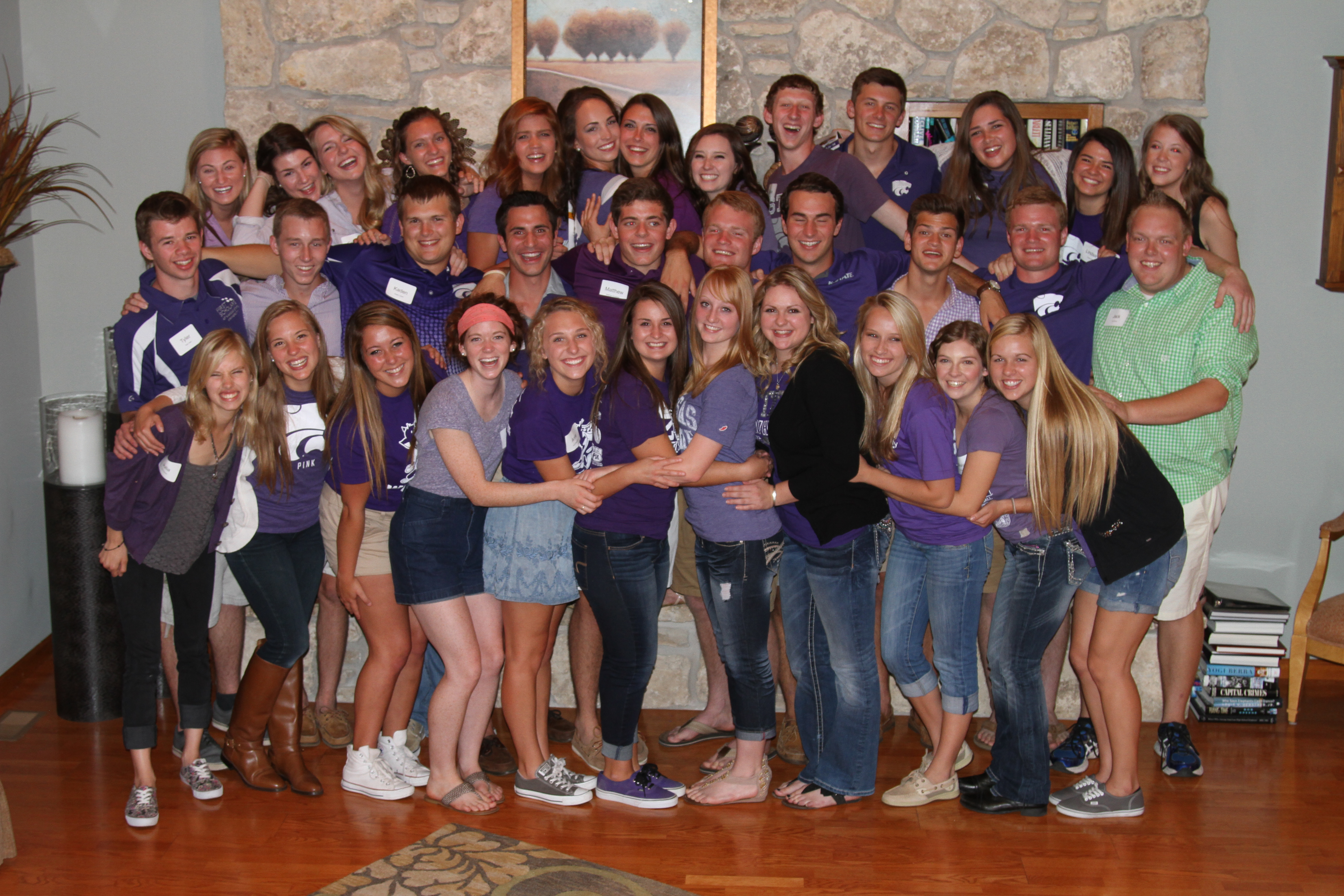 Imagine a small town restaurant packed with locals discussing high school football and crops. Now multiply that by at least 10 and replace local banter with Quest and BK programing and you've got the BK office! If that wasn't exciting enough, mentor reveal is on Monday! I can't say too much, but Nathan and Caroline do have a scavenger hunt planned.
Thanks for popping in and hearing about some of what BK is accomplishing, but I've got to dash back to the office to finish booking hotels for our road trip to the K-State vs. TCU game!
K-State Proud,
Adam Wilkerson
Vice President
posted October 1, 2014