2013-2014
Zach Boal, Erin Clopine, Kassie Curran, Kaitlyn Dewell, Ben Harstine, Tyler Johnson, Reagan Kays, Chris Kellenbarger, Samantha Kellerman, Kaitlin Long, Sara Schifferdecker, Annika Schneider, Brett Seidl, Jake Unruh and Alexis Wingerson
Blog Posts from the 2013-2014 class:
New Key Retreat!
We've reached another exciting time in the year with Blue Key again: transition and launching of the next class! It's an exciting season and I am so thankful I had the chance to join the New Key class at their retreat to start their year together.
In early March, the new class traveled to Council Grove for a one-night retreat at White Memorial Camp. It was an excellent time, full of bonding, goal setting, self-development, and entering the Blue Key story. Almost immediately, the new class of 17 members were thrown together to build new, deep relationships that will continue to grow throughout the year. This crucial aspect of Blue Key is not lost on this class!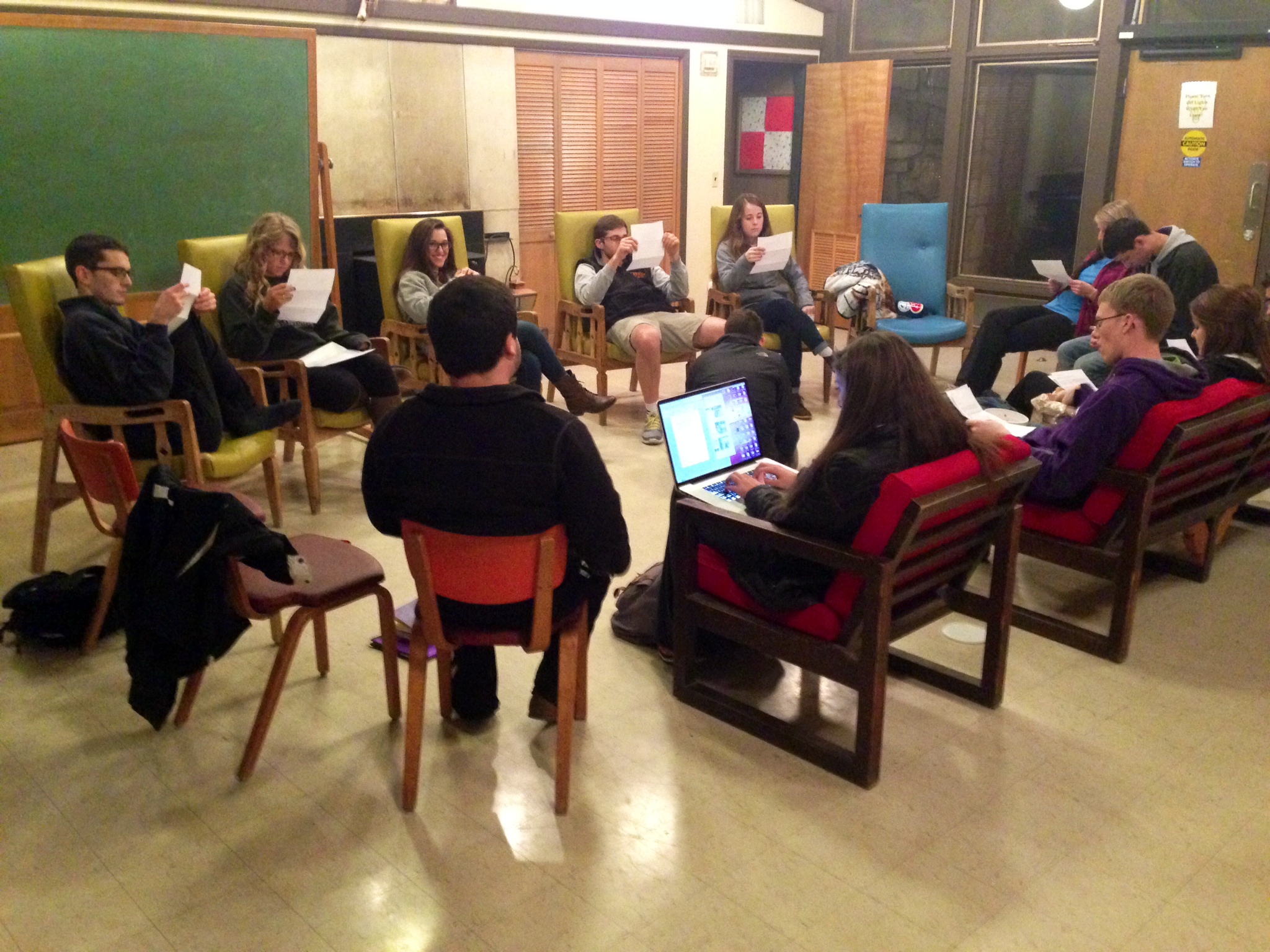 In my mind, a few words define this retreat and the new class: connection, vision, and challenge.
Connection
Some of the members knew each other before Blue Key, others knew of each other, and still others may have had limited experience with some in the group. But, by the end of the weekend, I watched the class start to become a family, bonding together, strengthening old friendships and expanding new ones. Breaks took longer and longer to bring a halt to the chitchat, the group lingered once clean up was finished, and one on one hangouts have begun since.
Vision
Whether through strengths training or goal setting, the class began to see where they are and where they want to go this year. And, they discovered that this may be a different location than the person next to them! Personally, I am excited to see how the class continues to refine their vision for the next year throughout the remainder of this semester, as they only began the journey of using strengths and clarifying goals.
Challenge

As always, this first retreat welcomes the new class into the legacy of Blue Key at K-State. They hear the story of how the group changed its focus in the early 90's, the legacy of program development, the bonds between classes, and the level of commitment the year will require. This new class has begun to step into this commitment, preparing now to give much to Blue Key over the next year to uphold the strong legacy.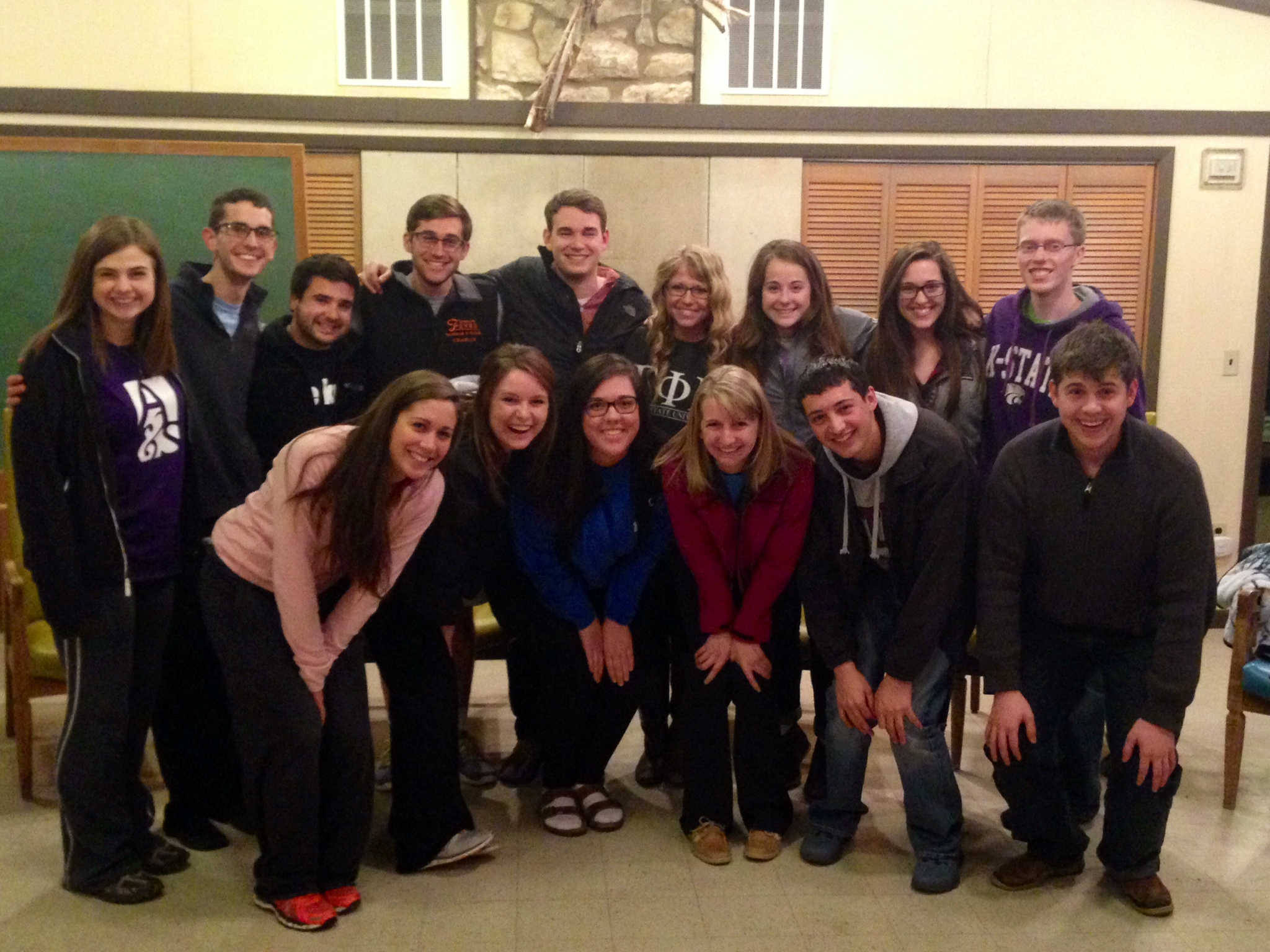 I enjoyed the opportunity to be with this group at retreat, to watch them excel as a team, and look forward to seeing where they will go now. Transitions are exhilarating. It's time to watch this new class take the year and make it their own.
#BKL
BCH, Director of Retreats
posted April 1, 2014


---

Quest and Blue Key Visit Ft. Riley
On March 8th, 20 members of Quest Freshman Honorary, along with members of Blue Key Senior Honorary, got a unique look at military life during an incredible tour of Ft. Riley. From a morning discussion with one of the Fort's top commanders, to hands-on simulation training, it was an action-packed experience that will definitely be remembered as a highlight of the Quest year.
The trip was coordinated by Art DeGroat, K-State's Director of Military Affairs. Art was incredibly helpful from the moment Sam and I (Quest coordinators) brought the idea to him last fall. In years past, Quest has had similar opportunities to visit Ft. Riley. But with Art's help, this year's group had a truly unique and educational experience. We began the day by hearing from several of the post's top officers, learning the history and purpose of the "Big Red One," or the 1st Infantry Division, which is stationed at Ft. Riley. Next, we were treated to lunch at a "DFAC" (dining facility), where we were even surprised with a giant purple and white frosted Wildcats cake!
After going through the lunch line one (or two) times, the group headed to take part in military training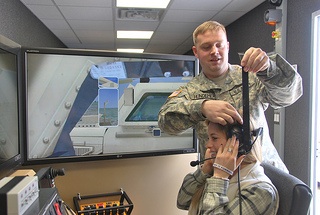 simulations. Our group got to ride in simulators and see how the Army prepares soldiers for driving in dangerous territories. We also got to test our sharpshooting skills in a shooting simulation. It was incredible look at the very serious (and important) work being done each day by our soldiers abroad.
The day ended with a visit to the Ft. Riley USO, which serves as a "home away from home" for soldiers and their families. Again, we were surprised with dessert reception and incredible hospitality. Throughout the day, we were joined by 8 awesome "escorts" - awesome soldiers who shared their experiences with us and answered our many questions.
Overall, our day at Ft. Riley was an incredible experience. A HUGE thanks goes out to Art Degroat, Col. Morgan, and all the great officers and escorts at Ft. Riley! In the future, Blue Key and K-State look forward to continuing this great partnership and providing more opportunities for K-Staters to meet the great men and women of Ft. Riley.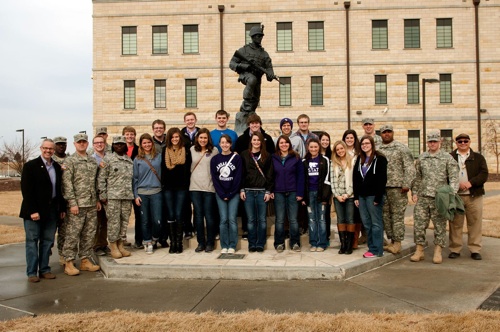 BKL,
Brett Seidl
Quest Co-Coordinator
posted March 16, 2014


---

Blue Key alum receives Distinguished Young Alumni award
Last fall, Blue Key nominated Matt Wolters, a 2003 graduate of K-State and 2001-2002 Blue Key member, for the Distinguished Young Alumni (DYA) award. The award recognizes two K-State graduates who are younger than 35 years old and are using the scholarship, leadership and service experience they acquired at K-State to excel in their professions and contribute to their communities. As one of the recipients of the DYA award, Matt was able to spend a few days on campus last week to reconnect with students, professors, and mentors.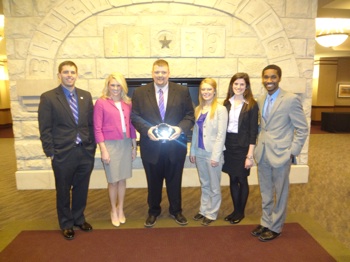 Blue Key hosted Matt and his wife, Donnie, for dinner at Harry's on Monday evening and enjoyed getting to share K-State memories, current endeavors, and future plans. On Tuesday, Matt was able to visit various classes and meet with students and professors to share insights on leadership, entrepreneurship, and life. Then Tuesday night, both Matt and the other award recipient shared keynote presentations with a larger audience of students. There were many Quest and Blue Key members in attendance to hear from the two distinguished guests.
In his keynote, Matt shared highlights from his K-State journey, where he went after college, and how he arrived back in his hometown, Atwood, KS. Matt is co-founder and co-owner of SureFire Ag Systems Inc., a company that designs and manufactures solutions to apply fertilizer and chemicals to crops and fields throughout Kansas, the U.S. and the world.
"I grew up on a farm and always knew I wanted to end up doing something within the ag industry," he said. "This gives me the opportunity to do that and work with farmers across the country. Over the last 6 1/2 years, we've been able to create a number of jobs, create a business that results in revenue coming into the local economy here, and help economic growth in our home town."
In addition to SureFire Ag Systems, Matt and his partners founded the Dream Big Foundation, which promotes and provides resources to enhance science, technology, engineering, agriculture and math education in the Rawlins County USD 105 school district.
He also helped reorganize the Kansas FFA Foundation and serves as a member of the Rawlins County Hospital Board and the Kansas Agricultural Rural Leadership Program.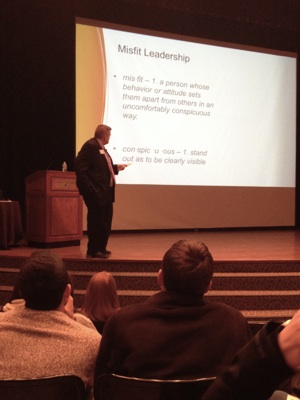 While at K-State, Matt served as a College of Agriculture ambassador as well as a member of Blue Key Senior Honorary and Student Governing Association, among other roles. He graduated from K-State in 2003 with a degree in agricultural economics.
Matt also shared a leadership concept he calls, "Misfit Leadership." This term came from him and his colleagues being called misfits when they were just beginning SureFire Ag Systems in their small community. He shared the definition of misfit and conveyed that it is not necessarily a bad thing to be a misfit if you are standing out and evoking change by doing something that you believe in and are passionate about.
Having Matt on campus was a fantastic experience that we are happy to have been a part of and hope that all the students he met with enjoyed learning from him.
"It's a tremendous honor," Wolters said. "I'm humbled by my peers that nominated me, that they took the time to put together the application. I know that took a tremendous amount of work on their part, so I'm just humbled by their efforts to recognize me."
Wolters said that, as a third-generation K-State student, the award is especially impactful.
"I was born and raised to bleed purple and now to be honored as a Distinguished Young Alumni from that perspective is really special," he said.
"I'm really proud of where I came from and I'm proud of the education I received at K-State," she said. "Being honored by K-State and its students shows that they value the idea of contributing to a greater good and the idea that having an impact on your community isn't limited to a certain definition."
We are so proud of Matt and all of his accomplishments and contributions to his community – Congratulations!
BKL,
Kassie Curran
Director of Alumni and Outreach
Posted March 1, 2014


---

DiscoverU Conference
Blue Key's first ever "DiscoverU" conference was hosted last Friday, Feb. 21 on K-State's campus.
This year, DiscoverU took the place of the event formerly known as the "High School Leadership Conference." Co-Coordinators Kaitlin Long and Kaitlyn Dewell began reformatting the conference last April to reach a new target audience and therefore, fill a larger need for Kansas youth.
In the past, the High School Leadership Conference has been directed primarily at students who have already demonstrated a desire to lead through their school involvement. However, this year's coordinators felt that this group of individuals is consistently over-programmed, with options such as StuCo camp, FBLA state conferences, KAY conferences, and the like. To help bring in more participants while also ensuring the programs provided could have the highest impact possible, DiscoverU targeted students in the AVID program, a college readiness course which helps first-generation or students at risk of not receiving higher education prepare for their post-secondary experience.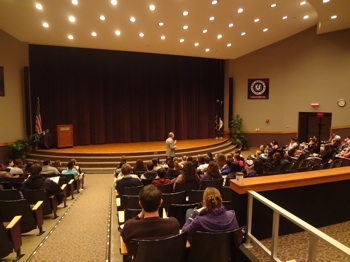 On the morning of Feb. 21, over 130 AVID students from Lawrence, Olathe, and Topeka arrived to a particularly excited group of 15 Blue Key members. The day began with a presentation by Dr. Pat Bosco about pursing higher education, which transitioned into the students' first breakout session about pursing passions. The first workshop was led by volunteers from K-State's Academic and Career Information Center and additionally facilitated by members of Blue Key.
The students then had the opportunity to put their new knowledge about passion pursuit to the test by attending a browsing fair which featured all of K-State's academic colleges, as well as various student life resources on campus, such as housing and dining, Greek affairs, Office of Student Activities and Services, and Admissions. After the browsing fair, the students enjoyed lunch in the Derby dining center and a tour of K-State's residence halls.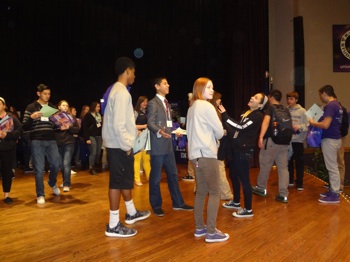 The second half of the day took place in the School of Leadership Studies and started off with keynote speaker Tyrone Flowers from Kansas City's "Higher Impact" organization. Flowers talked about the hardships he faced as a child in the foster care system and the setbacks he faced after being shot and paralyzed during his senior year of high school. Flowers' message of success and determination set the students out for their second and third breakout sessions which included workshops about seizing opportunities, creating a strong foundation of values, and fostering each individual's personal talents.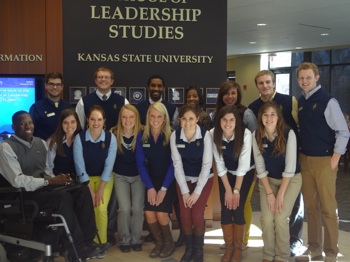 All in all, the conference was incredibly successful for its first year, and it was a fantastic way to be able to offer opportunities for leadership and personal development to students who may not have had the chance otherwise. Blue Key looks forward to seeing how the foundation of DiscoverU progresses and grows to impact even more students in following years.
Serving I live,
Kait Long & Kait Dewell
DiscoverU Co-Coordinators
posted February 28, 2014


---

Catalyst and Tim Elmore
"We cannot teach people anything; we can only help them discover it within themselves," Galileo.
Catalyst has exploded off the starting block with a packed first three weeks of the semester!
Catalyst, Blue Key's self-development program, has launched into what we hope will be an inspiring semester for Blue Key facilitators and Catalyst participants, alike. Catalyst small group classes started meeting on January 27th, and we have just finished our Week 3 lessons. This year's curriculum is again exploring the 6 Ps of self-development: Purpose, Planning, People, Positive Play, People, and "Phinish" line. So far, our classes have learned about their character and untapped potential, their most important values, and have set some goals for this coming semester and beyond. Even battling through the loss of four small group meeting times due to some very welcome snow days, Catalyst is going strong and gathering momentum! We have 95 students enrolled, each of them motivated and eager to better themselves in order to make a positive impact on their worlds.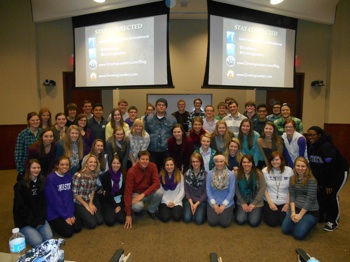 Following the first week of classes, the Catalyst duo presented at Blue Key retreat preparing the already skilled facilitators for the classroom setting. We developed philosophies of teaching, talked about different zones of learning and how to build content into our student's lives, and spent some time with the curriculum.
Our most exciting event by far occurred on Friday, February 7th. Blue Key, SGA, and K-State First were so excited to welcome back to campus the one and only Dr. Tim Elmore for Catalyst Retreat! Dr. Elmore, author of the best-selling Habitudes series, which uses the concept of meaningful images to represent leadership concepts, gave an enthralling keynote in Forum Hall to Catalyst members, LEAD 212 students, FFA members, and many other motivated students on campus. Dr. Elmore is an incredibly engaging speaker, and his talk expanded upon the ideas of integrity,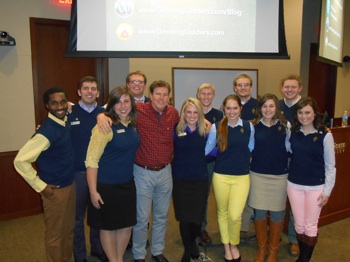 meaningful relationships, and purpose. Following his presentation to the student body, Dr. Elmore and Catalyst made their way to Town Hall in the School of Leadership Studies for a second workshop. There, Dr. Elmore was able to make connections with the Catalyst students and inspire them to greater leadership potential. He conversed with the students about how to pave their own way, but also not to forget themselves and their development along the way. These messages were a fantastic way to begin this semester's self-development endeavors.
We are looking forward to hosting more speakers for Catalyst, including Bernard Franklin, Mindy Weixelman, Mike Finnegan, and even Bill Snyder!
We hope this semester will be one of discovery within everyone participating in Catalyst.
Serving we live,
Annika Schneider and Erin Clopine
Catalyst Co-Directors
posted February 14, 2014



---
Winter Retreat
Adaptability. Catalyst. Facilitation. Mentoring. Goals. Murder. Finishing. Those seven words capture the essence of the retreat we just finished last weekend! The weekend started off in unsuspected fashion. Early in the afternoon on Friday, I received a call from our retreat center informing me that the heater had gone down, pipes had frozen, the plumbing was out, and the roads were terrible! I immediately began to scramble to find an alternative location for the retreat. After multiple rabbit trails and several dead ends, we found ourselves in Jake Unruh's parents' basement cozy on couches with blankets and pillows. After a brief spell of chill jams and European soccer, we kicked off our time together.
For the most part, we focused on preparing for a semester of teaching a leadership development course called Catalyst, check it out under "Activities" on the sidebar. Annika Schneider and Erin Clopine led an excellent workshop that taught several key principles of effective teaching. We also had time to familiarize ourself with the lesson plans we will be using this spring to teach the course. Also during the weekend, Reagan Kays facilitated a discussion reviewing our goals for this year. As we reviewed these, it became evident that we envision our ULead program reaching K-State's campus more in upcoming years and especially this semester through an opportunity to facilitate student organization workshops with the Office of Student Activities and Services.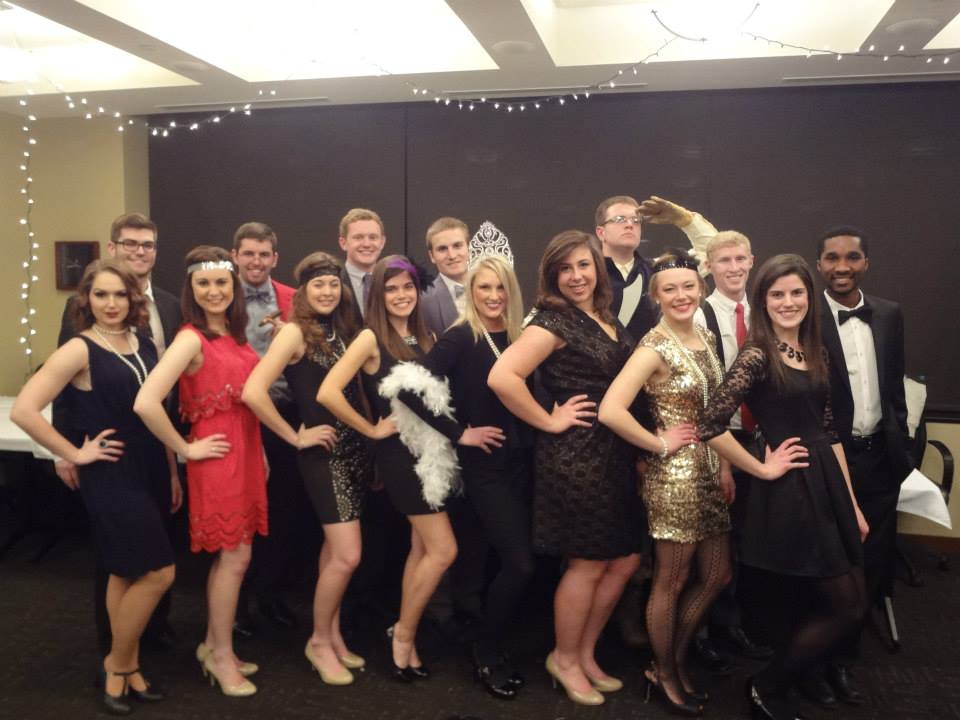 After the retreat ended, we planned a murder mystery for our Quest class at Leadership Studies. Everyone donned 1920's cocktail attire, Brett Seidl and Sam Kellerman (Quest Dad and Mom) staged a death, and the Quest class proceeded to run around the second floor of the building asking questions, receiving clues, and solving the crime! The murder mystery provided a great opportunity for our entire Blue Key class to interact with most of the Quest class all in one place!
The first workshop of our retreat deals with the end of it all. We discussed finishing well and maintaining a high level of energy with a strong kick to the finish of our year as a Blue Key class. We still have about a third of our year left! Our retreat instilled in us a desire to finish strong and complete the full race that has been given to us. I'll leave you with a quote from "A Resilient Life" by Gordon MacDonald that we read together as a group to focus our attention on finishing well.
"... I want you to remember that moment for the rest of your life. I want you to bear in mind that it makes little difference how fast you run a 100-meter event if the race is 400 meters long. Today you ran the total distance; he ran only a sprint."
Until then,
#BKL
Ben Harstine
Posted February 9, 2014



---


Blue Key National Conference
The weekend of January 17th-19th was one of fantastic memories, awards, honors, and lessons for the K-State Blue Key Chapter. Over the weekend, eleven of us made the trek from Manhattan, Kansas all the way to Fargo, North Dakota for the Blue Key National Conference. I don't know if you've ever been to Fargo in January, but it was cold. Bitter cold. However, that is really the only complaint we could find with the trip. After heading out of Manhattan at 7 AM on Friday morning, we arrived at the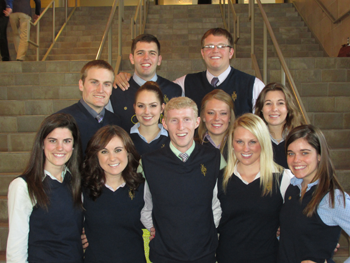 Howard Johnson Hotel around 5 PM. Friday night there was a nicely catered dinner (and a killer jazz band), along with several get-to-know-you ice breakers. We met all Blue Key members from all over the country, ranging from Georgia to Toledo. However, the highlight of the night without a doubt were the guest speakers (a common theme throughout the trip). Prakash Matthew gave opening remarks and spoke a lot about the North Dakota State Family, which is something we as K-Staters could definitely relate to! He was followed by Tom Budan, who spoke about investing in what you're working on currently while keeping the future in mind at the same time.
With the arrival of Saturday morning also came the arrival of a plethora of guest speakers. The first, Greg Tehven, gave a speech on the difference between service and contribution. There were breakout sessions after the morning welcome and facilitation from Greg. Blue Key members split up into different meeting rooms and heard talks and facilitations on a wide array of subjects, ranging from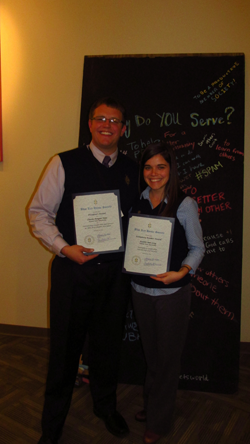 "Learned Optimism" with Patty Corwin to "Aspire and Achieve", which was given by Amanda Smock, an Olympic medalist. Personally, my favorite was "Motivation" by Steve Winfrey, talking about how analyzing one sentence spoken by someone can reveal a lot about who they are. Following the breakout sessions, we had an awesome lunch where Reagan Kays and Zach Boal gave a presentation to the rest of the conference attendees on what we do as a K-State Blue Key chapter. There were more breakout sessions in the afternoon, including a lecture on StrengthsQuest and how to adequately use it. Several members of our group commented on how they use these strengths every day!
The formal National Blue Key meeting convened at around 4 PM. Here, we voted on members to serve on the National Board and got an update on the budget. This rolled right into dinner, where we had two exceptional speakers. Erik Hatch spoke about "Living Boldly" and Josh Malnourie gave closing remarks. Both speeches received large ovations and challenged all of us to go out and create our own story. Following the speeches and dinner were awards. I am so proud of our chapter and how we fared in the awards! Dr. Emily Lehning won the Outstanding Advisor of the Year award, Reagan Kays won the Outstanding President of the Year award, and Kaitlin Long won the Outstanding Blue Key Member of the Year award.
However, the awards don't do our chapter justice, in my opinion. To understand how truly dynamic each of those three (and the rest of our chapter) are, you have to be in the meetings week in and week out, watching leaders come together and learn, serve, and lead. We had a great time in North Dakota, but were happy to get back to Manhattan to get the spring semester underway!
Serving I live,
Jake Unruh,
Director of Scholarships and Nationals
Posted January 31, 2014



---


Hometown Tour Part 1
On January 10th, the Blue Key class descended on Kansas City for what would mark the starting line of a three day marathon of hometown tours. With bags i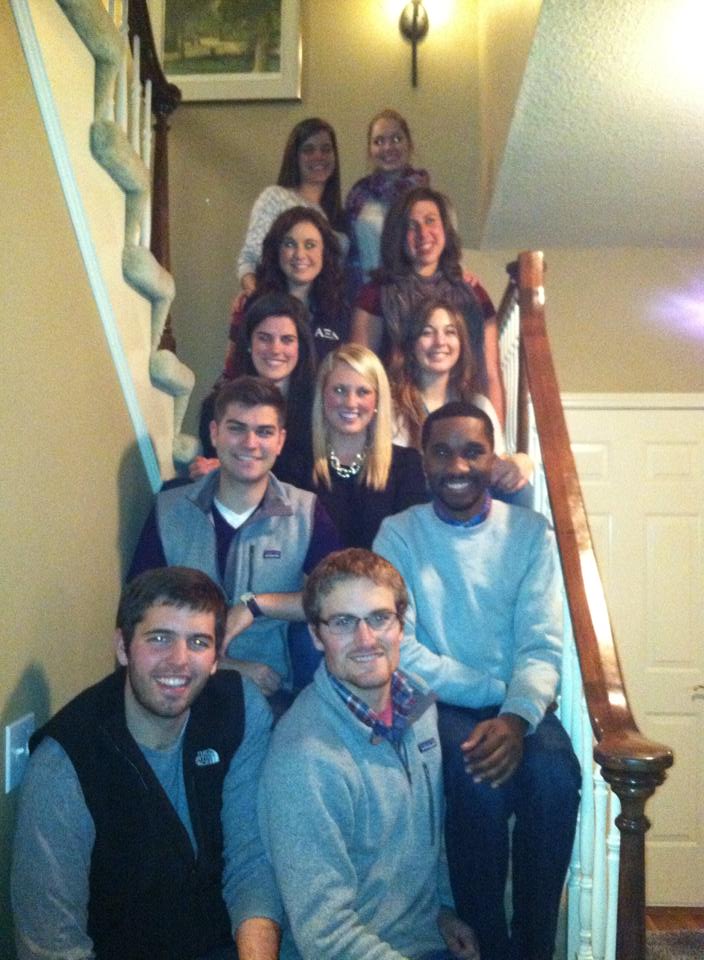 n tow, the group spent the weekend exploring the thriving metropolis of Kansas City and then traveled south to the beautiful lands of Weir and Girard, Kansas. To kick off the weekend, we all gathered for Mexican food at the Jose Peppers in Kaitlin Long's neighborhood. After being apart for nearly three weeks, we had plenty to catch up on, and by the time we left the restaurant for our first official home visit, it was clear that the weekend would be filled with lots of food, lots of laughs, and some incredible memories.
That night we visited Kaitlin's home where we chatted with her parents, looked through childhood pictures, and then headed out for a night on the town. Kaitlin took us to a local bar and grill where we were able to sit down and plot out plans for the weekend- along with twenty or so prop bets for the K-State vs. KU basketball game the next day. With a big weekend ahead of us, we decided to call it a night around 1:00am, and half the group headed to Kaitlin's for the night while the other half stayed with me at my grandparents' house.
On Saturday morning, the whole group reunited at my house for a hearty breakfast before heading down to the plaza to watch the game at Grand Falloon. While the basketball game didn't quite swing the way we had hoped, the prop bets were a hit! We spent the remainder of the afternoon exploring all that downtown Kansas City has to offer. From ice skating at Crown Center to shopping on the Plaza, we were able to find a little something for everyone to enjoy.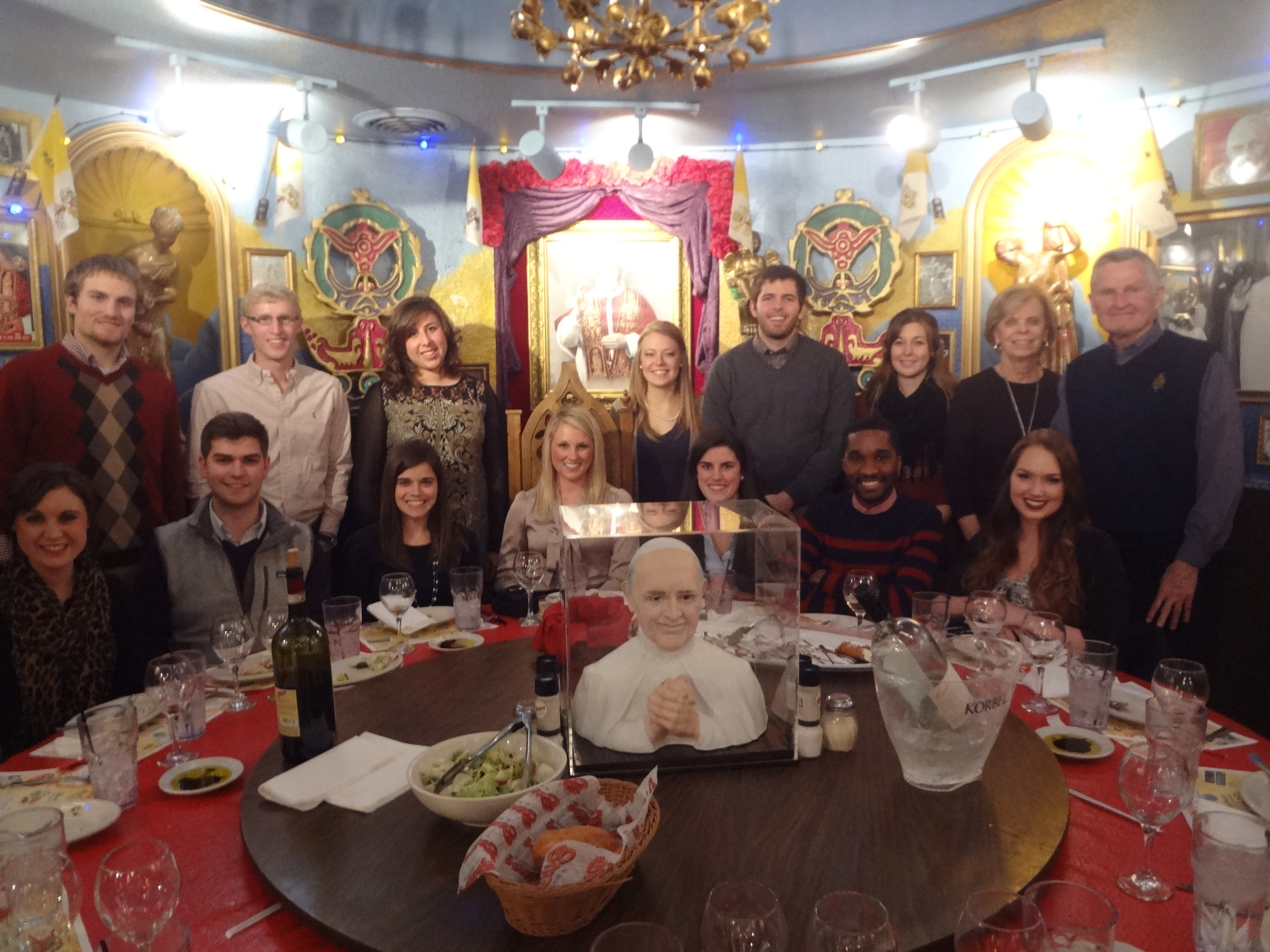 Saturday evening we had the opportunity to interact with one of our most generous Blue Key donors, K-State alumni Rich Mistler. Rich graciously welcomed us into his home Saturday night and then treated the entire group to a spectacular dinner at Buca di Beppo's Italian restaurant on the Plaza. Now, as a Kansas City native, I've been to Buca di Beppo before, but I have to say, our meal with Rich was unlike any other. Once we arrived at Buca, we were directed to a private alcove that Rich had reserved known as the "Pope Room." At the center of a giant round table was a sculpted bust of the pope. For two hours we feasted on Italian entrees and desserts while the Pope continued to revolve on the lazy susan at the center of the table. By the end of the meal we had not only shared personal stories and memories from our time at K-State, but we had also provided Rich with constructive feedback about his investment in our programming. To wrap up our time in KC, we spent the rest of the night exploring Westport before heading back to Rich's.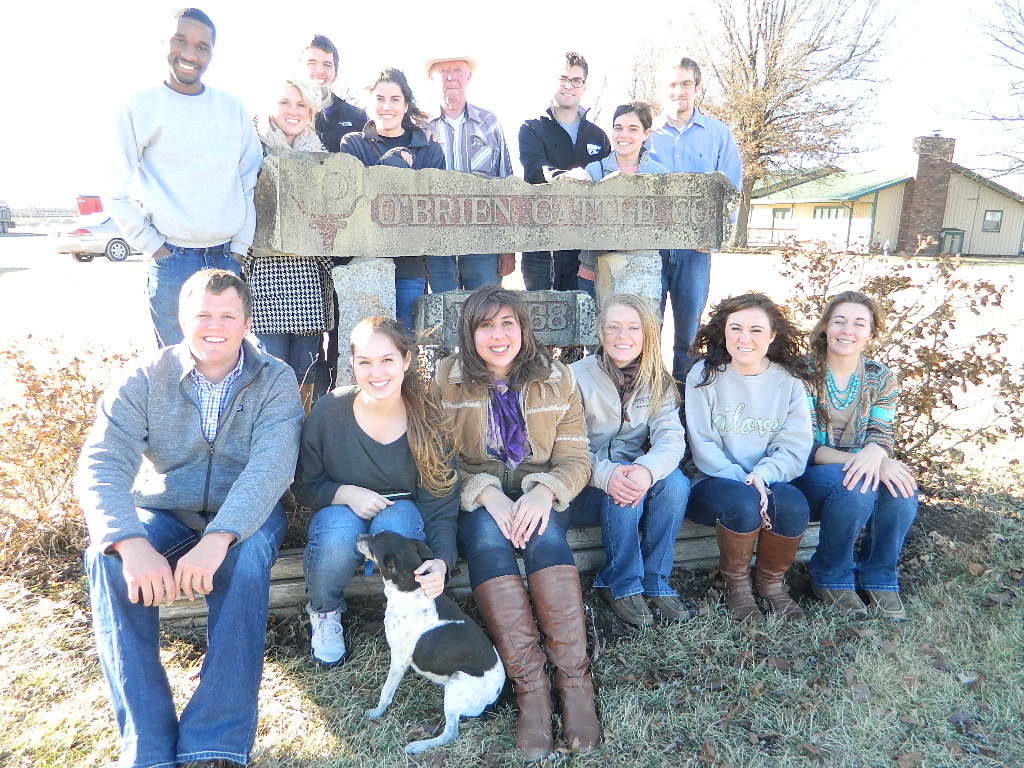 After spending a whopping 36 hours in KC, we decided to head south for SEK Sunday morning. First stop? Kassie Curran's grandfather's cattle ranch. For a city girl like myself, it was definitely an eye opening experience, but I think I can speak for the whole group when I say we LOVED our time at Grandpa Bernie's! From feeding calves to riding in a tractor, learning about the history of the 600 acre farmstead to enjoying hamburgers made from the ranch's very own Angus cattle, it was an incredible experience! Before leaving, we extended our sincere thanks to Grandpa Bernie for taking the time to teach us about the land and lifestyle he has embraced for 70 years.
The remainder of Sunday afternoon was filled with three more home stops. We visited Kassie's farm where we spent time feeding goats, petting horses, and leafing through old family pictures. At Reagan Kays', we had the opportunity to feed his family's 30 cows before we once again sat down for another huge dinner together. In true SEK fashion, the Kays family welcomed us into their home and set us up with some of the best fried chicken you will find in the state of Kansas. After dinner, we decided to head over to Sara Schifferdecker's house for the remainder of the night. Exhausted from two days of traveling, we popped in a movie and within minutes, half of us were asleep on the couches and floor of her basement. The following morning, Sara's parents and grandparents prepared a delicious breakfast for the group. Before everyone headed home, Sara took us to the stable next to her house where we not only fed her horses but also learned about her equestrian glory days.
In just three short days we had seen the entire spectrum that the state of Kansas has to offer. While I was exhausted from nonstop travel and stuffed from a series of meals that rival any family's Thanksgiving, I returned home completely refreshed by a weekend spent with some of my best friends.
BKL,
Sam Kellerman
posted January 15, 2014