Quest Freshman Honorary
Quest is a student organization that works to develop freshmen into leaders by exposing them to leaders, mentors, and opportunities across campus and the community.
Upon selection, members of Quest are paired with mentors from Blue Key Senior Honorary. Under the leadership of Blue Key, Quest takes a behind the scenes look at everything that K-State has to offer, attending special events and meeting several times a month to build community and get tailored leadership development from Blue Key. From touring the athletic facilities to enjoying lunch at the University President's home, connecting with student leaders across campus to giving back through service opportunities in Manhattan, Quest provides ambitious freshmen leaders with the tools necessary to give back to the K-State family.
Quest applications can be found here and are due Thursday, September 12th at 11:59 pm. A YouLead workshop will be held on September 10th at 6:00 pm in Town Hall and all applicants are encouraged to attend. Interviews will be held on Sunday, September 22nd and those selected for an interview will receive more information regarding time and location. If you have any questions regarding the application, please feel free to email Jenna Goetzmann at goetzmannja@ksu.edu.
---
2018-2019 Quest Class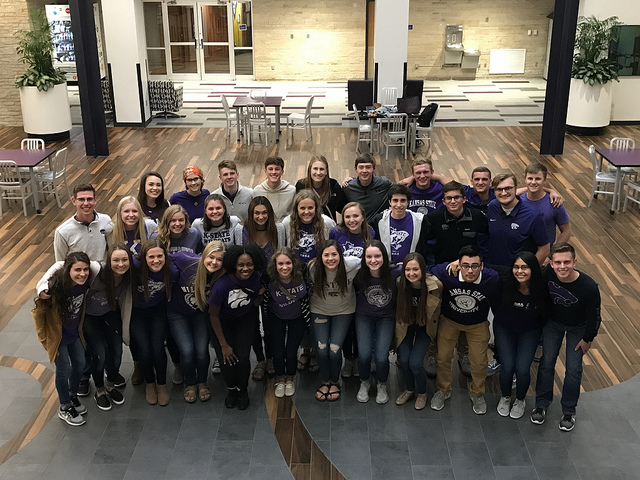 2018-2019 Quest member testimonials
What have you gained from Quest this year?
I have been given the opportunity to be surrounded by some of the most amazing and genuine people I have ever met in my life, and been lucky enough to call them mentors. My way of thinking has been challenged by the others in this group and my knowledge, goals, and the way I see the world has expanded. I have made connections with people that are truly doing big things and I feel like that has allowed me to start seeing what I want to and can do as well.
I have gained a variety of insights and friendships that have helped me immensely that will carry on for the rest of my life.
I have thoroughly enjoyed my Quest experience and have learned so much!! I have made amazing friendships, experienced tremendous personal growth, and have been exposed to amazing resources and faculty at K-State.
What has been your favorite Quest memory?
My favorite Quest Memory so far was for sure the Retreat. Things were super fun (but a little awkward since we were all strangers)....everyone bonded instantly over that experience and the rest of the night's adventure were definitely my favorite memory from first semester!
My favorite Quest memories come when I have spent time with the members of Quest. I have never been a part of a group more driven, passionate, and welcoming. I loved getting to grow with and learn from some of the highest-performing members of the freshman class at K-State as well as build friendships that will last a lifetime.
My favorite memory is the Quest retreat. It worked as a catalyst (no pun intended) for us all to naturally grow closer to one another.
The following freshmen are members of Quest for the 2018-2019 year: Emily Meier, Goessel; Baleigh Fry, Great Bend. From Greater Kansas City: Calder Knapp, Kansas City: Mary Clare Halpin, Leawood; Cameron Jones, Lenexa; Camryn Eberhardy and Jackson Engle, both from Olathe; and Margaret Horton, Alex Roth, and Nolen Wright, all from Overland Park. Tyler Blochlinger, Gypsum; Chase Gigstad, Holton; Max Harman, Inman; Leah Wethington, Lawrence. From Manhattan: Ella Bahr, Cody Ballou, Lily Colburn, and Anna Washburn. Colin Williams, Marion; Walker Clawson, Meade;Skyler Williams, Paola;Isaac Sunderland, Sabetha; Peyton Kavanagh, Salina; Michael Dowd, animal sciences and industry, Spring Hill; Nicolas Sastoque, business, and Lesly Torices, biomedical engineering, both from Topeka; Noah Ochsner, agriculture Tribune; Garrett Craig, Wakefield; Scuyler Zenger, Washington; and Leah Brock, and Siera Shirley, both from Wichita. From out of state: Madalyn Soehner, Wray, Colorado; Sydney Henry, Glendale, Missouri; and Kelsey Ladlie, Troy, Missouri.