Brenda Nowakowski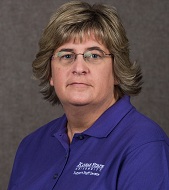 Office: APDesign, Office of Student Services
Address: 920 N 17th St
Seaton Hall Room 2013
Phone: 785-532-1998
E-Mail:blnow@ksu.edu
Short Biography:
I'm originally from the small town of Wamego. After I graduated from high school, I moved to Manhattan and began working. I'm married to, David, and we have two children and one grandchild.
Brief Work History:
I started my professional working experience at Kansas Farm Bureau Insurance Company. I worked there for 17 years before I decided I wanted to do something different. I left the insurance business to find a position that was different with less working hours. In 2006, I began working at Kansas State University in the Office of Admissions and in 2013 changed offices and now work for the College of Architecture, Planning and Design in the Office of Student Services. I love helping and working with the students here at K-State. It's great to work at a university that cares about the employees and I hope that I can provide the service required by being a part of the University Support Staff Senate.
Personal Interests:
I enjoy spending time with my family and friends. I also enjoy being outside or just reading a good book.