Emily Johnson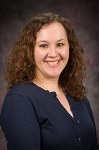 Office: K-State Student Union
Address: 100 K-State Student Union
Phone: 785-532-6577
E-Mail: ewatts@ksu.edu
Senate Position: Senator -Local Agency
Short Biography:
I grew up right outside of Manhattan in the small town of Wamego. After graduating high school I attended Highland Community College in Highland, KS where I majored in Commercial Photography. Once I completed my studies there, I decided to continue my education at Kansas State University where I fell in love with Human Resources. Shortly after graduation, I married my best friend, Adam, and we decided to make Manhattan our home. We have since then had a little boy who keeps us on our toes with all the trouble he gets into.
Brief Work History:
I started my professional career managing a restaurant here in Manhattan. After a few years of doing that I decided I wanted to get new experiences so I started working at an apartment complex here in town. After I gained 5 years of experience it was time to actively pursue a job in my career field again and was lucky enough to find the position at the K-State Student Union in July 2013. It has been amazing to join the K-State family again and I look forward to helping my fellow employees by serving on University Support Staff Senate.
Personal Interests:
I have so many that I don't get to do each of them very often. I am a huge crafter and do a lot of paper crafting and DIY home décor. I still have a passion for photography and quite often am taking pictures of my little dude. In my downtime, I like to cuddle up with a good book or Pinterest!!