Terri Wyrick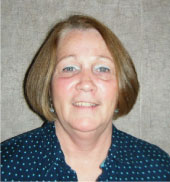 Office: Facilities Services-Division of Facilities
Address: 103 Power Plant
Phone: 785-532-6446
E-Mail: twrick@ksu.edu
Senate Position: Classified Senator for Administration and Finance
Short Biography:
I was born in Kansas City, Kansas and my parents moved some although neither one were in the military. I have lived in Los Angeles, CA, San Antonio & Dallas, TX and several suburbs in the Kansas City, Kansas area. I thought I was a city girl until I met & married my husband about 30 years ago and discovered I was a small town girl. Since I have been married to my husband I.ve lived in Eudora, Edgerton, Linwood, and Riley, Kansas. I might live in Riley the rest of my life but I haven.t decided if I am ready to hang out the welcome sign for good. I have three grown children and they are all married. I have one grand daughter but I would love to have about ten to fifteen more. I have an AA degree in Applied Science from Kansas City Kansas Community College and a Bachelor of Science degree from DeVry University.
Brief Work History:
I started working for Kansas State University in 1989 at the K-State Student Union in the Wildcat Card Center, now the ID Center. I worked in that office for over 5 years when my father got very sick and I moved back to the Kansas City area to be with my parents. I moved back to Riley about 7 years ago. I started working for Facilities Services as a Senior Administrative Assistant 4 years ago. I really enjoy my position at Facilities Services because I interact with classified, unclassified and student employees as well as with key personnel in administrative offices throughout campus. I also have frequent external contact with the general public. Each encounter gives me the opportunity to use my skills to solve various problems for the campus and the public.
Personal Interests:
My life centers around my family and my church. I spend most of my time with my husband. We love watching and playing with our grand daughter when ever we get the chance and spending time with our 3 children and their families. When I'm not with my husband or my children I am usually with my sister practicing on a song to sing at church. My sister and I love to get together and sing just for fun and she is trying to teach me how to play the guitar, which I.m not very good at.
Additional Comments:
Thank you for the opportunity to serve as a Classified Senator. Please contact Classified Senate if you have any suggestions, comments or ideas about how to improve classified services.