Jan Taggart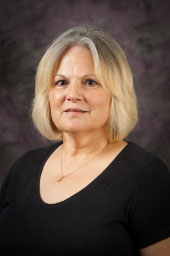 Office: Grain Science and Industry
Address: 203 Shellenberger Hall
Phone: 785-532-4055
E-Mail: jtaggart@ksu.edu
Senate Position: Vice-President and Co-Chair, Legislative Affairs Committee
Short Biography:
I was born in Weatherford, Texas and as a child of a minister, grew up in various places in Texas and Oklahoma. At the ripe age of 30, I joined the Army. I worked for the Commander-in-Chief of USAREUR and 7th Army, General Otis, until my re-enlistment. I then became an interrogator/translator (Russian). After the Gulf War, I left the Army and because I was a disabled veteran, was able to attend UT Tyler and then Western International University, studying computer information systems. That's where I met my husband, Jerry, and we then moved back to Manhattan in 1998.
Brief Work History:
My career at K-State began in May of 1998 on my first wedding anniversary. I was hired as a senior administrative assistant in the accounting office of Grain Science & Industry, but was promoted to accounting specialist within a couple of years. I never wanted my current job, but after having to work both as the accounting specialist and account at the same time, decided that I should apply for the position of Accountant II. I can honestly say that I LOVE my job. I work with great people, in a great department and enjoy what I do. I have also wanted to be a senator for some years, and now I have the privilege of serving my colleagues. My family includes my husband of 14 years, Jerry. He is self-employed as a painting/wallpapering contractor. Between us, we have four sons, and two daughters, and their spouses, and 15 grandchildren. We are very blessed to be able to live in Zeandale with our four huskies and six cats.
Personal Interests:
I enjoy spending time with my best friend and husband, sewing, remodeling our 119 year-old farmhouse, our family, and life in general (I am a one-year survivor).