Michael R. Seymour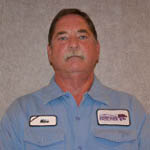 Office: Facilities Building Maintenance
Address: Dykstra Hall
Phone: 785-532-1743
E-Mail: seymou@ksu.edu
Senate Position: Senator for Administration and Finance
Michael R. Seymour, MA. graduated from the University of Kansas where he was in the Honors English Program. He obtained a Master of Arts, Management degree from Webster University. He worked his way through college as an electrician and attained his first Master Electricians license in 1975.
He has spent his career in all phases of the electrical profession, owner, project manager, estimator, foreman, quality control engineer, trainer, etc. He has taught electricity at the Junior College level and spent several years teaching for Butler County at a Texaco refinery and several more years as an electrical estimator for Boeing Wichita.
He is a first degree black belt in Tae Kwon Do, has been a certified Organic Gardener and spends the summer daylight hours growing vegetables and grapes. He is an inventor and patent holder.
He has dabbled in short stories, non-fiction and poetry, and has written three full length novels, a trilogy titled "The Bloodletting." These three novels are his first serious literary effort.
Michael II, the oldest son is currently employed at KSU in the Telecom department, and he was instrumental in bringing his father on board.
Michael and his wife Marsha have been happily married for over 32 years. They have three children and four grandchildren.
He is one of the AFT representatives on the Safety and Services committee and will serve another two years on the Classified Senate. He would like to encourage anyone to contact him at any time if they feel he can be of service.