Robert J. Reves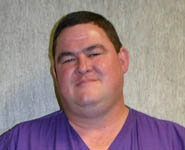 Office: KSU Veterinary Medicine Teaching Hospital
Address: G-112 Mosier Hall
Phone: 785-532-4173
E-Mail: rreves@ksu.edu
Senate Position: Parliamentarian
Short Biography:
I am a lifetime resident of rural Fostoria, Kansas. In fact, I have made only one move in my life which was less than half a mile from one farm to another. The move was made mainly to get further away from the burgeoning metropolis of Fostoria; and its genteel population. My primary and secondary education was received in the Westmoreland public school system. After graduation I attended Kansas State University and worked out of Laborer's Local 775 to finance my education. In 1991 I married my best friend, Lesa, and we have two teenage sons, Sheridan and Morgan. We are very involved with our sons in 4-H and FFA activities. I am a life FFA Alumni member and a 4-H county project leader as well as a state fair judge. Locally, I am a precinct committee member for the Republican Party and a township officer. I am a past master of Westmorland Lodge #257 and past district deputy grand master of the Kansas Masonic Lodge A.F. & A.M. In my spare time, I am engaged in agrarian pursuits on our family farm.
Brief Work History:
Prior to my employment with the State of Kansas and Kansas State University, I worked construction out of Laborer's Local 775. I worked on a lot of projects in many parts of the state, but two of the best jobs were right here at KSU. I helped construct the addition on Weber Hall and also Bramlage Coliseum. It is an interesting feeling to attend classes and events in buildings that you have helped build! For the past eighteen years I have worked for the State of Kansas and KSU in the following positions: KSU Dept. of Animal Sciences . Dairy Teaching and Research Unit (milk man); KSU Dept. of Entomology (bug man); Register of Deeds . Pottawatomie County (good deed man); KSU Veterinary Medical Teaching Hospital (supply man). My work for the state has been very rewarding both personally and professionally, I especially enjoy that time I have spent at KSU.
Personal Interests:
I raise a number of rare breeds of livestock on our family farm, as well as a large heirloom garden. Rock hounding especially with my 4-H geology project kids from Pottawatomie, Wabaunsee, Riley and Marshall counties is a great deal of fun. A penchant for recreating the 18th century western frontier has led me down wonderful trails at living history events in numerous places, but especially amongst friends at Fort Osage in Sibley, Missouri. Aside from my usual avocations, I also find time for my brother masons in our various communications. It sure is a good thing that KSU keeps me on the payroll to fund all of my hobbies!
Additional Comments:
I am honored to be a member of the Kansas State University Classified Senate. I hope my service helps not only my fellow employees in the College of Veterinary Medicine, but is beneficial to all of the universities classified staff.